Make Myself at Home
Make Myself at Home: Luxury Living for Lease on Upper State
The Marc: Santa Barbara's First New Apartment Building in 30 Years
Address: 3885 State Street
Status: Under construction
Rental Amount: Not yet known
I love living downtown. Being able to stroll to the shops and restaurants on State Street, or walk home from a movie or concert, is a convenience and a treat all-year-round. Through the years, the most happening parts of State Street have shifted. The Funk Zone and the club scene dominate lower State, Paseo Nuevo anchors the heart of downtown, and the historic theater district, with the Granada and the Arlington literally towering over State, sets the pace for the top. But that's just the top of the bottom of State Street. There's a whole expanse of upper State Street that has quietly become a destination all its own. Whole Foods Market, with its Buzz Hive in the center, is hopping day and night, and a host of other restaurants and retail locations have opened up and spruced up to join with Five Points, Loreto Plaza, and La Cumbre Plaza to energize this stretch of upper State. There's excitement in the air and people on the streets, many of whom live in the area.
Coming soon to this bustling upper State Street neighborhood is a luxury apartment community like no other in Santa Barbara. The Marc, under construction at 3885 State Street, is the first "multi-family residential building" to be built in Santa Barbara in 30 years. There isn't anything concrete to see or tour quite yet, but the descriptions and the renderings being released by its builders promise an emphasis on resort lifestyle and modern luxury, combined with high-tech amenities, security, and conveniences.
Bocce ball and horseshoe courts, themed courtyards, and a state-of-the-art fitness center overlooking a pool, spa, and sundeck are some of the promised outdoor highlights on the 1.4-acre property. Inside, the 89 one-, two-, and three-bedroom units are designed with a modern, open floor plan and plentiful storage, plus oversized windows and private balconies to suit Santa Barbara's indoor/outdoor lifestyle. Designer finishes such as quartz countertops and stainless-steel appliances, in-unit laundry, and pre-wiring for high-speed communications will be offered throughout. The building itself will have complimentary Wi-Fi in the common areas, a video-monitored security system, keyless-entry doors, and secure underground parking. Each apartment will be between 613 and 990 square feet.
The Marc will also boast many energy-saving elements, with LED lighting, tankless water heaters, dual-pane Low-E insulated glass, controllable energy-efficient heating and air conditioning, and other CAL Green features incorporated throughout the property. A community garden on the rooftop will also add to the indoor/outdoor atmosphere.
Tripp DuBois, VP of marketing with The Kor Group in Los Angeles, said that his company has wanted to build a project in Santa Barbara for years. "The density codes were changed in 2013, which made a project like this more feasible. When this property became available, the REthink Group brought it to our attention, and it really felt like the right place at the right time. We're thrilled to now be working together to bring The Marc to the residents of Santa Barbara." DuBois also emphasized the high-tech features, such as a lounge with work areas and flat-screen TVs, and said he thinks that this "connected living" environment will particularly appeal to 25- to 35-year-old professionals.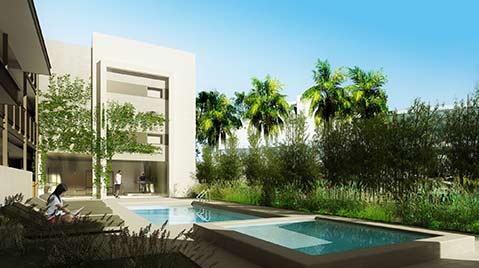 The Kor Group is known for both its luxury hotels and residential properties, with the Viceroy Hotel in Santa Monica and Avalon in Palm Springs and Beverly Hills as nearby examples of their sumptuous success. Austin Proper and Hollywood Proper are two of their projects that incorporate residences into a hotel setting. Their partner in The Marc, area firm REthink Development, specializes in sustainable, walkable infill projects. To this end, many of their projects are designed as mixed-use buildings. The Marc will have retail spaces as part of its ground floor, designed to add to the convenience factor for residents. REthink has an extensive portfolio, and although they are based in Santa Barbara, this is their first undertaking here at home.
The Marc will have a pop-up office across the street starting in May. DuBois encourages anyone who is interested to go online now and preregister. Pre-leasing will begin in May, and he expects that they will be full before construction is completed in August. When asked what the monthly rent amounts will be, DuBois stated that they don't have exact figures yet but that it will be "market rate." Since The Marc is the first residential project of its kind in 30 years, it's in a market of its own. But come May, the pop-up office will be open full-time, so if you're curious, just drop in. You'll surely be able to find it — it's in the new most-happening block of State Street.
The Marc, at 3885 State Street, is a project of The Kor Group of Los Angeles, REthink Development of Santa Barbara, and Westport Capital Partners LLC. Learn more about The Marc, or register for the priority list, at livethemarc.com.