Briefs
UCSB Grad Slam Winner Takes Home $5,000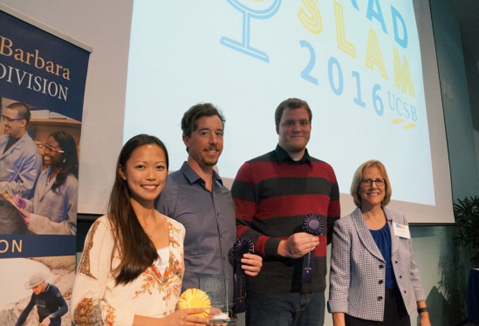 UCSB grad student Nicole Leung beat out 67 of her fellow Gaunchos in a competition to deliver the best three-minute speech. Her talk was titled "Lighting the Path from the Eye to the Brain," and the event, Grad Slam 2016, consisted of 14 elimination rounds with over $20,000 in prizes. Leung took home $5,000.
"To be able to communicate and make our work relatable to a lay audience is one of the most important skills we can have as researchers," Leung told UCSB's Current. "So I'm really grateful for Grad Slam for helping me to put my research in a way that I can share with everyone.
Using the fruit fly as an example, Leung explained how the brain turns light into information. The contest started in 2013, giving students a chance to present all the hard work they do to their peers at UCSB.
The 10 preliminary rounds included an audience voting element, with judges choosing two finalists and the audience choosing the third, as well as two semifinal rounds.
The talks were judged on their "intellectual significance," as well as the content being geared toward university students attending. The content was important, but as Carol Genetti, dean of the graduate division at UCSB and moderator explained, the presentation was the main focus for the judges.
Contestants were allowed just three visual slides with no animation of any kind in an effort to keep the playing field fair for everyone who entered.