Living
Should I Go for Artificial Grass?
Replacing Lawn with Synthetic Turf Never Looked So Good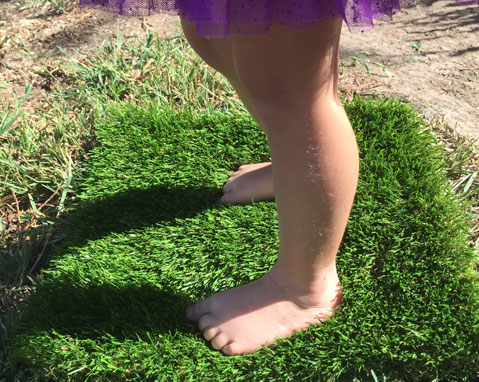 My move three years ago from a condo in downtown Santa Barbara to a home in the Goleta suburbs put me in charge of four patches of lawn right as the drought reared its devilishly dry head. I've kept the front lawns limping along on timed-sprinkler life support but have been more appropriately stingy with the backyard, where peninsulas of dirt and islands of yellow now outnumber the remaining bastions of green.
While drought-tolerant landscaping appeals, I still need places where our kids can run around, kick balls, and throw whatever without worrying about unnecessarily scraped knees and elbows. That leaves artificial grass as a primary solution, but that usually looks more like bad carpeting than a lush lawn. Not so anymore, says landscape designer Sean McLaughlin, who sold his first turf in 2000 and is now the regional distributor for Synthetic Turf Systems.
"There has been extensive engineering of turf to achieve something that not only looks realistic but has yarn that can stand up on its own without feeling rough," said McLaughlin, who explained that today's turf is softer, doesn't heat up, and is under warranty for 15 years, though is built to last for much longer. Sales are bumping thanks to the drought, said McLaughlin, a former environmental engineer. "Our focus is on helping people become less water dependent by installing synthetic turf," he said. "But we also help them in this vein by designing low-water- use landscapes."
To get a sense of what that might mean for us, I recently welcomed McLaughlin's rep, Zackery Harris, to my home, where he taught me about the many different grades of turf available today. In about 15 minutes, he'd mapped out my backyard while explaining that the completely permeable turf is installed onto a crushed rock base with, if desired, gopher wire and pet aroma control. It's laid together so any seams don't show, weighted down with sand, and nailed into the ground.
I had him mock up an estimate based on the priciest turf, Ultra Lush, with all the bells and whistles. For my roughly 800 square feet of space, the cost exceed $7,500; lower grades dropped the price $1,000 or so, and a rebate through waterwisesb.org would have dropped it another $750. Even then, it's a little bit much for me to pay right now, but I'm also certain that, if you can afford it, that would be money well spent.
How do I know? When it was time for Harris to go, my daughter protested, getting off her square patch of turf, where she'd been playing with a doll peacefully the whole time. Said Harris, "That's the best test: when they prefer that to regular grass."