News
Political Prisoner Censored?
Prison Authorities Object to Jailhouse Diary
JUNE 3, 2016: Although it was only ten in the morning, we were on lockdown. There was maintenance being done on the floor, and apparently the prison prefers not to have inmates out and about while there are tools around. I had decided to catch up on some sleep while my cell mate caught up on his reading. It was uncommonly quiet on the floor, and I was out like a light.
I was abruptly awakened by the clang of our cell door being unlocked, and a guard stuck his head in and said, "Apel, get dressed and come with me." I stumbled down from the top bunk, pulled off my shorts and T-shirt, and got into my dress khakis. I followed the guard to our floor's exit door where I found waiting for me a tall, chiseled and uniformed man whom I had never seen before.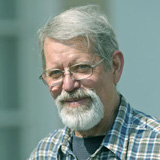 He escorted me down the hall and into an office where a young woman sat busily working on her computer. We passed through this office to a back room. He closed the door behind us and leaned against a cabinet. "This is your first time in prison, heh?"
"No," I replied, "actually I was here back in 2003."
"You really got this for crossing a green line?" he asked incredulously.
"Well, that and violating probation."
"What's your problem with Vandenberg?" he continued.
"Well, they test ICBMs, the delivery systems for nuclear weapons."
He thought for a moment. I was sizing him up. He seemed like an agreeable personality and he was fairly respectful, but we both knew who was in charge.
"I don't like to beat around the bush," he said. "You've been writing a blog and sending it out to be published by a newspaper." I knew he was referring to the column I had been writing and sending to my friend Scott to be forwarded to The Santa Barbara Independent. They in turn had graciously agreed to publish it online.
My new acquaintance informed me that although I had sent nothing that breeched the security of the prison, my emails had been noticed. People higher up than him were telling him that all my correspondence, including incoming and outgoing mail and emails, would need to be flagged if I continued writing and sending the column. I would still be able to correspond. However, everything would be significantly delayed due to "extra monitoring."
He wanted to know if I could curtail writing the column until my release in September.
Not being one who thinks well on his feet and having an immediate image of the loss of timely communication with my wife and children, I told him I thought the pieces could wait until I got out.
I was returned to my cell, left to contemplate what had just occurred. Had I just been censored? Surely what I had written, although not always complimentary, had been neither inflammatory nor a security threat.
In fact I had gone out of my way not to use names or present the staff in a negative light. But clearly there was a consequence to my continued writing. And I had bowed to the repression for the sake of my felt need and the needs of my family. I felt the sting that comes with the loss of personal integrity. But like so much else here, I suppose that is the point.
Dennis Apel is serving four months in the federal Metropolitan Detention Center in Los Angeles, having been found guilty of crossing the "green line" during peaceful protest at Vandenberg Air Force Base, and then refusing to comply with supervised probation.