Briefs
Mission Canyon Fire Breaks Out
Swiftly Contained by Multiple Fire Crews and an Air Tanker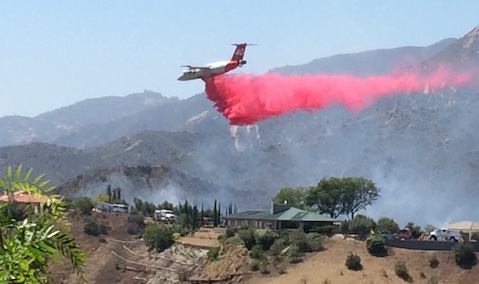 A small fire broke out on the mountain side of Spyglass Ridge Road up in Mission Canyon on Saturday afternoon and was swiftly contained. The fire, logged in at dispatch by 2:26 p.m., had about a dozen engines and crews from county, city, Montecito, and Los Padres fire responding by about 2:40 p.m. A jet tanker, led by a Lear Jet, flew in and laid down about four passes of fire retardant, said one resident. The planes were on hand quickly after being diverted from Ventura County's Pine Fire, said County Fire's Capt. David Zaniboni.
The fire was held to about two acres with crews able to lay down hose line around it, Zaniboni said. A worker admitted to starting the fire with a weed whacker, though Zaniboni wasn't sure if the machine malfunctioned or if it hit a rock. The Search and Rescue squad fanned out across the Seven Falls trail area nearby to let hikers know of the fire danger; they were plentiful on the bright, mild, windless day.
Ironically, this fire occurred at the other end of the hiking trail from the starting place of 2009's Jesusita Fire, which was also set off by weed whacker usage. That fire burned for nearly a week, spurred by sundowner winds and high temperatures, consumed over 8,000 acres, and destroyed 80-plus structures.