Food & Drink
Green Table Goes Extra Mile
West De La Guerra Street Restaurant Serves Gluten-Free, Vegetarian Cuisine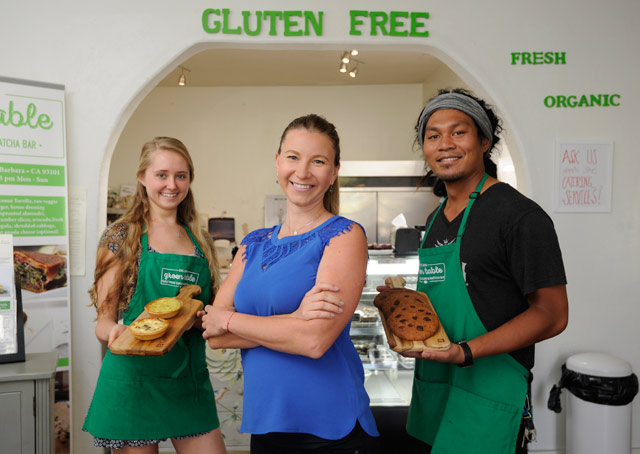 Green Table, the 100 percent gluten-free, veggie-based, regionally sourced, and almost entirely organic restaurant, is a light and bright vegetarian haven on West De la Guerra Street. Formerly home to Boochies, the café reopened this past February with a new name, new ownership, and an expanded menu, featuring a healthy spin on classic dishes. "A lot of people think eating healthy isn't necessarily tasty," said Alexandra Zarnescu, who now owns the restaurant with her husband, George. "We're trying to make it as tasty as possible."
Green Table's flavorful superfood menu should delight people of all dietary preferences, thanks to dishes like the mac and cheese. It's rich and decadent, as you'd expect, but a complete reinvention, using quinoa pasta, shredded cauliflower, and spinach baked in a goat gouda, coconut milk, tamari, and Himalayan pink sea salt sauce. "Since we opened, we challenged our chef from Europe to add more comfort food items," said Zarnescu, who also suggests their lasagna, made with almond flour, veggies, and more goat gouda.
The team also pushes attention to detail to a new level. The house-made almond milk, for instance, is created from raw almonds soaked each night and blended each morning into the elixir that provides an unbelievingly creamy and nutritious base for their matcha drinks. "It's a lot of work, but it's so worth it, because the taste is totally different than if you're making it with store-bought almond milk," said Zarnescu.
On the beverage side, Green Table claims to offer the largest selection of matcha tea blends in California. I'd never tried the tea before but was blown away by their smooth salted-caramel ice-blended matcha, which includes dates and Himalayan salt in the recipe. The experience was made sweeter when I learned of the stone-ground green tea leaves' many health benefits, including high levels of antioxidants and a slower, smoother release of caffeine for a more sustained buzz.
There's also a new breakfast menu featuring a selection of savory quiche and other classics. "Our pastry crust is made with almond flour and eggs, and that almondy flavor combined with the creamy spinach filling or avocado fillings makes them nutritional, healthy, and special," she said.
On the dessert front, Zarnescu recommends the flourless choco-chia cupcake, which consists of a fudgy mix of raw cacao, chia seeds, almonds, egg, coconut sugar, vanilla bean, cacao nibs, arrowroot, coconut, and spices. "Like many other people, I crave for chocolate, and this is my way of eating a healthy chocolate dessert," Zarnescu said. "Chia seeds provide omega-3s, protein, calcium, and fiber, so that makes it the perfect after-workout snack also, not just a dessert."
Green Table is located at 113 West De la Guerra Street. Call (805) 618-1233 or see green-table.com.