Briefs
Prostitution Sting Nets 20 Men
Arrestees Included a Santa Barbara CEO, College Students, and Seniors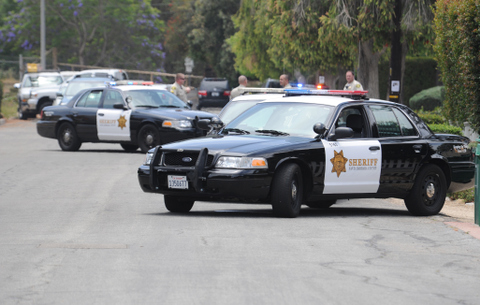 Twenty men who appeared to be from all walks of life were arrested over the weekend for attempting to solicit prostitution at a Goleta hotel. Sheriff's personnel, police, and prosecutors collaborated on the two-day sting for two weeks. Arrestees included the CEO of Santa Barbara Essential Foods, a few college-aged students, and a number of people over 50. All but three were from the Santa Barbara area, according to Sheriff's spokesperson Kelly Hoover.
Detectives placed an advertisement on backpage.com, one of a few popular escort sites. The ad showed pictures of a woman, "insinuated sexual activity," and included a phone number, Hoover said. Over the phone, the so-called "Johns" negotiated specific sex acts and fees with the undercover detectives. The detectives then gave the callers the location. More than 60 people called the number; most did not give their name, according to Hoover.
Because the Goleta hotel was simply chosen for convenience, Hoover said, its location is not being disclosed. The sting, which was the first of its kind in South County in several years, yielded more arrests than past efforts. Hoover attributed their success to the "increased frequency of the use of backpage and other similar websites." The defendants were booked and released within several hours of the arrest. Solicitation of prostitution is a misdemeanor.
The arrestees included: Nho Nguyen (59), Edward Farley (66), Allen Obiols (51), Jesus Saldana (28), Justin Litterelle (35), Ger Hang (31), Laszlo Nagy-Berta (44), Eric Fowler (43), Isaac Kielmanowicz (20), Keisuke Hata (21), Ramon Chavez-Antolino (34), Christopher Blaul (48), Peter Gaum (57), Jose Torres (23), Antonio Perez-Collado (56), Juan Pimentel (44), Juan Zepeda-Corona (40), and Jeremiah Frazier (23).
"Law enforcement is becoming increasingly aware of the amount of human trafficking [in the area] … and much more aware that prostitutes are often victims of crime," said District Attorney Joyce Dudley. Dudley added that an increase in federal funds to address the issue has become available in recent years. In 2014, Santa Barbara County launched a Human Trafficking Task Force, which has spread awareness about the issue, Dudley said. "We're spending a lot of time on this," she said.
Asked whether or not she believed prostitution would ever be legalized, Dudley said, "It's hard for me to imagine someone chooses that as a profession because of the number of prostitutes I have personally met and talked to … . When you sell your body, you have to kill a part of your soul. You have to be emotionally disengaged from something incredibly intimate.
"Do I believe it should be legal? I'd like to first meet the woman or man who thinks this is a terrific profession," is treated fairly, and feels good about herself or himself, she said. "It's hard for me to imagine."