Real Estate
Profiles in Design: Blackbird Architects
President Ken Radtkey's Diverse Practice Focuses on Change and Challenging Projects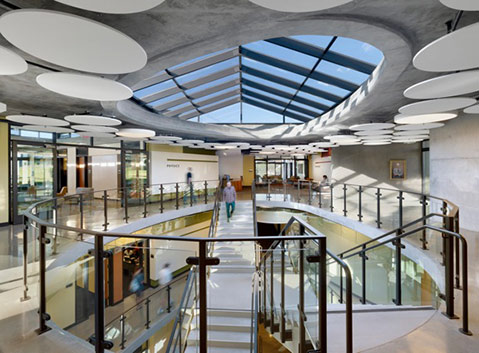 Studio: 235 Palm Avenue, bbird.com
Specialties: Master plans, commercial and institutional buildings, custom residential homes, and streetscapes.
Notable Projects: Master plans at Westmont College and Crane Country Day School campuses, the Adams Center for the Visual Arts and the Winter Hall for Science and Mathematics at Westmont College, and UCSB's Montell Lab
Upcoming Projects: UCSB Aquatic Center, Live Oak Campground bathhouse, and Crane Country Day School Kindergarten
"We have a very diverse practice, and we like that," says Ken Radtkey, president of the 12-person architecture studio that prides itself on challenging work with a mind for contemporary poetic and romantic designs. "If you just need a cookie-cutter thing, then we wouldn't be the best ones for that."
Radtkey appears to be curious and to prefer to engage his intellect in all his creative processes. After all, he named his firm after the "minimal elegance" inspired by a poem reflecting on blackbirds by Wallace Stevens.
And his firm seems interested in relevance with its work on master planning and streetscapes — such as the one he completed on Carpinteria Avenue — which is congruent with the current national conversation occurring in many architectural circles about reshaping our public environments to promote social spaces, interaction with natural environments, and urban well-being.
Radtkey started out in California and spent his college days at UCSB obtaining an engineering degree before moving to Boston to graduate with a master's degree in architecture from MIT. He then spent seven years in Germany developing large European projects, including the German Bundesbank headquarters in Frankfurt.
"Working on the high-profile jobs in Europe is something that I brought back with me," he says of his return to Santa Barbara to found Blackbird with some other colleagues with similar experience. "We like that large scale, and I think that most other firms of our size don't do a lot of it."
Radtkey admits that big projects take time and that the approval process is unpredictable. "You're trying to convince decision makers that good design is worthy of approval and that it makes a difference," he says of the negotiations required for the substantial changes often outlined in his master plans. "But good design is something that we are passionate about."
Blackbird's collaborative master planning at Westmont reorganized the campus, adding a new track/soccer field, baseball field, and future additions to their facilities. They also designed the Adam's Center for the Visual Arts and the Winter Hall for Science and Mathematics.
Radtkey says his firm's work on the college's buildings focused on creating visual connections with the landscape and the outdoors, which lead to the incorporation of hanger doors in the classrooms that open walls to allow students to take advantage of the mild climate and to work on their projects in the open air.
Blackbird used a similar indoor/outdoor idea on the nearly completed renovation of the bathhouse at Live Oak Campground that accommodates large groups and special events. "Now campers are going to have this really cool experience," he says of the showers with sky holes inspired by light and space artist James Turrell that provide bathers with a partially unrestricted experience. "You get to see the sky and twilight time changing color."