Briefs
S.B. Street Medicine Mobile Clinic Hits the Road
New Unit Adds to Medical Outreach for Doctors Without Walls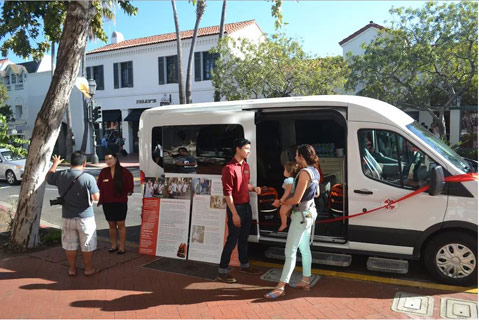 With its slightly clunky exterior, the Ford Transit t350 van is no luxury car. But for the staff and patients of Doctors Without Walls – Santa Barbara Street Medicine, it's the sleek new set of wheels they've spent years waiting for.
The new mobile unit, whose launch was celebrated Thursday at Gauthier Wear Art in the company of donors, volunteers, and community members, was made possible by a $65,000 grant from the Women's Fund of Santa Barbara awarded this past April. Out of 200 initial applicants, the Doctors Without Walls organization was one of seven recipients to receive an award.
"It was a very heartfelt event," said Maria Long, executive director of the organization. "It was important to us that the event was hosted on State Street since that is where we see so many of our patients."
As of Thursday, the fully decked-out van, branded with the nonprofit's logo, can now be seen shuttling through the streets of Santa Barbara. The van comes equipped with wheelchair access and on-board medical and first aid supplies.
The Doctors Without Walls – S.B. Street Medicine crew of more than 180 volunteer doctors and staff, the largest volunteer street medicine clinic in the country, according to Long, typically operates at weekly pop-up clinics throughout the city, including Alameda and Pershing parks. Patients who are unable to walk to clinics previously relied on the clinic's street-round teams that walk both State Street and Cabrillo Boulevard.
With the new mobile unit, patients in need can now be transported to and from clinics, depending on the severity of their medical conditions. In S.B. Street Medicine's experience, these range from respiratory illness to cancer. On Friday, volunteers used the van to shuttle patients to and from the Women's Free Homeless Clinic, located at Transition House and offered every second, third, and fourth Friday of the month.
Like the hundred-plus volunteer street clinics around the United States, the organization is looking ahead. "There are endless possibilities now that we have this," said Long, whose ultimate goal is to expand services to the entirety of Santa Barbara County. The newest mobile acquisition is a step in the right direction.