Make Myself at Home
Make Myself at Home: Fairy-Tale History and Modern Updates at The Knoll
5351 and 5343 Plunkett Lane Merge Long-Established Grace and Modern-Day Growth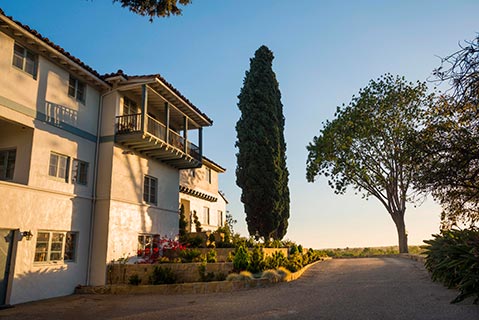 Address: 5351 and 5343 Plunkett Lane
Status: On the market
Price: $2,450,000 and $2,395,000
As if the simplistic and effortless yet breathtaking beauty of Santa Barbara weren't enough to decide to start a new life in America, a love story resembling a fairy tale will surely do the trick. An Austrian attorney and a recent Stanford graduate fatefully met during an international ski trip and, after falling in love, decided to reside in Santa Barbara and create a life submerged within a soon-to-be-budding community that we all are so grateful to be a part of.
A 6,530-square-foot, historic 1936 Manor House sits on the top of Patterson Avenue with 360-degree views of the mountains, islands, and sea. But the best view of all is seen through the large glass windows of the tiki bar, overlooking the enchanting Goleta Valley, that leaves every guest thinking, "If these walls could talk, every story you would ever need to hear would be told to you while being served a tropical drink behind this bamboo bar."
Designed by architectural firm Edwards and Plunkett, acclaimed for designing the historic Arlington Theatre and original Santa Barbara Airport, the home features authentic, Spanish-style roofing and plaster illustrating genuine Santa Barbara culture. From the historic shelling at Ellwood Field during World War II to countless stunning sunsets to the growth of today's Santa Barbara community, the Manor House has become part of the real estate footprint in the history of Santa Barbara — a destination of reflection on what was, what is, and the possibilities that are to come for this unique community. This five-bedroom, five-and-a-half-bathroom Manor House has been updated to include French doors and fresh landscaping; however, Oak Creek Company, stewards of the property, have shown great respect for the traditions and memories within the walls of this magnificent residence by preserving custom finishes, such as the hand-painted wallpaper and the old-growth bamboo-lined tiki bar.
Along with maintaining the tradition of the Manor House and the imprint it has left in the Santa Barbara community, the private estate residences in the Knoll development that surround this Manor House pay homage to Santa Barbara's timeless beauty and heritage through rustic olive trees and cultured architecture. This 12-residence project complements the Manor House with designs inspired by Spanish Colonial Revival elegance that include red-tile roofs and airy, vaulted ceilings. In addition to these components, the Knoll offers impeccable functionality and elegant finishes and interiors. The Knoll also presents a unique sense of luxury within each room, through the master bedrooms, living rooms, and common rooms. Between the large kitchens, roomy garages, open living rooms, attached casitas, and multiple outdoor patio areas, both secluded on the first floors and open to mountain views on the second floors, these residences are an entertainer's quintessential abode. While the Manor House was built in 1936, the surrounding homes are being developed as we speak. There are two model homes that will soon be available for sale, but the others are yet to be completed.
In addition, the enclave offers a wonderful environment in which to raise a family. The 12 residences are in close proximity to lively restaurants, boutique shopping, and high-end grocers. Beaches, pet-friendly parks, and playgrounds are the perfect stomping grounds for even the most unique family adventures, located just minutes away. Lastly, the Knoll is near outstanding schools, including Kellogg School, Goleta Valley Junior High, and Dos Pueblos High School.
The Knoll development is the idyllic merger between long-established Santa Barbara grace and modern-day Santa Barbara depth and growth. Needless to say, the tradition, culture, and history remembered throughout this burgeoning development and community allowed me, a fourth-generation Santa Barbaran, to easily make myself at home.
5351 and 5343 Plunkett Lane, part of the development known as The Knoll, are currently currently open for viewing and for sale in Santa Barbara, listed by Paul Suding, Bridget Murphy and Brittany Lough of Compass Real Estate Group. Reach them at info@sudingmurphy.com or (805) 886-1300.