Food & Drink
Kids Learn Cooking from A to Z
Inside Nancy Martz and Terra Hillyer's Apples to Zucchini Cooking School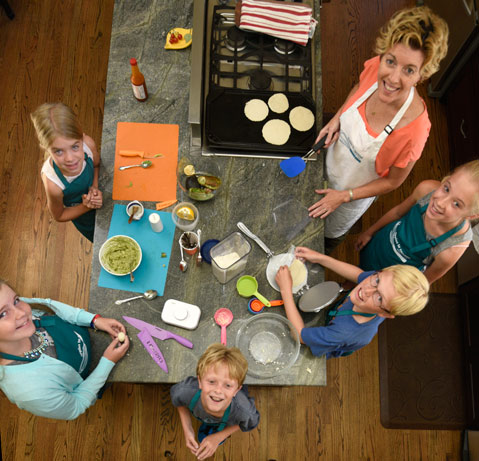 Upon entering Nancy Martz's San Roque home, I am greeted with a welcome sign listing the day's topics: knife skills, cross-contamination, pan-frying, roasting, and choosing ripe fruit. That seems like a hefty list for Day One of summer camp, but this group of astute and aproned 4th-6th grade chefs calmly slicing bell peppers and cutting chicken in Martz's kitchen appear ripe for the challenge.
It's Latin American Day at Apples to Zucchini Cooking School, and fajitas with homemade tortillas, guacamole, and fried plantains are on the menu. Martz and Terra Hillyer cofounded the nonprofit as an after-school program last year, and this year's first-ever summer camp explored a different theme each day, from Austrian to Italian, and included field trips to John Givens Farm and the Foodbank of Santa Barbara County.
"We created Apples to Zucchini because we are astonished by the statistics of obesity, hunger, and the amount of money families spend on food," said Martz, who has worked in nonprofits for 19 years. "Home ec is no longer part of the American high school curriculum, so many parents in our generation never learned how to cook. If the parents don't know how to cook, it's less likely that the kids will learn how to cook. If a person doesn't know how to cook, then they will spend their food dollars on prepared foods — frozen, deli, packages — or restaurant foods."
That afternoon we headed to C'est Cheese for a tasting with owner Kathryn Graham. Remembering my 5th grade cheese palate, which consisted solely of the stringed variety, I was impressed by the kids' adventurousness as they sampled and selected complex meats and cheeses to use in an upcoming class. Graham is just one of many purveyors in the area willing to lend her expertise and time to the young chefs, who've also been buoyed by donations from Trader Joe's and Gelson's as well as volunteer chef teachers. Said Martz, "The entire food community is super supportive."
Apples to Zucchini began as an eight-week after-school enrichment program at Brandon Elementary, where students cooked, read nutrition labels, and worked with produce from the area. More after-school programs are in the works for this fall, but Martz would also like to have Saturday activities open to the public.
And like the name implies, Apples to Zucchini students prep the day's dish, cook the food, set the table, share a meal, and then clean up. "We feel that the experience of eating together is crucial," Martz said. "If kids see cooking as a mindful practice, rather than drudgery, we will come a long way in improving our community's health."
4∙1∙1
Apples to Zucchini Cooking School will run another after-school program at Brandon and Adams schools this fall. Scholarships are available, donations are accepted, and other schools are encouraged to reach out via atozcookingschool.org.