Briefs
Rally to Stop Dakota Pipeline Saturday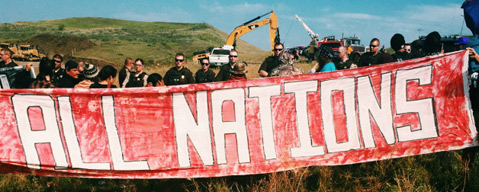 The Santa Barbara Standing Rock Coalition joins cities around the country on Saturday to rally with the Sioux attempting to block construction of an oil pipeline. At stake is the movement of crude oil from North Dakota's Bakken oil fields via a 1,170-mile pipeline running across four states. The Dakota Access Pipeline is mapped to dive under the Missouri River at a point upstream from the Standing Rock Sioux reservation and across lands with religious and cultural significance for the Sioux.
"When I found what was going on, it was the last straw," said rally organizer Peggy Oki, a Carpinteria artist and activist. "Between 2010 and 2015, there were 3,300 incidents of oil or natural gas leaks from pipelines," she recounted, "over 7 million gallons of crude." She referred to last year's Refugio oil spill, saying, "We had an experience of that, just a little bit. Imagine the catastrophe if the pipeline under the Missouri had a leak?" The pipeline is expected to move 470,000 barrels of crude per day. "One of the largest spills happened in North Dakota in 2013," she added, "when lightning struck a pipeline. It leaked 84,000 gallons onto a wheat field.
"It's an off-the-cuff gathering of people to have this rally," Oki explained, adding that volunteers should come around 11-11:30 a.m. to help the organizers set up for the noon rally at De la Guerra Plaza. Speakers include Chumash elders and leaders, environmentalists, and a performance by Emiliano Campobello, who plays a Native American flute. More information can be found here.