Society Matters
Unity Shoppe Holds Grand 100th Anniversary Party
Legendary Performers and the Community Celebrate Unique Organization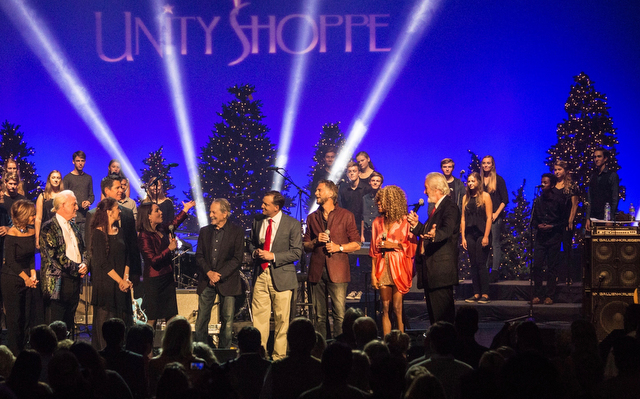 On Wednesday, September 7, a sold-out crowd of Unity Shoppe supporters gathered to celebrate its 100th anniversary at the Granada Theatre and enjoy incredible musical performances.
Through short video clips and lively onstage conversations, the history and the unique approach of this organization were shared. By letting clients choose their own food, clothing, and household and school supplies, Unity's approach allows people to get what they need and maintain their dignity. People are referred from 300 nonprofit organizations to Unity's central distribution system, thereby eliminating duplication of services. With a lean staff and a network of 1,700 volunteers, Unity last year served more than 18,000 unduplicated people who had fallen on hard times. Each year, more than $2 million in food and merchandise is given away.
Through an onstage conversation, guests heard how back in 1986, the now director of operations Barbara Tellefson "accosted" Kenny Loggins in the parking lot after he had done a concert at Soho and shared her vision of supporting the less fortunate. Loggins was instantly won over and he enlisted KEYT for its support. The next year the Unity Telethon began and Loggins has participated in every telethon since.
The guests also learned that Tellefson to this day still works 12-hour days at the Unity Shoppe. Deflecting attention from herself, Tellefson said that it "does not take a village, it takes an army," and gave thanks to all the supporters in the audience and a special thanks to Loggins.
Many others shared Unity Shoppe anecdotes, including executive director Tom Reed, Arthur von Wiesenberger, Ann Abernethy, Mark Larson, Olympic figure skater Tai Babilonia, and KEYT anchors Beth Farnsworth and C.J. Ward. Videos included warm wishes from ardent supporters: Jeff Bridges, Jimmy Connors, Jelinda and Barry De Vorzon, Olivia Newton-John, Anne Towbes, David Foster, Christopher Lloyd, and Peter and Natalie Noone.
Interspersed with the Unity stories were brilliant musical performances. Shortly after Bruce Johnston of the Beach Boys began singing California Girls, he had the house singing right along. "Singing Cop" Dave Gonzales delighted the crowd with This is the Moment, as did Lois Mahalia with a couple of numbers. The Feal with Daniel De Vorzon rocked the house.
Kenny Loggins, wowed the crowd many times, including in a reunion with Jimmy Messina for Pooh Corner and Danny's Song, with the audience sweetly joining in. The strong bond between this organization and its supporters was on a full display during this celebratory evening.
KEYT anchor Beth Farnsworth shared that her favorite part of the Unity Shoppe was its JobSmart Program. This program provides professional clothing, resume and interview preparation assistance and job training. Co-anchor C.J. Ward shared that what stood out for him at Unity Shoppe was the Disaster Services assistance that Unity provides, a complex task that can stretch over two years.
The stage backdrop was a row of Christmas trees so that portions of the program could be re-broadcast during the telethon, and Barry DeVorzon effortlessly led the house on this September night in singing It's Christmas Once Again in Santa Barbara.
The hosts reminded guests that Unity Shoppe has serious ongoing funding needs, both for paying off its $2 million mortgage and for stocking its food shelves, and then the anniversary party continued with cake for everyone in the lobby.
In an interview, executive director Tom Reed explained that "giving is more complicated than what the giver wants to do," and that the key to Unity Shoppe is "listening to what it feels like to be on the receiving end." By re-creating the environment of a normal shopping experience, Unity Shoppe provides people with what they need and it avoids waste. According to Reed, studies show that when you hand a family a box of food instead of asking what they want, on average 70 percent gets tossed. Unity's approach also allows the family to maintain a sense of dignity. Parents remain the providers in their children's eyes, which instills respect for the parents and pride and dignity for the family.
For more information about Unity Shoppe or to make an online donation, go to unityshoppe.org.