Foodie Awards
The 2016 Foodie Awards
Our Seventh Annual Celebration of Eating Well in Santa Barbara
This year, when we polled our staff, contributors, and trusted cadre of restaurant-loving friends, more than 30 nominations poured in for our seventh annual Foodie Awards, from the priciest places in town all the way to tasty, much-easier-on-the-wallet taquerías.
To us, that's strong evidence that the restaurant scene continues to evolve, expand, and excite in Santa Barbara, where the culinary culture shows no signs of abating.
After much discussion, we trimmed that list of 30-plus down to these 10 Foodie Award winners, which represent a wide variety of dining cuisines, service styles, and price points. Enjoy reading, and then start eating!
Funk Zone Favorite Award
Mony's Mexican Food
When it first opened three years ago, Mony's Mexican Food was a Funk Zone secret, a tiny taquería hidden inside of a nondescript building on lower Anacapa Street, around the corner from the strip joint and next to the adult bookstore. But as the neighborhood's winemakers and artists started spreading the word about tasty taco meats and refreshingly inventive salsas, the low buzz grew into a tidal wave of popularity. Today, drive by Mony's during lunchtime, and you'll find a line out the door and tables packed with smiling faces, juices dripping off their chins.
The visionary is Mony Diaz, the native of Colima, Mexico, who began driving and cooking on a food truck 16 years ago. She and her husband, Jose Diaz, first used the building for the Hidden Dolphin Café, but primarily used its kitchen for catering. Then in July 2013, the Diaz family reopened the space as Mony's, where you can find al pastor, asada, cabeza, buche, and other meats, both familiar and exotic, as well as peanut and pistachio salsas. "When I cook, I cook for my family," said Diaz, whose husband and kids are integral to the operation. "You can taste it in my food. As a family-run business, we are all part of the process."
217 Anacapa St.; 895-2978; facebook.com/Monysmexicanfood
Savvy Street Food Award
Empty Bowl Gourmet Noodle Bar
Upon opening with the rest of the Santa Barbara Public Market in April 2014, Empty Bowl Gourmet Noodle Bar was the immediate superstar, serving up hot bowls of noodle soups and curries, as well as larb lettuce tacos, family-recipe pot stickers, and much more. It all came together because owners Jerry Lee and Emre Balli convinced their friend Nui Pannak, a longtime waitress at Zen Yai, to start cooking commercially for the first time.
"She always cooked for me at her house, and it was delicious," said Lee. "I thought, 'We gotta do something about this.'" The result was a contemporary and fresh spin on Thai comfort street food, based on meticulously sourced ingredients that are hand prepared each day before landing in popular dishes such as the Northern Thailand Curry Noodle "Khoa Soi," Bangkok Street Noodle, and the Hangover Noodle.
"We're just trying to do clean, natural, organic, nice food," said Lee, who likes that his mom's pot stickers remain a favorite and that even vegans can find plenty to enjoy. "I wanted something fresh and lively, so much that you could taste it."
38 W. Victoria St., Ste. 109; 335-2426; emptybowlnoodle.com
No Need for Lunch Award
El Zarape's Breakfast Burrito
Some people are known to jog in the mornings just to feel righteous while eating an El Zarape breakfast burrito afterward. It packs the simple deliciousness of egg, rice, and beans, but then they leave it on the griddle for some extra crispy flavor.
"The secret is that so much can be done in a breakfast burrito, such as adding beans and pasilla pepper, to make it even better," confesses owner Raul Gil. "We recently had an order for 450 breakfast burritos ranging from bacon, ham, and potatoes all the way to a carnitas and chorizo asada. For the first time, we even included a gluten-free burrito."
Breakfast is just the start for this Westside institution, where neighbors come in with their own pots and bowls to haul out family-sized helpings of menudo and carnitas. Then there are delights such as the shrimp quesadilla and salsas that rival any in town. "Some readers may be surprised to know that we do quite a bit of catering, from Funk Zone gatherings to wedding rehearsals," Gil adds. "It is so rewarding to be part of many events where food is such a focal point."
1435 San Andres St.; 899-2711
The 'Izzy' Lifetime Achievement Award
The Habit Burger Grill
Few Santa Barbara restaurants have excelled on the national stage as prominently as The Habit Burger Grill, which originally started in Old Town Goleta as the Hamburger Habit. Brothers Bruce and Brent Reichard, who began working there at age 16 in 1976, purchased the restaurant in 1980 and slowly grew it into a national chain, now with more than 160 franchises across the country. The company went public in 2014, raising $90 million on the first day, and then Consumer Reports called it the best burger in America that same year.
Better yet, when the Reichards sold most of the business to an equity firm in 2007, they maintained direct ownership of the Habits in Santa Barbara County, including the original spot and the ones at La Cumbre Plaza and on State and Milpas streets. "We have so many great employees, some who've been with us for 32 years, and we didn't want anything to happen," said Brent. "And we get to do our own thing, which is really cool." That's why the Goleta location is the only one that sells the chili burger, which was one of The Habit's three original items.
Brent credits hard work and good luck for their success, as well as not moving too fast. "We took our time," he said. "The most important part of the business is hiring and training the right people to deliver consistent quality and reasonable prices. That's what we're all about."
628 State St., 216 S Milpas St., 3890 La Cumbre Plaza, 5735 Hollister Ave., Goleta, and 888 Embarcadero del Norte, Isla Vista; habitburger.com
Good Food for Great Causes Award
Kyle's Kitchen
Plenty of restaurants sponsor the occasional fundraiser, but Kyle's Kitchen builds charity into every transaction, donating proceeds to a different nonprofit each month. Since Jay and Deena Ferro opened the restaurant in Goleta in December 2014, they've raised more than $80,000 for nearly 20 different causes, all in the name of their 12-year-old son, Kyle, who was born with a brain injury.
"What we really wanted to do is honor our son," said Deena. "He's always had this social nature about him. He can really reach people and touch them. He doesn't hesitate to go out and give anyone hugs."
The idea for Kyle's Kitchen emerged when the Ferros, who first founded Silvergreens in Isla Vista in 1995, wanted to combine a new restaurant with giving back. They developed an affordable yet sustainably sourced menu around burgers and salads, which are Kyle's favorite foods, and then they started inviting special-needs organizations to benefit from the cash and, more importantly, the attention raised.
"Our community has opened its arms to us, and we are so appreciative of that," said Deena, who expanded the concept to their downtown Silvergreens, as well. "Just the amount of love that Kyle receives from every person that comes in the door is really overwhelming, and it touches my husband and me deeply."
5723 Calle Real, Goleta; 845-2260; kyleskitchen.com
Quietly Killing It Award
Petit Valentien
Crostini of seasonal mushrooms ​— ​that's all the menu says, but the plate tells so much more. First, they will be the best mushrooms available for the time of year you are dining ​— ​they really do mean seasonal. Second, the stock will be rich, wine-laced, and reduced. Third, the bread will be crustily worthy of the sopping you'll want to do. That's just one delightful dish at hidden gem Petit Valentien, modestly serving up some of Santa Barbara's best traditional French fare for nearly a decade.
"While we offer both classic French as well as a more modern cuisine," owner Robert Dixon said, "people love the classic dishes for the comfort-food quality."
And what's wrong with comfort? I know people who go to Petit Valentien just to have their salads because they love their dressings so. And that's not even mentioning the value, with most entrées clocking in at under $20. That leaves you more money to explore the well-curated wine list of French and regional producers, including Jaffurs, La Fenêtre, Fiddlehead, and The Hill). Then there's the La Arcada location. "We have become a restaurant geared more to the locals," said Dixon. "Being off State Street gives us a quiet outdoor dining experience without cars zooming by."
1114 State St. in La Arcada; 966-0222; petitvalentien.com
Worth the Drive Award
Bob's Well Bread
Forget about worth the drive ​— ​Bob's might be worth a crawl. Whatever's in the soil that's made Los Alamos our county's hottest foodie mecca has its mother lode under the 1920s gas station Bob and Jane Oswaks turned into this inviting breakfast and lunch oasis in wine country. Killer croissant ​— ​you got it. Scrumptious scone ​— ​no problem. Egg-in-a-jar ​— ​poached perfection.
"We look at Bob's Well Bread as creating something nurturing for our community," said Bob, "certainly for Los Alamos, but beyond our little town as well. Many a casual drop-in guest has turned into a loyal customer. Baking is absolutely a hard but satisfying profession. Feeding people's souls is the best reward, especially seeing the look of joy on so many faces."
The Oswaks, along with head baker Eric Henning and chef de cuisine Wayne Pratt, make magic out of the best basic ingredients, a riotous delight of essential tastes. For just one glorious example: After the avocado toast tartine, no avocado will ever seem as luscious.
550 Bell St., Los Alamos; 344-3000; bobswellbread.com
Secretly Vegan Award
Five & ¼
Welcome to the wine bar where, even if you ask pretty please, you won't get charcuterie and cheese. "Our wine list and menu are already so unique, so people don't expect the 'normal' standbys," said Jeremy Bohrer, co-owner with Sayward Rebhal of Five & ¼. "We've worked hard to come up with a menu of small plates from around the world, with flavors that pair well with wine but in unexpected ways. We also feature local, seasonal produce, and I think people really appreciate that."
You might get a savory chickpea flour pancake or Sri Lankan curry hot pocket with your Safer, Stranger, Geeky, or Daredevil wine (those are the actual, helpful categories). This weekend pop-up in the Pacific Crêpes space has a European yet hip yet homespun vibe, so people will be sipping a Masseria Li Veli Susumaniello from Puglia while shouting "Yahtzee!" (Game playing is encouraged.)
"We found ourselves wishing for a place where we could just chill in a relaxed atmosphere and try funky, weird wines ​— ​but not have to spend an arm and a leg," Bohrer said. "So that's the place we opened. We want to encourage people to try new things, and that's why we keep the list at $7 to $12 per glass. Our wine is for everyone!"
705 Anacapa St.; 882-1123; fiveandaquartersb.com
Reinvented Seafood Shack Award
Kanaloa Seafood
For more than 30 years, Kanaloa was where your favorite fine-dining spot got that amazingly fresh fish. But for the past year, they've been serving some of that bounty of the sea themselves from their casual restaurant downtown. Go no further than their tacos, which range from a sort of California traditional crispy beer-battered fish to a Korean take with kalbi-marinated salmon, kimchi aioli, pickled cucumber, cilantro slaw, and red chili sesame salsa to the Pacific, which is swordfish, poblano peppers, onions, cabbage, pico de gallo, and house salsa.
"We wanted to have a little fun with the tacos and take them to the next level, beyond your basics," said Randee Disraeli, who owns Kanaloa with her husband, Don Disraeli. "We're trying all kinds of flavor profiles and taking cues from around the world ​— ​from Asia to the Mediterranean and beyond. Everyone loves tacos, and we hope to continue satisfying those cravings!"
They're enjoying the shift to prepared food service, though they still sell fresh seafood, as well. Explained Randee, "We're loving the aspect of having a restaurant and getting to play with the menu while continuing what we do best: providing the freshest sustainably sourced, delicious seafood to the community."
715 Chapala St.; 966-5159; kanaloaseafood.com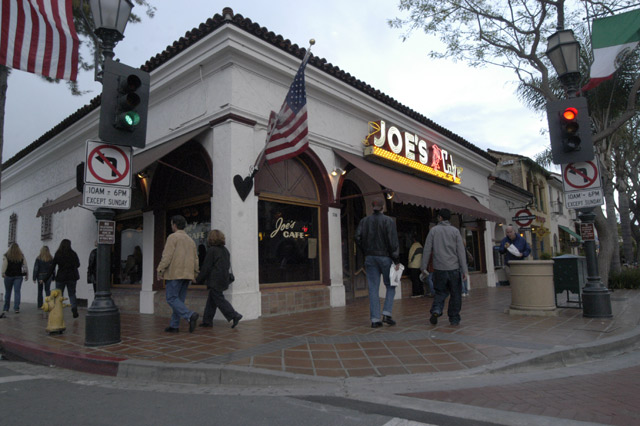 Two Centuries of Service Award
Veteran Staff of Joe's Café
The neon sign, stiff drinks, bread and salsa, and checkered tablecloths aren't the only familiar things during a trip to Joe's Café, the restaurant and bar that's been serving State Street crowds since 1928. There's all those friendly faces as well, the same ones you've seen for years while ordering your French Dip, Crab Louie, and margaritas.
This list of seven staffers have all worked at Joe's more than a quarter century, and in one case, nearly a half century. Altogether, their combined years amount to more than two centuries of service, right there at Cota and State.
So next time you pop in for a bite or beverage, toast these awardees for their dedication to a job done well:
Francisco Calvillo, bartender, since 1970
Salvador Reynoso, server, since 1976
Octavio Perez, busser, since 1980
Valentin "Papa" Gonzalez, busser, "a real long time"
Carlos Gomez, server, since 1982
Denise Keys, server, since 1988
Steve Velliotes, bartender, since 1988
536 State St.; 966-4638; joescafesb.com
Foodie Awards Roll Call
2010 • Fish Out of Water Award: Buellton's A-RU Sushi • Culinary Heights in the Valley Award: Budi Kazali @ The Ballard Inn • Heaven Scent Bakery Award: Bella Dolce's Scones • Service Masters Award: bouchon/Seagrass/Wine Cask • Farm-to-Fork Award: Buttonwood Winery's All Farm Dinner • Rock of Sages Award: Ca' Dario's Ravioli al Burro e Salvia • Post-Farmers Market Double Dip Award: C'est Cheese and Our Daily Bread • Chef Does Shell Award: The Cultured Abalone by Michael Hutchings • Breakfast of Champions Award: D'Angelo Bread's Poached Eggs and Toast • Super Sommelier Award: Eric Maldonado at Lucky's Steakhouse • Resurrected Room with a View Award: The Harbor Restaurant • Ale to the Chef Award: Hollister Brewing Company's Beer Dinners • Classy Candy Award: Jessica Foster Confections • Kill Your Hangover Award: Judge for Yourself's Bleu Cheese and Bacon Omelette • Livin' La Vida Locavore Award: Julienne • Perfect Pair Award: Opal's A Perfect 10 Martini with Chile-Crusted Filet Mignon • Vegetarian Goes Gourmet Award: Plow & Angel's Grilled Marinated Tofu • Luscious Spain Without Wallet Pain Award: Santa Barbara Museum Café's Tapas Menu • Naturally from Scratch Award: Sly's in Carpinteria • Inaugural Lifetime Achievement Award: La Super-Rica Taquería's Isidoro Gonzalez • First Farm on the Menu Award: Tom Shepherd's Greens •
2011 • Late, Great Dining Award: The Blue Owl at Zen Yai • Tops in Tapas Award: Cádiz Restaurant & Lounge • Embracing the Past Award: Cold Spring Tavern • The "Izzy" Lifetime Award: Downey's Restaurant • Sassy, Classy Service Award: Esther Lau at Hollister Brewing Company • Reason to Pull Off Highway Award: Full of Life Flatbread • Half-Off Doubles Happiness Award: The Hungry Cat's Happy Hour • Pizza Night for Adults Award: Olio Pizzeria • Family-Friendly Feast Award: Petrini's Restaurant • Onion Pancake and a Hug Award: Red Pepper Restaurant • Perhaps This Is Paris Award: Renaud's Patisserie & Bistro • The Lazarus Award: Three Pickles in Jimmy's Oriental Gardens • Eco-Cool Award: Wine Cask's Wine-on-Tap Program •
2012 • Upping the Antojitos Award: Cielito Restaurant & Taquería • A Walk in the Woods Award: Santa Barbara Wine Festival • Mad Men Award: Tee-Off Restaurant & Lounge • Friendly Faces on State Street Award: Pace food+drink • Grateful Brunch Award: Scarlett Begonia • Steady Service Award: Zacc Young @ the Brewhouse • Frozen to Perfection Award: Here's the Scoop • All the Meat Fit to Eat Award: Lilly's Taquería • Worth the Drive Award: Bell Street Farm • Lifetime "Izzy" Award: The Hitching Post II •
2013 • Worth the Drive Award: Sides Hardware and Shoes Los Olivos • Fist of Fin and Feather Award: Arigato Sushi "Gold Shot" Sea-Urchin-with-Quail-Egg Shooter • Pop-Up Kings Award: Spare Parts Bistro • Lifetime "Izzy" Award: The Isla Vista Food Co-op • Farm-to-Bar Award: Patrick Reynolds • Cook Comes Home Award: Ron True @ Arlington Tavern • A Chef for All Seasons Award: Alessandro Cartumini @ Four Seasons Resort The Biltmore Santa Barbara's Bella Vista • Sensational Salsa Award: Taquería la Colmena • Toes in the Sand Award: Shoreline Beach Café •
2014 • Behind-the-Scenes Baker Award: Ethnic Breads • "The Izzy" Lifetime Achievement Award: Rose Café • Gutsy Game Changer Award: Santa Barbara Public Market • Line Around the Corner Award: Cajun Kitchen • The Upbeat Beans Service Award: Beth Flett @ Good Cup on the Mesa • We All Scream for Ice Cream Award: McConnell's Fine Ice Creams • Funk Zone Epicenter Award: The Lark • Haute Hipster Award: Sama Sama • Old Town's New Classic Award: Goodland Kitchen & Market • Milpas Moves Up Award: The Shop Café • Coastline Creativity Award: Toma Restaurant & Bar • Worth the Drive Award: S.Y. Kitchen •
2015 • Cook's Cook Award: Justin West at Julienne and Wildwood • "The Izzy" Lifetime Achievement Award: Paradise Café • Goleta Goes Hipster Award: Outpost and GoodBar @ Goodland Hotel • Raising Regional Award: Barbareño • Way Worth the Drive Award: Industrial Eats • Patio Salvation Award: Benchmark Eatery • Veteran Service Award: Ruben Rosas and Renee Donati of Harry's Plaza Café • Putting the "To" in Farm-to-Table Award: Harvest Santa Barbara • Vanguard Veggies Award: Mesa Verde
---