Sports
Sweeping with Spikes
Westmont College Warriors and Laguna Blanca Owls at Top of Women's Volleyball Heap
A quiet confidence abides in the Westmont College women's volleyball team. The Warriors speak softly and carry a big broomstick. They are the only undefeated team in the NAIA with a 23-0 record, and that includes 16 sweeps.
The genesis of that surge was the final match of the 2015 season, a crushing loss to The Master's that deprived the Warriors of a bid to the NAIA national tournament. Westmont's middle blocker Libby Dahlberg made a vow: "We're never losing to them again."
The Master's Mustangs visited Murchison Gym last week, and the Warriors lived up to the promise, sweeping away their Golden State Athletic Conference (GSAC) rivals, 25-20, 25-14, and 25-13. That ended the first round of conference play with Westmont holding an 8-0 record in matches and 24-0 in sets.
Patti Cook, a former Westmont star in her sixth season as head coach, attributed the team's current success to "a combination of talent, experience, and a pretty fierce hunger for a common goal. Every single match is like our most important."
Westmont is strong at the net, with an array of women adept at putting the ball away. "We've worked to have arms at every single position," Cook said. Among them are outside hitters Taylor Beckman, Jessica McCann, and Samantha Neely, as well as Dahlberg, last year's GSAC freshman of the year, in the middle.
"The way we ended last season has driven us this year," the 6′3″ Dahlberg said. "We have more passion for the game."
Defensive specialist Kami Troesh, a senior, is not leaving anything to chance. "One of my goals is to go for every ball," she said. "Sometimes I run and dive and don't even touch the ball, but I always go for it."
Courtney Crosby, another defender, fired up the crowd at the Master's match. "She made three huge digs in a row," Dahlberg said.
Cook has sufficient bodies to put on the court when injuries beset the starters. Emma Harrah, a sophomore from San Marcos High, subbed for Dahlberg last week. Cassidy Rea, a freshman from Ventura, has displayed a lethal left arm.
Anticipating the NAIA nationals in Sioux City, the Warrior women traveled to Iowa and played four matches in two days last weekend. They swept Nebraska's College of Saint Mary, won a five-game thriller over nationally ranked Dordt College, and took a pair of four-setters from Concordia of Nebraska and Northwestern of Iowa.
Westmont's quest for its first GSAC volleyball championship since 1993 resumes with two matches on the school's homecoming weekend: Friday, October 14, at 4 p.m. against William Jessup, and Saturday at 2 p.m. against Menlo.
HOOTING IN HOPE RANCH: Another hot spot for volleyball is Laguna Blanca School's Merovick Gymnasium, aka the Owls' Nest. Residing there is the No. 1–ranked CIF Division 6 girls team. The Owls are 14-1, and their victories include three-game sweeps of Santa Barbara High and San Marcos.
"We're thankful those schools put us on their schedule," said Jason Donnelly, volleyball coach and athletic director at the private Hope Ranch school.
Laguna Blanca's success is no surprise. Several key players return from the team that last year went 26-8 and notched the CIF Southern Section Division 4AA championship. The Owls also won the State Southern Regional title and played for the State Championship against Notre Dame Belmont. Their loss in the finale was more sweet than bitter.
"I realized that team was better," said Kelly Bickett, the Owls' junior setter. "We made them win their points. I was content when the match was over. We came a long way from my freshman year when we just got destroyed in the first round of the play-offs."
"We did not roll over," said junior hitter Laurel Kujan, who is committed to play sand volleyball at USC. "This year, we're going far."
Donnelly said, "There's no complacency in the girls. They have team chemistry that's carried over from last year. They like each other and care about each other."
During their recent match at San Marcos, classmates of the Owls chanted in rhythm when they returned serves: "Bump. Set. Destroy!" Yet the team impresses more with its ball control and finesse than with power.
"We are not going to out-physical anybody," Donnelly said.
Their confidence was not shaken by their only loss this season, to Oaks Christian. "You need the feel of losing to want to win," Bickett said. Shortly later at San Marcos, the Owls won the first two sets by scores of 26-24 — fighting off four match points after trailing 24-20 in the second — and finished off the sweep, 25-17.
Laguna Blanca hosts Providence in a Condor League match Friday night, October 14. Looming on October 25 is a nonleague match at Dos Pueblos, an opportunity for the Owls to call themselves city champions. They have already beaten DP, 25-20, in the final game of Laguna Blanca's tournament.
"That was just one set," said Maddy Nicolson, the only senior on the team. "We need to win the real deal." n
GAME OF THE WEEK
10/13: College Men's Water Polo: UCLA at UCSB The No. 7–ranked Gauchos (8-4) face a huge challenge against No. 1 UCLA (19-0). The Bruins are riding an NCAA-record 52-game winning streak. Top UCSB goal-scorers Reed Cotterill, Shane Hauschild, and Boris Jovanovic will try to fire shots past UCLA goalie Garrett Danner, the 2015 national player of the year. After this Thursday-afternoon game, the Gauchos will return to their pool on Friday (7pm) against San Jose State and host LaVerne and Whittier on Saturday. 3:30pm. UCSB Campus Pool. $5-$8. Call 893-UCSB (8272) or visit ucsbgauchos.com.
S.B. ATHLETIC ROUND TABLE ATHLETES OF THE WEEK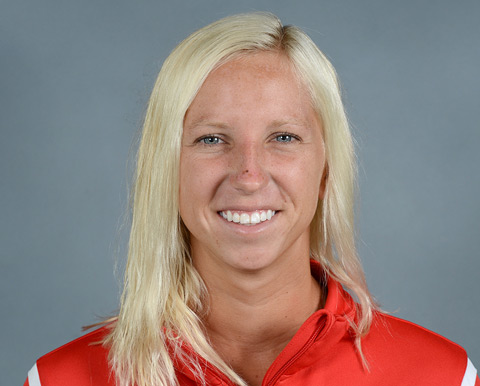 Halie Johnson, SBCC water polo
As the unbeaten Vaquero women (19-0) posted five more victories last week, Johnson scored 16 goals and had nine assists. The sophomore from San Marcos High is the No. 5 scorer in the state with 64 goals.
Chris "Tick" Jellison, S.B. High football
A year after he suffered a broken ankle in the "Big Game" against San Marcos, the senior receiver made his 2016 debut and scored five touchdowns — four receptions and a 65-yard punt return — in the Dons' 55-7 victory over the Royals.