Arts & Entertainment
Van Morrison @ the S.B. Bowl
Smoky-Voiced Irish Singer Bathes Moonlit Crowd in Hits on Saturday, October 15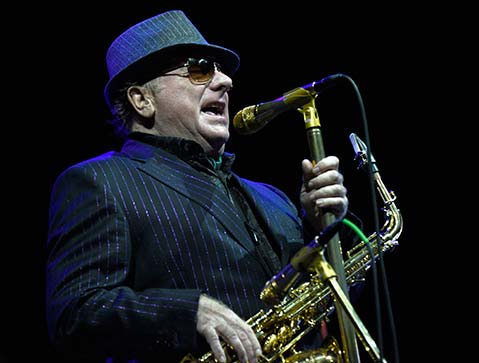 It's the most clichéd way ever to start a Van Morrison concert review, but Saturday was such a marvelous night for a moon dance that I can't let it pass. The stars were up above and, 'neath the cover of October skies, we watched clouds zip by on the breezes that blew, the only evidence of our first rain threat of the season. Then, as the 71-year-old, smoky-voiced legend dove into "Moondance," the brilliant full moon rose behind him, casting the sold-out crowd in soft, magical light.
I'll skip the romantic part, for I'd taken my mom to our hallowed venue for the first time. She wondered why people weren't up and dancing from the get-go, which is a common question for all at the Bowl, a conundrum compounded when the ticket prices and attendees' ages are elevated. But even from our seats, I could tell everyone was impressed by the tight and energetic set from the Irish singer, who sings like he's from New Orleans and looked, in my mom's eye, like a cartoonish Danny DeVito character, short and dressed in a fedora and streamlined suit.
He began in a jazzy, lounge-y style with "Too Late" and "Have I Told You Lately," got more rockin' on the back of "Wild Night," "Wavelength," and a medley that included "Baby Please Don't Go" and "Here Comes the Night," and featured such hits as "Precious Time," "Brown-Eyed Girl," and the aforementioned "Moondance," at which point much of the crowd was standing for the rest of the show. The finale was an extended "Gloria," which culminated — after Van left the stage after his roughly 80 minutes of work — in a series of solos from the extremely adept backing band.