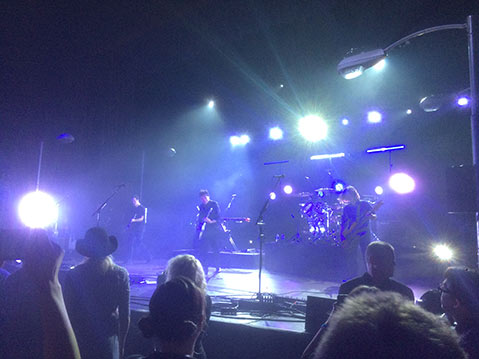 It was a packed house at the Arlington Theatre as pop-rock legends Jimmy Eat World played an intimate show Friday night.
English newcomers The Hunna warmed up the crowd with high-energy rock music and youthful energy. The audience danced along to the band's catchy tunes and made clear that this won't be the band's only visit to town. "It's fucking beautiful, man," said frontman Ryan Potter. "You don't get this in England. I think we were born for Cali."
Next up was Jimmy Eat World, and although they have been performing for more than two decades, they still know how to resonate with fans — whether they are preteens first discovering the band or lifelong listeners. "We've been a band for a real long time and really appreciate your support," said lead guitarist Jim Adkins. "From playing for punk asses in Goleta to this." Adkins was enamored by the enthusiastic crowd: "You guys seriously don't know how it feels to be here, looking at this [packed house]," he said.
The band played songs from its new album, Integrity Blues, and tracks dating back to 1999, each played with meticulous precision and rock 'n' roll ferocity. The intimate feel of the venue added a special element to the show— without a mosh pit, fans were able to appreciate the music and watch the spectacle without frivolous distractions.
Adkins acknowledged how the band rarely talks during shows and twice mentioned the members' hometown of Mesa, Arizona. His self-aware commentary throughout the show gave authenticity to the performance and showed that these music veterans don't plan to stop making music any time soon.
Setlist
Get Right
Bleed American
I Will Steal You Back
Big Casino
If You Don't, Don't
You Are Free
Pass the Baby
Futures
Polaris
Blister
It Matters
You with Me
For Me This Is Heaven
Goodbye Sky Harbor
Always Be
A Praise Chorus
My Best Theory
Let it Happen
23
Work
Pain
Encore
The Middle
Sure and Certain
Sweetness