Briefs
Business Owners Buy Tickets for 15 Homeless People
Homeward Bound Sends Panhandlers and People Down-on-Their-Luck Out of Town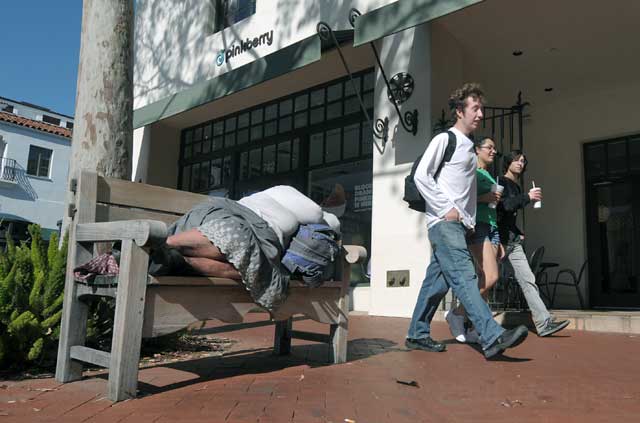 Two weekends ago, Downtown Santa Barbara paid for 15 homeless people and two pit bulls to go home or to a treatment center outside of the city. Each train or bus ticket, which cost the business organization $225 per person on average, took them as close as Los Angeles or as far as New York City. Downtown SB had hired seasoned homeless outreach worker Luke Barrett to find contenders living on State Street for the Homeward Bound program. He'd strike up a conversation with homeless individuals he did not recognize and ask them when was the last time things were going well. If they named a place or a family member, Barrett called to verify. Once police cleared their names to ensure they had no outstanding warrants, he'd hand them a bag of food and toiletries and $10.
"This issue has many faces, and it is complicated," Maggie Campbell, executive director at Downtown SB, wrote in an email. "This approach to try to reunify homeless individuals does not work for our most chronic homeless who are living and dying on our street. We thought it might work for a lot of people who are panhandling/stuck here/down on their luck." At its worst, the effort in other cities has been sardonically called "greyhound therapy," a pejorative term to describe bussing mentally-ill agitators out of town. But at its best, the process is known as reunification and is commended by homeless advocacy groups.
Over the summer, a study found nearly half the homeless people contacted on State Street said they would like to go elsewhere if they had the funds to do so. "It is a good and human thing to do if you can get them to redirect," said Randy Rowse, city councilmember and Downtown SB boardmember. The program is similar to one that has been implemented on occasion by the police department's Restorative Policing program.