Gift Guide
Made in S.B. Gift Guide 2016
Retailers Around Santa Barbara Offer Suggestions on What to Buy This Holiday Season
Edited by Matt Kettmann • Designed by Caitlin Fitch
Click here for the digital print version of the Made in S.B. Gift Guide 2016
Maybe you love shopping for just the right thing to give to your best friend ​— ​or perhaps you dread the thought of scouring the aisles with the last-minute masses to hunt down that perfect gift for mom.
Either way, the bulk of us are certified amateurs when it comes to holiday shopping. So for this year's Made in Santa Barbara Gift Guide, we've turned to the professionals for guidance. What follows is advice from the owners and staff of numerous stores around town on which Santa Barbara–made gifts they think your friends and family would love the most. And we've also included a few recommendations from our well-connected staff, listed under the "Indy Insight" umbrella. Happy gifting!
Amy Cooper
Owner, Plum Goods (909 State St.; plumgoodsstore.com)
Cooper is doubling the size of her popular arts and crafts store but will focus the expansion on selling "slow fashion" of ethically made clothing for men and women. "I have found brands that are doing some amazing things, and many of them aren't sold in California or even in the U.S. yet," she said.
Meadow Rose: We sell her photo prints on wood as small art pieces (with magnets on the back) as well as bigger framed versions. We also sell pieces from her that spell out words such as "Santa Barbara, CA," "Beach," "Love," and "Surf." meadowrosephotoart.com
Riz Board Shorts: These are made out of recycled plastic bottles taken out of the ocean! rizboardshorts.com
Junk Girls: They're based in Cambria, and we have a trunk show with their custom-stamped items, including popular phrases, brass key chains, and paperweights in aluminum and brass. junkgirls.com
Santa Barbara Soaps: This is always a huge seller; we get orders from Canada for her soap! New this season are bubbling bath salts in beautiful reusable bottles with mini matching soaps in three scents: Holiday Cheer, Santa Claus Lane, and Sugar Plum Fairy. santabarbarasoaps.com
Twenty-Four Blackbirds: These chocolate makers now have flights of truffles (five per flight) and salted caramel sets for $15 each. Both are amazing and so beautifully packaged. twentyfourblackbirds.com
Taste of Ojai Salts: Chef Robin out of Ojai makes sets of culinary salts, including the Santa Barbara Salt trio, Santa Barbara Spice trio, and a new lavender trio. privatechefrobin.com
Indy Insight: Clothing
Joah Brown Women's Apparel: This eclectic array of clothing has a warehouse in Carpinteria. joahbrown.com
The Field Outfitting: This has stylish yet functional clothing for men and women, including footwear and luggage. thefieldoutfitting.com
Marilyn Dannehower
Owner, A Crimson Holiday (La Cumbre Plaza; acrimsonholiday.com)
Featuring 50 artisans, designers, and authors celebrating the uptown gift gallery's 10th year.
MAD Dreams Designs ($12-$400): I use traditional silversmithing techniques as well as wire wrapping, chainmaille, weaving, and stringing, with sterling silver, fine silver, 14K gold fill, gemstones, pearls, and Swarovski crystals.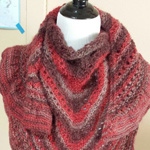 Lila Sander, Fiber Artist ($35-$200): Knitting with yarns sourced from all over the world, Lila creates scarves, shawls, and felted handbags for everyday wear. Her creativity includes designing her own patterns for her unique work.
Divine Bits of Beauty ($95-$500): Wendy Brewer creates mixed-media mosaic wall hangings, altars, and mirrors in stained glass, collage images, and handmade tiles, incorporating both natural and found objects.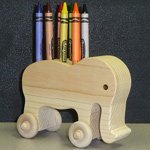 Chuck Drew ($5-$75): Chuck has been creating wooden toys for more than 30 years. His whimsical elephants, mice, bunnies, trucks, and trains hold crayons for all ages. He also offers wine-related art; using barrel staves, he creates chandeliers, bottle holders, bottle openers, and more.
Indy Insider: Active Wear
Black Sand Swimwear: The girl who designs these swimsuits — ​including tops, bottoms, and singles ​— ​is just 19 years old. blacksandswim.com
Caroline and Nancy Law
Co-owners, The Santa Barbara Company (214 E. Victoria St., santabarbaracompany.com)
Canon Perdido Gift Box ($110): It features Handlebar Coffee, Jessica Foster's Sea Salt Caramels, Santa Barbara Pistachios in Salted & Onion Garlic, Taste of Santa Barbara Culinary Salt Trio, and Laila Ceramic Tile Coasters.
Wine Bottle Candles ($28): With scents such as Wine Country and Riviera, these candles are hand-poured into repurposed wine bottles in Santa Ynez.
Karin Shelton 2017 Calendar ($24): We have been asking her to do one featuring Santa Barbara beach watercolors, and she finally did it this year!
Santa Barbara Sage Scrub ($24): These are formulated with sage from the Santa Barbara mountains and have a delicious fragrance.
Indy Insight: Photography
Kelly Sweda: For those who want more than the traditional family photo, Kelly Sweda has a unique and beautiful style and also hosts workshops at The Mill. kellyswedaphotography.com
James Studarus: After traveling the upper latitudes in search of the northern lights, this globe-trotting photographer is now selling prints and calendars of his otherworldly images. stardustimages.orghotography
Lynn Adams
Owner, Santa Barbara Arts (1114 State St., Ste. 24; sbarts.net)
James "Bud" Bottoms: The new "Diva" series from the legendary sculptor (who did the dolphins in front of Stearns Wharf, among other public pieces) includes "Diva Go Round" (pictured right) and "Go Diva."
Randy Meaney: This gal, who does hand-spun yarn and jewelry, has a huge following and is our featured artist for December.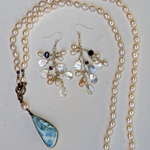 Amy Hazard: Using abalone collected from Refugio Beach, she repurposes it into one-of-a-kind jewelry pieces. She also makes the Lavender and Hummingbird Sage Lotion.
Hats: Danae Michele crochets artistic hats, while Valerie McLean uses felt for her creations.
Indy Insight: Design
GaeaWood Designs: Using a refurbished medical laser and CAD-directed lathe, Lyman Packard turns burls of legally harvested manzanita, driftwood, redwood, mojave cacti, and other woods into intricately designed, three-dimensional globes. Email lyman@packsfam.com.
Math Clocks: Skona Brittain's clocks, which come in styles ranging from Fibonacci and Primorial to Recursive and Radian, have fans from New York to London. sbcrafts.net/clocks
Vicki Lundquist
Events coordinator, Chaucer's Books (3321 State St., chaucersbooks.com)
Santa Cruz Island: An Illustrated History ($150) by John Gherini: It's priced steeply but worth every penny.
Santa Barbara 2017 Calendar ($11.95) by Bill Zeldis: This features iconic photography of Santa Barbara from Bill Zeldis.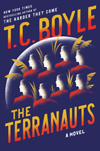 The Terranauts ($26.99) by T.C. Boyle: Dive into human behavior in an epic story of science, society, sex, and survival from one of the greatest American novelists today.
The Whole Town's Talking ($28) by Fannie Flagg: The best-selling author of Fried Green Tomatoes at the Whistle Stop Café is at her superb best in this fun-loving, moving novel about what it means to be truly alive.
There's Always Room for Chocolate: Recipes from Brooklyn's The Chocolate Room ($32.50) by Naomi Josepher, Jon Payson, and Georgia Freedman: The Chocolate Room, a sophisticated dessert café and retail shop in Brooklyn, has become a destination for chocolate lovers from all over the world. Georgia Freedman, a contributing editor at Saveur who also writes for the Wall Street Journal, Afar, Imbibe, Gilt Taste, and The Art of Eating, grew up here in Santa Barbara.
Indy Insight: Books
El Pueblo Viejo ($20): The Santa Barbara Conservancy dusted off this exhaustive, expertly organized, and nearly 300-page guide from 1986, which features photographs and historic descriptions of every building of note in the city's historic core. sbconservancy.com
Dick Cheney Shot Me in the Face ($17): Part-time Santa Ynez resident Timothy O'Leary's collection of 18 short stories, which are cast in the "verbal pointillist" style, is subtitled And Other Tales of Men in Pain. unsolicitedpress.com
What Breathes Us: Santa Barbara Poets Laureate 2005-2015 ($18.50): This is a
collection of poetry from our city's poet laureates, including an introduction by Mayor Helene Schneider. gunpowderpress.com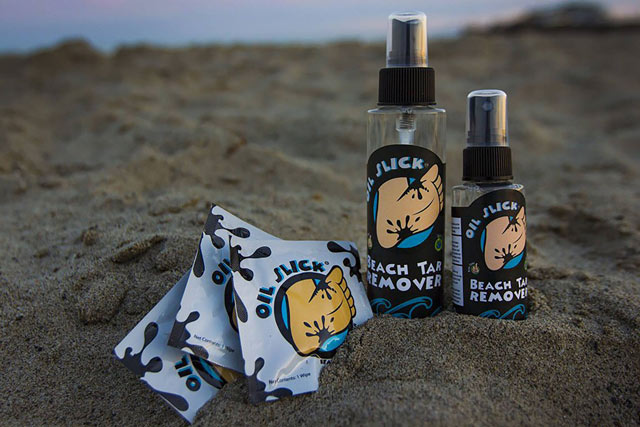 Tina Hasche
Owner, Skin Deep Salon (3405 State St., skindeepsalon.com)
Oil Slick: This natural tar/oil-removal liquid cleanser and towelettes are the perfect stocking stuffer for the beachgoer.
Hot Cherry Pillows: The pillows, neck, and back rolls are handmade to help de-stress the holidays.
Santa Barbara Aromatics: These candles and soaps are beautifully scented with thematic references from around the area.
JB Totes: Who wouldn't want a sturdy jute bag with Santa Barbara's coordinates on it?
Pellarte and Jump That Moon: Made by sisters, these dish towels, bracelets, and glass dishes are a great combo.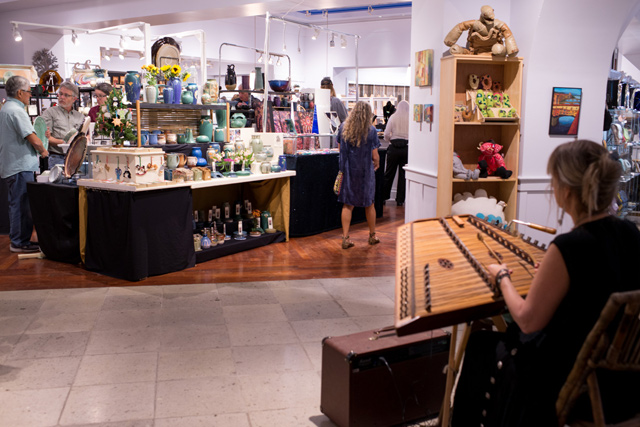 Troy Schmidt
Head of advertising, The Yes Store (Paseo Nuevo #101; facebook.com/TheYesStore)
It's the 49th year for this seasonal cooperative pop-up of more than 45 artists, who, since 1968, have banded together to rent an empty store in downtown and share the profits. "Multiple generations of customers now go as far as to say that it doesn't feel like Christmas in Santa Barbara until they have gone shopping at The Yes Store," said Schmidt. A few of his favorites are below.
Jessica Conti: Unique handcrafted leather bags and jewelry
Molly Cusick: Stunning photographs printed on metal, offering a new perspective and detailed look at simple as well as sacred things in our daily surroundings
Laura Giordano: Handmade lampwork jewelry and enamel on silver jewelry
Gayle Minjarez: Limited-edition and one-of-a-kind sterling silver and gold fabricated jewelry with accents of hand-dyed aluminum
Ellen Turner: Stained-glass jewelry boxes, picture frames, angels, and jewelry
Linda Sweatt: Handpainted silk clothing and accessories
Kristen Cramer
Owner/artist, Global Eye Art Collective (1095 Meadowvale Rd., Santa Ynez; geartco.com)
For Her: Crocheted abalone necklace (all made by me!), Sunshine hand cream, cashmere poncho (all made by me!), Classic White Sgraffito Dot Vase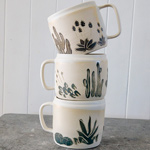 For Him: Cactus mugs, Surfing California Bear Shirt (handprinted in Ventura), leather earbud holder
Indy Insight: Leather
CrossBow Leather: Macy Pryor makes amazing leather goods out of her S.B. studio. Check 'em out on Instagram: @crossbowleather. crossbowleather.com
Oxley Goods: They make great wallets and purses. oxleygoods.com
Make Smith: Steven Soria is teaching an even younger generation his dad and grandad's tricks, but he still makes the coolest belts, bags, wallets, key chains, and more at his studio at 117 West De la Guerra Street. makesmith.com
Amy Isabella Chalker
Owner, Isabella Gourmet Foods (5 E. Figueroa St.; isabellagourmetfoods.com)
Fold Santa Barbara ($12-$18): Simple, clean, handstitched linens ​— ​including napkins, table runners ($64), tea towels, and more by Viktoriya Filippova ​— ​are perfect for dressing your holiday table or for gifting.
Local Harvest Forever Calendar ($30): This beautiful calendar contains 12 original illustrations by Kelly Clause, along with 12 field-to-table recipes by her foraging family of biologists. As a "forever calendar," it can be used year after year to remember recurring dates like birthdays and anniversaries.
Broken Clock Vinegar Works ($24): CT and Jody Williams, owners of Wandering Dog Wine Bar in Solvang, have forayed into vinegar- and shrub-making, using fermented wine remnants to make their unique flavors such as Grenache Red Wine Vinegar and Blueberry Vanilla Shrub. It's also a beautiful bottle to boot.
Indy Insight: Automobiles
Racing Heroes: Swedish auto aficionado Lukas Niklasson moved to Santa Barbara to marry his California-native high school sweetheart, Annemarie, and now they run an online boutique selling premium model cars, such as the Bugatti 57 SC Atlantic and Ferrari 250 GTO (above). They're offering a 10 percent discount to Indy readers through Christmas! racingheroes.com
Julia Mayer
Owner, The French Press (528 Anacapa St.; 1101 State St.; 250 Storke Rd., Goleta) and Dune Coffee Roasters (dunecoffeeroasters.com)
Holiday Blend ($15, 12 oz.): Always a blend of two seasonal coffees, this year it's composed of Costa Rica Chayote and Colombia Piendamó. In 2016, we had the opportunity to visit both these farms, so this blend is super meaningful! It's an approachable coffee that your relatives, friends, and neighbors will all love.
Panama Elida ($25, 12 oz.): The producer, Wilford Lamastus, is a great friend, and we have been serving his coffee since 2009, back when it was just Todd and Julia behind the counter every day. Our first origin trip to Panama was to visit Wilford and his family, and we were truly blown away by the hospitality and the quality of his coffee, which has beautiful strawberry and chocolate flavors along with a heavy body. This will truly sing alongside some gingerbread men!
Greg Novak
Owner/roaster, Carp Coffee (carpcoffee.com)
Carpinterican ($8-$10, 8 oz.): This smooth, medium roast from Costa Rica has just a touch of the roast flavor, which brings a nutty, bold cup of coffee. It's a popular roast by flavor and by name.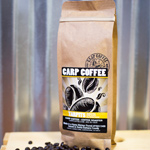 Tarpits ($8-$10, 8 oz.): This Sumatran coffee is a dark, bold roast. Though bold, it delivers a smooth, earthy flavor.
Aaron Olson & Kim Anderson
Owners, Handlebar Coffee Roasters (128 E. Canon Perdido St. and, coming soon, 2720 De la Vina St.; handlebarcoffee.com)
Gibraltar Seasonal Espresso Blend ($19, 12 oz.): Our best-selling coffee is a blend of coffees from Colombia, Guatemala, and Brazil.
Ethiopia ($19, 12 oz.): It's great, fruity, and floral.
Colombia Microlots ($18-$20, 12 oz.): These, which we have received from our travels directly to Colombia, have been outstanding.
Brolin Russell
Captain of All Things Awesome, Santa Barbara Roasting Company (321 Motor Wy.; sbcoffee.com)
State Street Blend ($16.50, 12 oz.): Our most popular coffee for more than 25 years, this double French roast is truly a cowboy cup of coffee, dark and gritty without being bitter. For true dark-roast coffee lovers, this is paradise.
Espresso Milano Blend ($14.50, 12 oz.): With seven different origins of beans from all over the world, this light-roasted blend is specifically designed to be brewed as espresso, for it creates a thick, beautiful crème that sets it apart from any other.
Indy Insights: Jewelry & Accessories
Jewls: Julie Fiscalini crafts one-of-a-kind pieces of jewelry with glass and/or semiprecious beads and usually sterling, with occasional gold. facebook.com/jewls007
Renegade Dreamers: Shey Massey and Mike Dauw travel all around, making jewelry and art as they go. instagram.com/renegade.dreamers
CA Makes: Chelsea Aiello makes cool brass hairpins, leather tassels, and more for your hair. camakes.com

Mama Coyote: Jess Graybill makes a wide range of affordable nature-inspired wall-hangings, jewelry, and ceramics. mamacoyote.com
Indy Insights: Pottery
Haggerty Ceramics: Husband and wife Jim and Linda Haggerty live downtown and work on the lower Eastside, making globally renowned, delicate, brilliantly fired ceramics. haggertyceramics.com
Indy Insights: Calendar
ResQcats: See a lot of familiar Santa Barbara faces posing with their kitty-cats in this $25 fundraiser for the kitten adoption and rescue organization. cafepress.com/resqcats
Sidecar Press: From the pantry of her farmhouse outside of Lompoc, Angelina La Pointe does letterpress printing, design, and illustrations. Her calendar is what you want. facebook.com/sidecarpress