Make Myself at Home
Make Myself at Home: Fairy-Tale Hilltop Estate
Take a Look Inside 117 Crestview Lane, a Private Villa Off of Barker Pass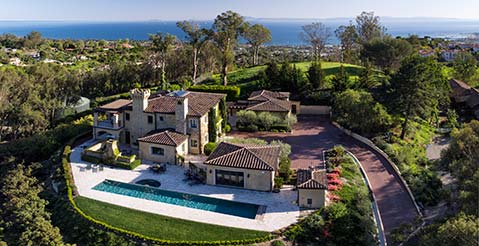 Address: 117 Crestview Lane
Status: On the market
Price: $4,750,000
The first week of December is my birthday week. I'm at an age now where I don't need a fuss made over me, and I certainly don't need much in the way of presents. But it's always nice to celebrate. And although I'm very happy with my life and live it to the fullest, sometimes days bring experiences that make you reflect and daydream a little bit about "what ifs."
Last week, I had one of those days. Although winter is threatening to creep up on us here in sultry Southern California, last Wednesday was a picture-perfect, clear-blue-sky, warm winter day. As I drove through the Eastside and up Alameda Padre Serra, it was easy to imagine I was driving off on a lengthy vacation, without a care in the world or a desk to rush back to.
This leisurely feeling of escape increased as I rose up Eucalyptus Hill Road and Barker Pass Road, climbing higher above and away from the city. When I turned onto Crestview, a discreet sign warned me that it was a private lane, and unless I had business there, I shouldn't bother entering. But enter I did. The last leg of the jaunt was steeper still, with only six houses perched on this secluded one-lane hill.
When I reached my intended destination, 117 Crestview Lane, I felt as though I had climbed up the beanstalk or gone through the looking glass. The top of the hill opened up onto a large, flat parking area paved in brick. A huge storybook Tuscan home stood before me, rising out of the motor court like a mirage.
The impressive façade of the main house is a formal, symmetrical work of art. Two cypress trees stand like sentinels on either side of the front door, taller than the red-tile roof of the two-story home. A white marble archway surrounds the door and spills onto the brick parkway, forming two simple steps that lead visitors into the house like a red carpet. Mature vines crawl tenderly over the entire face of the house, softening what could otherwise be an imposing first impression. Gracing the second floor is a delicate balcony spanning the width of the archway, with wide French doors promising access from inside.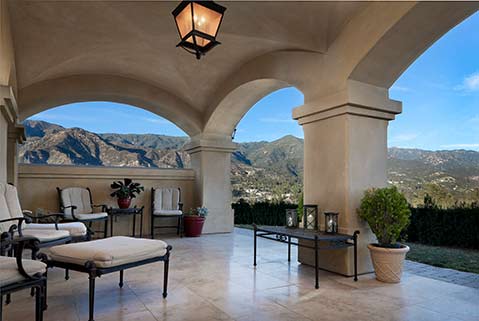 This grand approach aroused my curiosity and raised my expectations of the interior of the home. Stepping into the foyer, I could tell immediately that I would not be disappointed. A wide stairway greeted me and enticed me upstairs, yet I stood frozen in the foyer, absorbing the two-story atrium in which I stood and the gorgeous features all around me.
While I might have just stood with my mouth open, dazzled by my surroundings, Venetian plaster walls, Italian travertine tile, exposed wooden beamed ceilings, and gleaming hickory floors were pointed out as some of the not-to-be-missed details of this stylish home. After shaking my head and getting my bearings, I did manage to tour around the rooms of the house.
The first floor consists of a formal dining room and large living room in the front of the house, a study to the left, and a huge great room in the back. The family room has a large, ocean-view breakfast area and opens onto one of the most picture-perfect kitchens I've ever seen. Beautiful alder wood cabinets blend with granite countertops, two sinks, an espresso bar, beautiful built-ins, and top-of-the-line appliances. Not one but two full pantries provide additional storage and versatility, with a full laundry room beyond. Still on the first floor and on the right side of the house lies a complete guest wing with two bedrooms, a full bath, and a private outdoor patio.
Spectacular outdoor spaces abound in this hillside hideaway. The patios, courtyards, and terraces are as impressive as the house itself. A 60-foot lap pool and hot tub grace the backyard, providing amazing views while you swim. A full pool house with a bedroom, bathroom, and steam room opens onto a manicured courtyard with a massive stone fireplace. Above the garage, two bonus rooms provide even more living and storage space with outside access. Other outdoor amenities include an avocado orchard, fruit trees, and inviting gardens on all sides.
Back inside the main house, the master bedroom upstairs outshines everything inside or outside of this gorgeous home. The room is inviting and enormous, with a fireplace warming one side, and French doors leading out to a huge private patio that dominates one entire corner of the house. The master bath features a deep jet tub perched in a glass-walled corner with a sweeping ocean view. This is absolutely the stuff that dreams are made of. After discovering a laundry chute in the master bedroom's walk-in closet, I was tempted to skip the remaining two upstairs bedrooms. What could I find that would even come close to the master bedroom's delights?
As it turns out, romance and delight are key ingredients of these additional upstairs bedrooms. Each room has its own full en suite bathroom and windows looking out onto either ocean or mountain views. The pièce de résistance is the set of French doors in each of these sweet bedrooms, which open onto the vine-draped terrace above the front entrance foyer. This private terrace provides the only access to the delicate balcony that caught my fancy when I first saw the exterior of the house. This Romeo and Juliet setting is the perfect final touch to this fairy-tale estate. As I drove away from the castle on the hill, it was easy to conjure up a storybook ending with a happily ever after as I headed back to reality.
117 Crestview Lane is currently for sale in Montecito, listed by Marsha Kotlyar of Berkshire Hathaway Home Services. Reach Marsha at (805) 565-4014 or marsha@marshakotlyar.com. More information the property can be found at 117CrestviewLane.com.