News
UCSB Prof Pens New Book on the Privatization of Public Universities
Christopher Newfield Offers Solutions to Fixing America's Higher Education System
Christopher Newfield's third book about the American higher education system, The Great Mistake: How We Wrecked Public Universities and How We Can Fix Them, is a stinging indictment of the corporate mentality that has undermined a system that was once the envy of the world.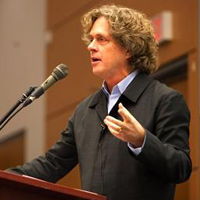 A professor of literature and American Studies at UC Santa Barbara, Newfield brings an insider's perspective to what ails higher education, and offers a number of solutions to halt the cycle of decline. Brian Tanguay recently caught up with him.
Part of your thesis is that the privatization of public universities — exemplified by what you term the American Funding Model — has had a detrimental effect on both teaching and learning. By adopting a corporate orientation, have public universities sacrificed themselves?
Yes, there has been a philosophical retreat from understanding that education produces individual and collective benefits that don't yield financial return. You can't make money making people smart. The public institution doesn't directly reap the benefit of its investment of time, money, energy, and resources — others do. Privatization is a way for private interests to leverage public funds and public institutions.
Privatization has also induced students and parents to see their education as human capital maximization rather than as personal development or even skill development.
What happened to the long-held ideal that investment in public higher education benefits society as a whole?
I think we have lost confidence in it, both as a society and within the public higher education sector. In addition, as political leaders saw public higher education as a cash cow for budget cuts, we started looking for private funds, business partnerships, and research arrangements that are costly for institutions; the financial effect on the institution is often very bad, which contributes to what I call a devolutionary cycle.
You make the unsettling observation — and this comes from your experience in a public institution — that students today are paying a lot more and getting a lot less.
Yes, and to really understand the extent of this, I think you need to look from the inside out. As I outline in the book, as costs have risen there has been a steady dilution of quality — fewer courses, larger classes, less direct feedback from teacher to student. It's really a trainwreck from a teaching and learning perspective.
As you describe in the book, the relationship between cost and outcome has become inverted. This is particularly difficult for students from modest economic means or low socioeconomic backgrounds, right?
Yes, I see it face-to-face. It changes the university experience in profound ways. And it's not the fault of the students or the faculty — it's systemic. The tragedy is that many of these students have tremendous potential and desire. It's heartbreaking to see students take on huge debt without graduating.
One of your prescriptions for restoring public universities is to start by capping tuition and then reducing tuition to near zero as public funding is restored. But before this can happen, doesn't public higher education first need to be recognized as a public good, as it once was, and can such a shift in perception happen in the current political climate?
I think so. People, taxpayers, never really gave up on the idea of a nonprofit benefit for themselves and their peers. The public never decided that higher education is a private good — that notion came from the political class and university leaders. If you ask people if high tuition is a problem, strong majorities say yes. And if we look at the recent presidential campaign, the idea of free public higher education was very popular with people of various political persuasions. There is a lot that public universities can do to broaden their appeal.
While writing this book what did you learn that surprised you?
The accessibility of the solutions. It wouldn't take that much more money, maybe 10 or 20 percent, to replace the broken financial aid system. We're paying in the neighborhood of $200 billion dollars per year in financial aid, and this has created more than a trillion dollars in student debt. That's a bad investment. But it's not really a financial problem, it's a political problem.