Food & Drink
Mesa Burger's Double-Stacked Ambitions
Cat Cora's New Restaurant Just Opened, but Star Chef Already Aiming for Expansion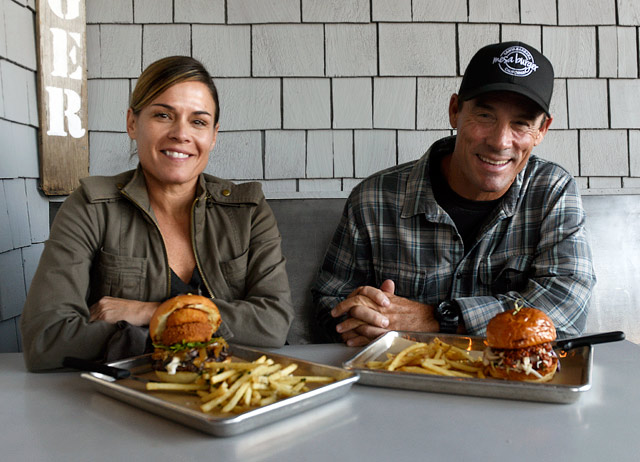 "We just said today that we need to find the next location," Cat Cora explained to me last month, less than a week after she and business partner Chris Chiarappa opened Mesa Burger across from Lazy Acres on Meigs Road. "We want to make 100 of these, go public, and ring the bell on Wall Street," she continued, exuding the commerce-savvy confidence that only a celebrity chef can have. "We're the new Shake Shack."
Though a resident of Santa Barbara's Mesa neighborhood for the past dozen years, Cora, who first hit television screens in 1999 and rose to become the Food Network's first female Iron Chef, consciously avoided opening her own restaurant in town. "It's been my oasis away from everything else," she explained.
But then came a unique burger concept from Chiarappa, whose kids went to Washington Elementary with Cora's brood. A medical device salesperson by day, the San Diego native — who moved here in 2008 with his S.B.-born-and-raised wife — was "literally swinging in hammocks" on a surf trip outside of Mazatlán with his friends a couple of years ago when they realized the Mesa was missing a burger spot. "I know nothing about restaurants," he readily admits, but he dove into the research, trying burgers from New Orleans to Los Angeles.
When he approached Cora with the idea in August 2015, she was splitting from her partner of 17 years — they have four kids together — and was ready to do something new. "I've done burgers in my joints, but never a burger joint," said Cora, who saw a kindred work ethic in Chiarappa. "We're both pretty anal about attention to detail," she explained, noting that there is plenty you can teach someone about running restaurants but that such an innate "sense of urgency" is what's required to serve consistently great food.
Cora immediately required that the concept could be scaled into a national chain, so they planned the branding and menu with that in mind. "Mesa means 'table' in Spanish and Portuguese, so we feel that the name can travel," said Chiarappa. They developed a wide range of burgers for all tastes, from "chef-y" (the Funk Zone has fried egg, bacon, bourbon-glazed mushrooms, roasted tomato, and more) and Mediterranean (the Sandspit features Kalamata olives and tzatziki sauce) to "powerhouse" (the Goodland comes with a double stack, onion rings, bacon, and a beer brat!) and classic (the simple Mesa). The ingredients are, of course, extremely fresh, regionally grown, sustainable, and "conscientiously sourced," with hometown brews on tap, as well as Central Coast wines and McConnell's Ice Cream. Said Cora, "I wanted a well-rounded menu of things that I knew would sell."
Meanwhile, Chiarappa assembled a number of "investor families," including many from the Mesa. "Without their support, their belief, their trust," he said, "we wouldn't be where we are." They took over the old Mexican Fresh location, as that restaurant's owner was moving out of the business, and brought in Nelson Construction to transform the space. "It was a lotta work," said Chiarappa. In came wood beams rescued from old barns, a roll-up front door, Mesa-centric photos by Phil Gerlach, and a laid-back, beachy vibe, enhanced by the design wisdom of Kristi Gordnier. "We were trouble together," said Cora, who also played a role in the look of the place, which will include a surfboard shaped by Renny Yater above the kitchen.
The place was immediately packed upon opening in early December, and business has remained steady ever since, a good omen for the ambitions to come. But expansion goals aside, Cora and Chiarappa see this flagship location as being a longtime community hub for Santa Barbara families, a place to meet and eat, but also where the generations of kids can work each summer. "It's been everything I hoped for," said Cora, a mere week into the new venture, "if not more."
315 Meigs Rd., (805) 963-7492, mesaburger.com