News
Two New County Supervisors Sworn In
Will Trump Put Their Environmental Credentials to the Test?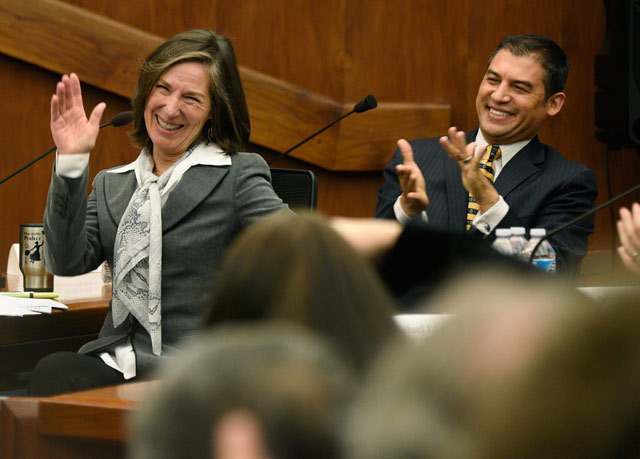 Das Williams showed up to the first day of his new job as a county supervisor without prepared remarks. Even so, the former state assemblymember recited a line from "his favorite dead white male," T.S. Eliot: "Take no thought of the harvest, but only of proper sowing." He explained, "Our society does not prize long-term thinking … I want my values to be more than surface pretention."
Joan Hartmann, meanwhile, said while America's faith in nearly all institutions has tanked, the glimmer of hope is local government. It doesn't get much more local than Santa Barbara's Board of Supervisors.
Williams, 42, was elected to represent the 1st District, which stretches from Montecito to the western edge of the City of Santa Barbara. Hartmann, 66, will represent the 3rd District, spanning Isla Vista to the Santa Ynez Valley, and up to Guadalupe.
They both received a warm welcome from an overflowing board hearing room, but the cheerful congeniality might not last. Conservatives grumble that the new board will continue to tilt to the left since Williams and Hartmann are liberal progressives.
They are joining Janet Wolf, who seldom budges from her strong, progressive values. Her soft, motherly presence can be deceptive; she is fierce. In addition, Steve Lavagnino, once the GOP's golden boy and son of a Santa Maria mayor, is increasingly seen as reasonable by liberals. That means archconservative Peter Adam, the owner of a large commercial farm in Santa Maria, is regularly the lone vote. He was the only supervisor to support Donald Trump, saying, "I think it represents saving America as we know it."
Though Adam was usually the odd man out, the dynamic of the old board grew affable, as the five county supervisors appeared to truly like each other. "I was surprised that I was as emotional as I was about the other two leaving," Lavagnino said. As for the new personalities, he said they "will figure it out."
They will have to. This year's budget will be a challenge. The county must contribute an estimated $11 million more to the employee pension fund next fiscal year. Ultimately, this could translate to layoffs, reduced services, and slower services. In addition, more money was recently allotted to fire services. And the county supervisors previously voted to tuck away more money each year to maintain county roads and parks. The county must allot several million dollars every year for the future operation of the new northern branch jail, now under construction.
But the greatest uncertainty fast approaching is the Trump presidency. Trump has already indicated he would repeal the Affordable Care Act, deport undocumented immigrants and oppose raising the minimum wage ​— ​just some of the things that a majority of California voters have supported. In fact, Governor Jerry Brown recently appointed Xavier Becerra, congressmember from Los Angeles, as the state's attorney general, to fight Trump's plans.
This battle could drastically impact the hundreds of millions of dollars Santa Barbara County receives every year from the federal government. Specifically, the county gets $118 million each year directly from the feds and a similar amount for providing certain services. This includes enrolling 55,000 people in the Affordable Care Act since 2013. But, County CEO Mona Miyasato said, Trump has also pledged to invest $1 trillion in infrastructure over the next 10 years. "If that ends up being true," she said, "that could be good news for us."
Given the certain and possible budget shortfalls, some are calling for more oil drilling and development to boost county revenues. In the next two years, applications for several hundreds of steam-injection oil wells will go before the board. Approval could be unlikely. Both Hartmann and Williams drive electric cars.
No one can predict exactly how the new group will get along. "In any change, there is a period of adjustment," said Supervisor Wolf. "For me, I just want to make the new board-members comfortable."
On the surface, Williams and Hartmann appear very different. If Hartmann were a schoolteacher, Williams would be the kid in the back of the class performing card tricks. In fact, he hired magicians and fire dancers to entertain college students in Isla Vista on Election Night while they waited in line to vote. He is often the center of attention. He was the first county supervisor to be sworn in at the beach on a rainy day. When it started to drizzle as he began to take the oath, he practically declared himself the rain god.
He brings his 15-month-old daughter, Ya'Ash, to various events, even changing her diaper at a packed fundraiser featuring Bill Clinton at the Canary hotel. His wife posted a photo on Facebook of him smiling brightly in the shower with Ya'Ash. "I'd prefer people to know I'm an actual human being," he said, "not something a consultant created from focus groups and polling."
Though she does not have any Facebook photos in the shower, Hartmann does not come across as uptight. She has had a full career in academia and environmental law. She is like a polished hippie. She rides horses, and Jackson Browne played at her fundraiser. She will join the Women's March in Los Angeles on the day after Trump's inauguration.
Her adversaries, however, painted her as a heavy-handed regulator during the campaign, complaining that when she was on the Planning Commission, she aligned herself with South Coast environmental elitism without considering the practical reality of North County. But her campaign argued that criticism was flawed. Most of the commission's votes were unanimous.
The former 1st and 3rd district supervisors Salud Carbajal, now a member of the U.S. Congress, and Doreen Farr, who retired, were both known for a willingness to compromise. Even conservatives said Carbajal often struck a deal, and Farr judiciously studied the issues. Their final meeting in December was a chummy ceremony that lasted for hours.
To be sure, Williams and Hartmann stand for firm environmental regulations, which could be hardened if the Trump administration amends the offshore oil-leasing agreement or federal air-quality standards. After all, Hartmann was an attorney with the U.S. Department of the Interior when Ronald Reagan came into office, and she was struck by how quickly "he was dismantling programs rather than trying to create them. I expect major changes."