Film & TV
The Boatmaker
Director Casey McGarry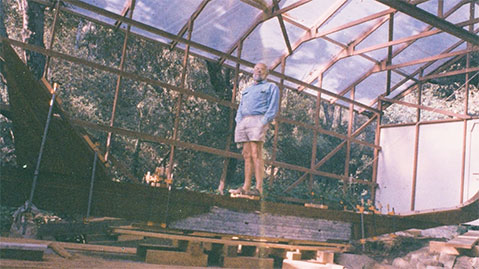 It took a quarter-century for Sycamore Canyon resident architect Ken Minor to construct his very own wooden sailboat, a feat rarely attempted in today's world. This documentary captures all of the emotion and drama as Morning Song winds to its completion and sets sails from the Santa Barbara Harbor.
How did you hear about the boat?
My friend Robert Allan (a producer on the project) kept telling me about this guy, an architect named Ken Minor, who was living in Sycamore Canyon building this wooden sailboat for the last 25 years. He kept bringing it up that someone needed to make a film about this guy because it was a great story and it was important. Flash forward two months: Robert had gotten word that Ken was getting ready to finally move the boat out of Sycamore Canyon and bring it down to the water. A couple days later we met Ken for breakfast, and afterwards we got in our cars, drove up to see the boat, and I began shooting the film that day and have been making it ever since. That was 11 ½ months ago.
Did you immediately know it would be a good film?
No. I knew we had a good premise and it certainly sounded like a great story with a lot of potential for a short documentary. In this style of filmmaking, you can never predict if a story idea will translate until you're well into shooting the project and you discover what the real narrative that you want to tell is. After that, then there are a thousand other little variables that have to go your way for the film to be any good. This story just so happened to work out for us.
Ken and his wife Loretta are also really great characters and were oddly comfortable in front of the camera out the gate. Ken fit part so well and Loretta is just a riot! She's hysterical.
Was Ken immediately open or did he need some convincing?
Considering the fact that directly after meeting Ken at breakfast that day, I turned on my camera and began filming him in his workshop, and then I proceeded to practically live at their house for the next two weeks straight. Yeah, I had to work pretty hard to make a good impression in the beginning. They warmed up to me rather quickly but it certainly didn't happen overnight. This is a personal portrait-style documentary after all, and we're dealing with some pretty intimate and life-affirming stuff here. You're essentially asking someone you hardly know if you can come into their lives, with a video camera, film everything, attempt to tell their life story in X-amount of minutes, and the whole time you're making the thing, you don't know if it's going to work out or not. Not always the most comfortable of situations. It's an important question to ask though because that is truly one of the hardest parts in making a film like this, building trust with your subjects, relationships, etc.
Do you have any sailing background?
No, I grew up in and around the Pacific Ocean surfing my whole life but never sailed. It wasn't till I was in college when I visited my two friends who captained a wooden tall ship in Martha's Vineyard; that's when I fell in love with the tradition of wood boats.
The first sail my friends took me on was a private birthday charter for Carly Simon, and midway through the sail, she took out her guitar and everybody sat indian style around her on the deck watching her perform "This Land is Your Land." And we were sailing upwards of 5-7 knots. It doesn't get much better than that.
Was the big move day really super tense?
Moving the boat took place over the course of two to three days. It was super tense. It took one full day for the house movers to back in the truck's trailer down the driveway in and beneath the boat so they could haul it out of there.
Also, there were scores of people who came out of the woodwork from all over the place who had heard about Ken's story and wanted to watch the event. Whether it was friends of Ken who had been following the boat build for the last 25 years, or someone who was just passing by and wondered what was going on, there was a huge crowd looking on with awe and excitement throughout the entire process of moving Morning Song. It seemed like everybody in town who knew the story wanted to witness the process of moving the boat out of that canyon and cheer it on as it made its way down to the harbor.
Does he take the boat out often today?
Oh, he's sailing. Ken just turned 78 years old but I have a pretty good feeling he's going to go far.