Film & TV
The Fixer
Director Adrian Sitaru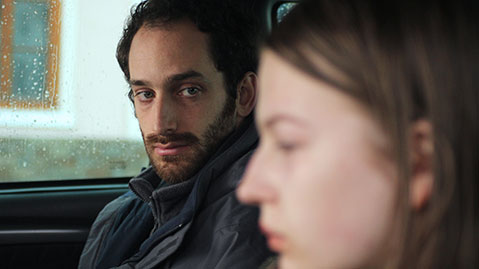 This engaging drama follows an aspiring journalist in Bucharest, Romania, who serves as a fixer for a French television crew that's looking into sex trafficking. When they start ruffling feathers in a small village where the church is protecting the former prostitutes, people aren't happy, and the journalistic ethics soon become victimized as well. See 4prooffilm.ro.
What was the origin of this film?
It was inspired by true events. Adrian Silisteanu, the DOP of the film (and of almost all my films), had worked as a fixer/best boy for France Press Agency in Bucharest, before enrolling at the film school. In one of his jobs, he met this situation sometime at the beginning of 2000s; of course, because it's a fiction film we dramatised it and changed some things. But his experience remained in his mind like a bitter one; he felt like they committed an abuse in the name of good journalism with their best intentions. I became very much attached with this subject, thinking for many times how easy it's to commit abuse in my job, in the name of art or cinema, with my best intentions.
Did any of the filmmakers work first as journalists?
I think nobody worked before as journalists. As I said, Adrian Silisteanu was the closest, he wanted to be a journalist but he never achieved that. Maybe that's why he switched to filmmaking.
At the core of the film is this question of what makes a journalist versus a fixer.What did you want the audience to take away from that dichotomy?
For us it was not a question about who and what is a fixer. It was more about abuse, the main theme of the film. Fixer for us, generically, was anyone who was in his/her younger years trying to prove how good he/she was. In some situations it is called "best boy" or "intern" or "assistant." Of course, our story is something very specific for journalism, but we thought all the time to some universal pattern.
Is sex trafficking still a major problem in Romania?
I think it's a problem everywhere in the world, even in rich countries. I had a very interesting feedback about it in Japan where the film was screened at Tokyo IFF.
On a lighter note, do they really put water in wine in Romania?
Of course, it's a normal thing in almost all areas in Romania to combine white wine with sparkling water. But is not just a Romanian habit, is also in Austria and Germany, at least, and is called spritz, soda wine.
What is your next project?
It is not very clear in my mind, but I can guess it will be about faith. But the way in which I want to develop it's a bit uncommon, like my previous feature Illegitimate, without a script, shooting just one take, and some other "devices." But this is another story.