News
Abandoned Juvy Hall Turning into Mental Health Facility?
Relief in Sight for County's Chronic Shortage of Psych Beds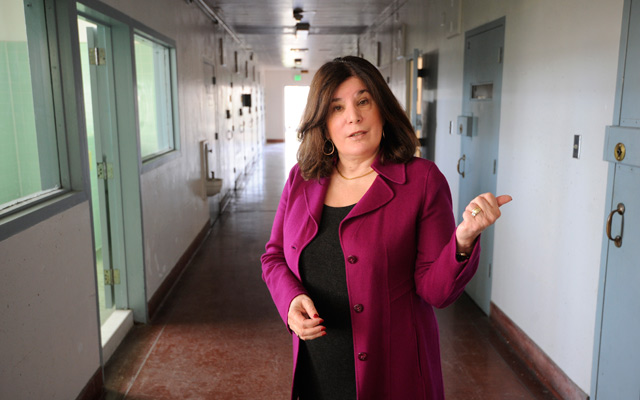 It was one small step by one of the most obscure governmental working groups in all of Santa Barbara County. It could wind up as one giant step for county residents grappling with acute mental illness. Last week, a subcommittee of the Community Corrections Partnership voted unanimously to allocate $4 million to refashion the old juvenile hall at 4500 Hollister Avenue ​— ​empty nearly 10 years ​— ​into a locked-down treatment facility for mentally ill individuals charged with crimes. In addition, the group approved a portion of the $2.3 million a year it's estimated it will cost to run the new facility. If all goes as planned, one wing of the old juvenile hall ​— ​the one with the biggest windows ​— ​will be converted into 15 treatment rooms.
This would ease the huge strain on the county's tiny Psychiatric Health Facility (PHF), the subject of Grand Jury lamentations for more than 40 years. Demand for the scant 16 beds at the PHF ​— ​designed to handle those in danger of hurting themselves or others ​— ​has grown acute in recent years. County judges have increasingly ordered defendants deemed "incompetent to stand trial" (ISTs for short) to its care; most are not in acute mental-health crisis, and they take up space for individuals who are.
Santa Barbara County, it turns out, arrests and jails a disproportionately high number of people on misdemeanor charges, said Dr. Leslie Lundt, outgoing head of the county PHF and acute-care treatment. "We arrest people for shouting in stores and peeing on the sidewalk," she said. "Other places don't. [Many] get sent to the PHF because that's the only place we have where they can get treatment." As a result, other patients in acute need are sent to mental-health facilities throughout the state, and every year, the associated costs have busted the budget for the county Department of Behavioral Wellness. This year, department chief Alice Gleghorn estimates they could spike at $6 million. The retrofitted wing of the juvenile hall could hold IST patients instead, Gleghorn hopes, and could be used to better treat mentally ill people now in County Jail.
Funding will come from unspent revenues Santa Barbara County was allocated as its share of the savings the California Department of Corrections gained by releasing about 35,000 inmates ​— ​nonviolent low-level offenders ​— ​from state prisons and back to jails in their home counties. Since the start of the "realignment," or AB 109, program, Santa Barbara County received about $8.5 million it hasn't yet spent. Before all the county agencies that receive a cut of AB 109 money ​— ​that's the Community Corrections Partnership ​— ​divvied up the funds, they decided to hire private consultant James Austin to study how well they'd spent that money to date. Released last November, the Austin report found no shortage of areas for improvement: "Within the jail there are at least 1-15 inmates with significant major mental health disorders (most declared incompetent to stand trial). Due to a lack of state facilities, these people languish in the jail for extensive periods of time." In addition, Austin stated, "Inmates with extensive mental health issues are being released to the community without an opportunity to be placed in transitional treatment beds."
Gleghorn joined forces with County Supervisor Janet Wolf and Wolf's assistant Mary O'Gorman, a onetime probation officer with a stubborn passion when it comes to alternatives to incarceration. Together they toured the old juvenile hall with General Services staffers. They discovered no fatal flaws. The three then successfully persuaded their mental-health working group ​— ​representatives from the Sheriff's Office, jail, courts, District Attorney, Probation, and CEO's Office ​— ​to support the project unanimously and allocate about $4 million for it. "This would be a huge fix for us," said Gleghorn. Details for programming at the new facility are still emerging but would include a wide range of restorative services. Unlike the PHF, it will not be required to meet hospital licensing standards. The PHF, Gleghorn explained, costs $2,000 a day per patient. The new facility, she said, would cost about $400.
The full Community Corrections Partnership panel has yet to vote. Based on the unanimity of last week's vote, Gleghorn and Wolf expect it should pass.