Film & TV
Santa Barbara Films @ SBIFF
Features and Shorts with Santa Barbara Connections
SBIFF brings the world to Santa Barbara's doorstep, but it's also the best annual chance for homegrown filmmakers to shine on the big screen. Here are this year's SBIFF selections with Santa Barbara connections.
FEATURES
Every 40 Years: Filmmaker Eric Goldrich grew up hearing rumors that his dad once played in a rock band, so he and co-director Benjamin Friedberg investigate the legend through this feature-length documentary. They reveal the flash-in-the-pan, Billboard Top 40 phenomenon that was Gunhill Road, how the music industry thwarted the band's aspirations, and then why some of the members (including Santa Barbara's Glenn Leopold) decided to dust off their guitars and do it again. "Regardless of how 'big' they did or didn't get, the fact that they opened (and closed) for some of the most legendary acts of our time still blows my mind," said Goldrich. "As cool or as nerdy as my dad was growing up, his musical story certainly made him even cooler."
Lynn Montgomery's Don't Sell My Guitars, about a country musician's final request to his wife, will screen prior to this film.
Gaviota: The End of Southern California: Filmmakers Shaw Leonard and Tamlorn Chase present this homegrown, five-years-in-the-making nature documentary about the Gaviota Coast, whose soul-stirring beauty and vast biodiversity also attract real estate developers and oil extractors. "Our dream with this film is to draw international attention to the Gaviota Coast, one of the world's most threatened biodiversity hot spots," they explained. "It focuses on the ecology of the coast, not the politics. We wanted to make a film that would inspire people to fall in love with this coast and want to protect it for future generations."
Three shorts will screen before the film: Coastal Guardians by Andrew Han, about the proposed Chumash Heritage National Marine Sanctuary; Devereux Slough, by frequent fest contributor Michael Love, about the serene, bird-filled estuary near UCSB; and Losing Ground, by Trevor Lestak, about the Tautrim family's fight to keep Gaviota ranches intact.
Lives Well Lived: We've all heard the phrase "Respect your elders," yet how often do we have the chance to ask, and listen, to our grandparents' wisdom? Filmmaker Sky Bergman does so by acquiring a cumulative 3,000 years of life experience to show that growing old doesn't mean growing silent. "The most valuable lesson of the film is that each of the people that were interviewed overcame great life challenges yet have developed a positive way of looking at life," said Bergman.
The Gateway Bug: Insects are one of the most sustainable and protein-packed sources of food on the planet. But can a handful of innovators, including a team of grad students from UCSB, convince the American public that bugs are the right choice? This documentary by Johanna B. Kelly and Cameron Marshad finds out. "When one in eight Americans lack a secure supply of food and one billion go hungry worldwide, the future of eating as we know it now is simply impossible," said Kelly. Added Marshad, "It's an option we cannot afford to stick our noses up at. It's largely an issue of stigma. So it will take lots of education starting at younger ages to nurture future generations of bug eaters. They're quite tasty."
Seraphonium Live! Monte Schulz, author and son of Peanuts! creator Charles Schulz, tried his hand at songwriting to create a debut album called Seraphonium. He enlisted some of the region's top musicians for a performance of the multi-genre piece at the Marjorie Luke Theatre, and director Byl Carruthers captured the evening for all to see.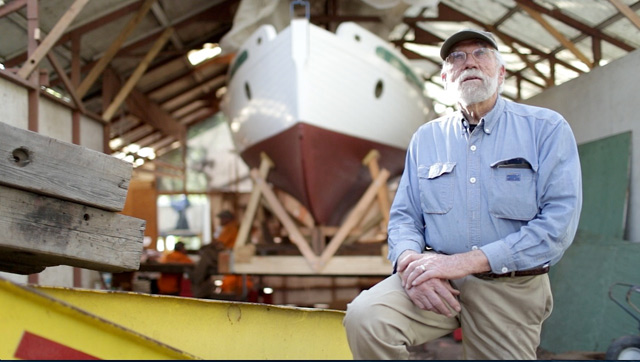 Short Docs
The highlight to this program is certainly Casey McGarry's The Boatmaker, about the quarter century that Sycamore Canyon resident architect Ken Minor took to construct his very own wooden sailboat. McGarry captures all of the emotion and drama as Morning Song winds to its completion and sets sails from the Santa Barbara Harbor. McGarry heard about the project from his friend Robert Allan, and the two went out for breakfast with Minor soon before the boat was finished. "Afterward, we got in our cars, drove up to see the boat, and I began shooting the film that day and have been making it ever since," said McGarry. "That was 11½ months ago."
Also showing in this screening are The Beelievers, Leah Bleich's look at S.B.'s beekeeping community; Alexandra Vasquez's The 11, about the diverse group of folks who ride MTD's Line 11 bus; Lead End, in which Amanda Jack and Moises Jinho look at how lead poisoning affects California condor recovery; Lost Crops by Chris Jenkins, about a doctor, botanist, and humanitarian seeking sustainable superfoods; and Planted, Olivia Lucero's television-episode-like short about the culture of veganism in Santa Barbara.
Short Narratives
Of the films that we were able to prescreen, the highlight of this bunch was certainly Twinsburg, a funny and touching film about two twins (director Joe Garrity and his real-life twin, Phil) who attend the annual twin-bash in Ohio. But they're growing apart in their older age ​— ​one really wants to be there, the other not so much ​— ​causing the siblings' relationship to be tested as tensions rise.
Also screening is The Hostage, by Bryce Paul, a comedy featuring two bumbling kidnappers who must deal with the man they've kidnapped; The Financial Teller, Mike Winger's comedy about a bank who calls in a fortune teller to help with financial planning; Last Blind Date, by Brent Florence, in which could-be lovers drop the baloney and get brutally honest; Someone's Hero, a dramatic, uplifting story by Amalie Lintrup about a young man who's struggling to be a hero and make his family proud; One Shot, by Ryan Slattery, about a gun-toting veteran on a mission that takes an unexpected twist; Marcus Mizelle's My Marilyn, about an obsessed actress struggling with delusions of grandeur in Hollywood; and Working Class Hero, by Jake Martin, about two desk-bound workers who think their colleague may be the legendary "Superior Man."