Living
S.B.'s Alan Lin Competes in 'Jeopardy!'
Thursday Night Appearance Follows Three-Day Winning Streak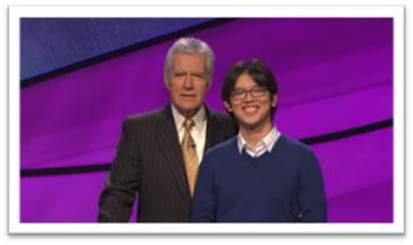 Santa Barbara local Alan Lin is set to appear again on Jeopardy! following his victory on Wednesday night, making it his third win in a row. The software engineer, who has currently amassed winnings of over $64,000, has been involved with trivia since participating in Quiz bowl competitions as a student at California Institute of Technology. Lin shares his experiences preparing for and competing in "America's Favorite Quiz Show."
On preparing for Jeopardy!
Some people think you can't study for Jeopardy! because it's such a wide range of knowledge, but you can still hit the major areas that come up pretty often. So for geography: memorizing world capitals, rivers, major state nicknames and landmarks, things like that.
It's not all academic stuff; there's a lot of music and sports trivia, which I'm terrible at. Everybody has something that they're very good at. For the rest, if you sit down and actually try to study it, you can pick up a good amount in just a couple of days.
On studying for sports trivia
Oh, I didn't study for sports trivia. But I showed up.
On Alex Trebek
You don't get to see him for very long. He basically comes out at the start of the game, does his thing, and has a five-minute chat with you afterwards, then goes back into his dressing room.
I think Alex Trebek didn't like me very much, because during those five-minute talks I don't know if he ever talked to me personally. He was always chatting with somebody else. To be fair, on some days the other contestants were perhaps more interesting than me. And since I won the first three days, I guess he knew he would see me again. But I still had a good time.
On Meike, the old lady from Tuesday's show
During rehearsal, I think she was putting on an act, pretending to be a little slower than she really was. But once we got to the real game, she was in the zone, lightning fast.
She was great. I know a lot of people liked her and are disappointed that I beat her.
On his multiple victories
After the first two games, I was in this weird zone where I was feeling light-headed, with tunnel vision. I honestly don't have a very conscious recollection of what happened in the rest of my games.
Watching myself on TV in those later games, I don't even know what's going to happen.
On his winnings
I am planning to potentially buy a house. Put a down payment on it. That's kind of a boring answer, but yeah that's what I'm planning to do.
Support Santa Barbara's very own at 7:00 PM today on KSBY-TV, and see if he can continue his impressive winning streak.