Bottles & Barrels
Trio of Santa Barbara County Tasting Trails
Sip Funk Zone Bubbles, Explore Buellton, and Trolley into the Santa Maria Valley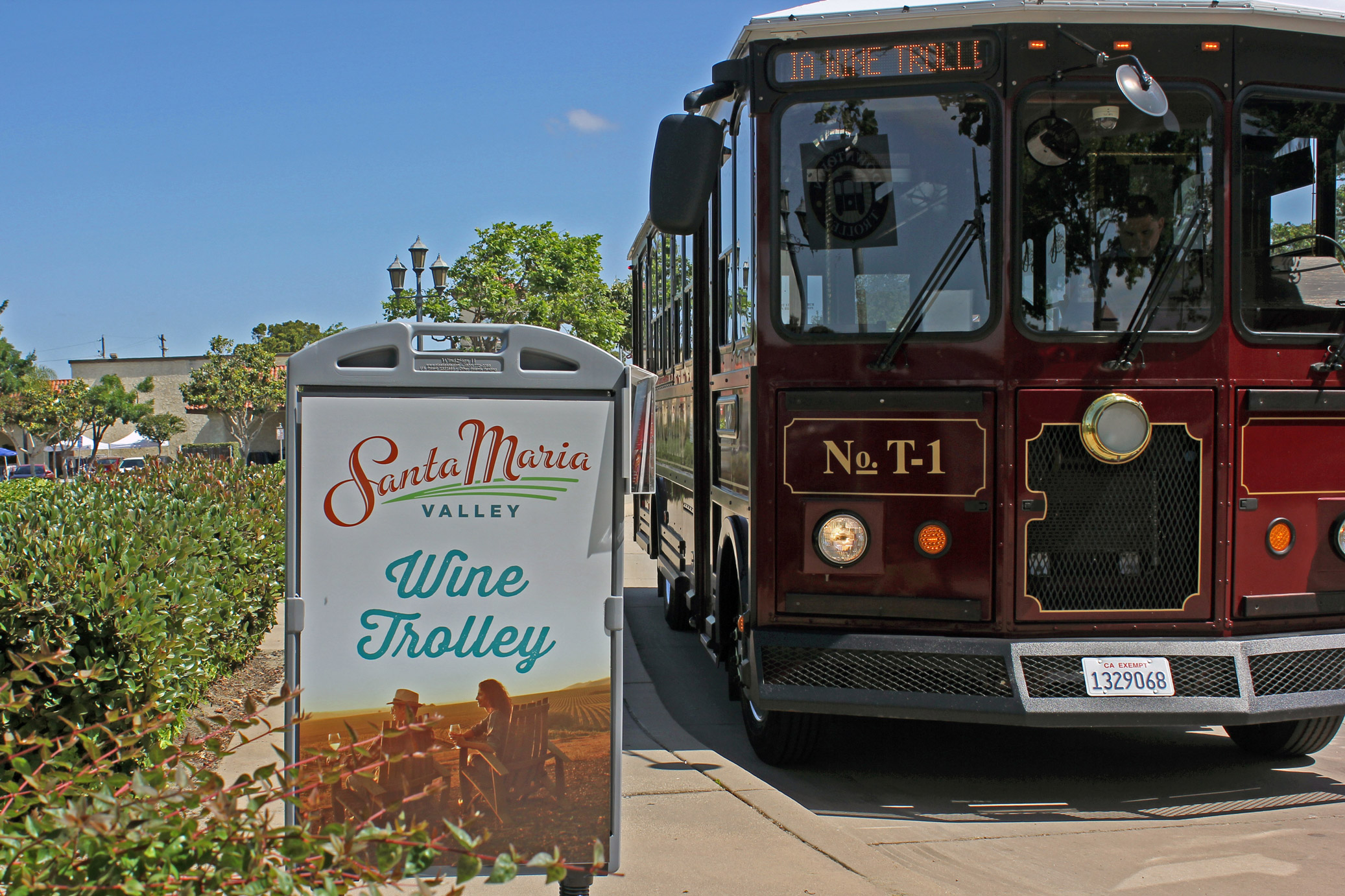 These days, almost every resident of Santa Barbara County can reach a tasting room of some sort within a 15-minute drive from their front doors. But that overwhelming bounty can be a bit stifling, so to make your next staycation even more stress-free, we suggest these three unique tasting trails to ease such laborious decision-making.
Funk Zone Sparkles
More than 40 wineries make sparkling wine in Santa Barbara alone, but very few offer a diverse range of bubbly styles. And only two of those ​— ​Riverbench and Fess Parker ​— ​have a presence in the Funk Zone.
For a taste of Fess Parker's Fesstivity Brut Rosé, Brut Cuvée, and Blanc de Noirs, as well as sips of blanc de blancs by both Brewer-Clifton and The Hilt, hit the Santa Barbara Wine Collective (santa barbarawinecollective.com). They've just started offering flights of three (depending on what's open that day) for $15, and all of them would pair nicely with many menu items for sale at the adjacent Helena Street Bakery. So find your favorite, buy a glass ($17-$18) or a bottle ($40-$50), and stay awhile.
Just down the alley is Riverbench (riverbench.com), which offers three of its bubble bottlings ​— ​and sometimes a fourth one ​— ​every day for $15. Last week, that included the 2015 Cork Jumper Rosé as well as 2014's yeasty Blanc de Blancs, the more fruit-driven Blanc de Noirs, and the Blanc de Blancs Demi-sec, whose slight sweetness adds a nice round character to the sharp acidity. But the talk of the tasting crowd was the colorfully shimmering bottles that the server, Vanessa Bolden, had coated in glitter, particularly one with a watermelon pattern. "We sell three cases a week," she said. "People lose their minds for glitter." It's only $7 more than the unglittered bottle, so I bought the novelty myself.
Following these two stops, the Funk Zone is your oyster when it comes to finding the next taste of bubbles. A handful of tasting rooms offer one sparkling on their flights ​— ​Municipal's new "Mubbly" is causing quite a buzz at $30 for a two-pack of "stubby" 500-milliliter bottles (municipalwinemakers.com) ​— ​or go for a taste of international fizz at Les Marchands (lesmarchands
­wine.com).
Want even more bubbles? Check calicoastwinecountry.com for the latest maps on where to enjoy sparkling wine all across the Central Coast.
Buellton's Bevy of Bottles
It's not curiously Danish like Solvang, nor does it have the urban underground Wine Ghetto appeal of Lompoc. But the centrally located Santa Ynez Valley city of Buellton is home to an increasing number of wineries and tasting rooms conveniently located right off the 101, and they're going to multiply exponentially if a number of proposed developments are approved.
For a varietally focused day of tasting, explore the range of pinot noir by starting near the end of Industrial Way at Margerum Wine Company (margerumwines.com), where Doug Margerum's Barden brand represents what may be the epitome of the delicate style, light in body but tense with texture and redolent in fruit, spice, and earth flavors. Then head up the way to Alma Rosa (almarosawinery.com), where pioneer Richard Sanford and Nick de Luca collaborate on a wide range of ever so slightly darker but still ethereal single-vineyard and clonal selection bottlings. (Hungry in the least? Never pass Industrial Eats next door without ordering something!)
A couple hundred yards away on Highway 246 is Ken Brown Wines (kenbrownwines.com), where one of the region's most veteran and professorial winemakers crafts pinots with power and depth from the Sta. Rita Hills' most revered properties, including Rita's Crown, Radian, and Rancho La Viña vineyards. And then, to dive into the inkiest and richest pinot noir made on the Central Coast, head west on the 246 past the 101 to find Loring Wine Company (loringwinecompany.com), where Brian Loring is unabashed in his commitment to ripe, attention-grabbing wines from across the region. With that, the pinot cycle is complete!
Trolley Time in Santa Maria
The Santa Maria Valley is where modern commercial winemaking started in Santa Barbara County, and it is one of the best places in the world to grow top-shelf pinot noir and chardonnay, thanks to the cooling influence of the nearby Pacific Ocean. But it's a deep, wide, remote valley, far removed from the other wine-country hubs, an obstacle that makes visiting tasting rooms there a bit of a daunting trek.
Into that breach comes the Santa Maria Valley Wine Trolley, which picks people up and drops them off every 75 minutes on Saturdays and Sundays 11 a.m.-5 p.m. at the following locations: Town Center West on South Broadway, Costa de Oro Winery, Cottonwood Canyon Winery, Presqu'ile Winery, and, in Orcutt, the Old Town Market and Rooney's Irish Pub, which are both close to the tasting rooms for Nagy, Ca' Del Grevino, and Core. The circuit is $10 in advance or $18 on the trolley.
Finish the day with a steak at Shaw's (see "Dining Old School in Santa Maria" on page 28.)
See santamariavalley.com.