News
Flight of the Santa Barbara Food Trucks
Mobile Vendors Fold and Flee Before Pending Regulations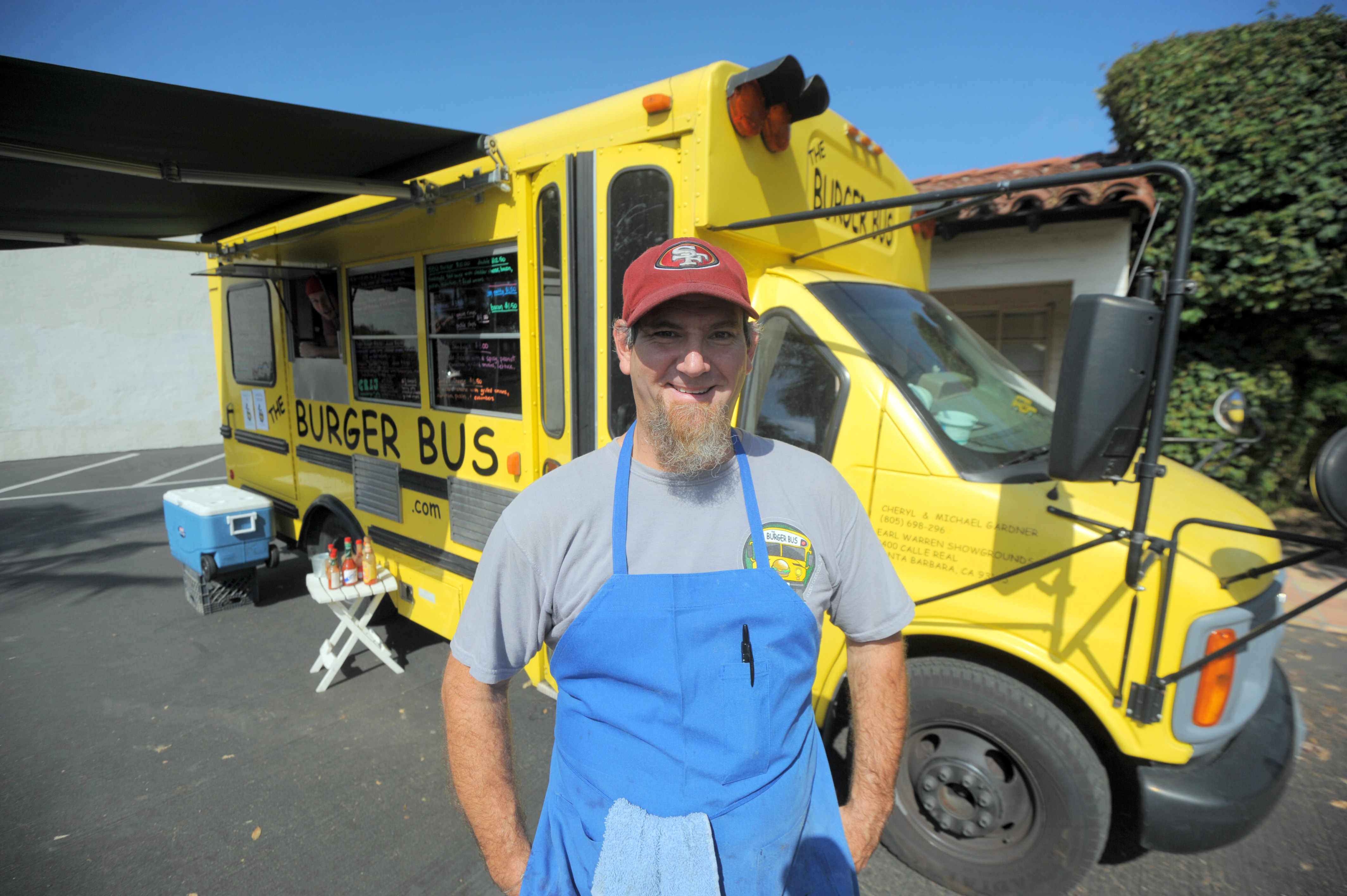 A flagship food truck of Santa Barbara's small but popular street-food scene packed up and headed for greener pastures this week, done in, the owner said, by a city government and brick-and-mortar lobby hostile to his brand of business.
Michael Gardner, a 16-year Santa Barbara resident and eight-year operator of the Burger Bus, is moving with his wife and young daughter to Colorado, where, he believes, food truck regulations are more reasonable and community leaders are willing to allow new flavor and fun in their downtown districts. "We will miss this place dearly," he said. "But we're not super excited about the direction Santa Barbara is heading. It's just not friendly to small business ​— ​it wants cruise ships and everyone walking down State Street carrying a Bloomingdale's bag."
Gardner is only the most recent food-truck operator to close down after city officials introduced two sets of proposed regulations that would restrict how they can operate on public and private property. The reason for the new rules, officials said, came out of a concern for public safety and a desire to clarify obsolete city laws.
The public-property ordinance ​— ​still in draft form but scheduled for a public hearing later this summer ​— ​would ban mobile vendors from setting up on city streets along the downtown, Funk Zone, and Milpas corridors. Hours of operation would be restricted to 9 a.m. to 7 p.m., and only an hour of sales would be permitted at any location. The private-property rules ​— ​part of the city's pending overhaul of its zoning laws ​— ​would permit food trucks in commercial zones only, allow for four continuous hours of business, and mandate a buffer of 500 feet between vendors. (Read the ordinances in full at santabarbara­ca.gov/mobilevendors.)
Food-truck owners have fought these regulations since they were first publically discussed two years ago at a December 2015 meeting with city attorneys and planners. Their opposition has always been unified and unflinching: The operating hours were unrealistic since many trucks were open late, especially during the summer; the one-hour parking limit was ludicrous, since it takes time to set up and break down their operations; and, most critically, the downtown, Funk Zone, and Milpas Street corridors are where they find their customers. The ordinances, they declared, would put every one of them out of business.
City officials promised to seriously consider their concerns, to hold more hearings, and to make every effort not to endanger the food truckers' livelihoods. Over the following 18 months, however, most of the city's dozen or so mobile vendors have felt ignored. Only a few sporadic meetings were scheduled; even fewer concessions were offered. "The city had already made up its mind," Gardner believed. "They don't want food trucks here, but they can't just say no, so they're doing everything they can to make it impossible for us to succeed." (Technically, Santa Barbara has a blanket ban on food trucks, but a 1993 Anaheim court case ruled such bans were unenforceable, hence the ordinance updates.)
Nikki Dailey, owner and operator of Heat Culinary, is also frustrated with the city: "We were never heard, never listened to." It's discouraging, she said, to have invested so much of her time and money into a business, only to have it threatened by onerous rules. Though Dailey is doing everything she can to stay in Santa Barbara ​— ​"I just love it so much," she said ​— ​she's enticed by an offer from Huntington Beach to host her truck down there. "I'm thinking about it," she said.
Nimita Dhirajlal of Nimita's Cuisine was so spooked by the pending laws that she scrapped her plan to upgrade her food trailer to a full-service truck and dropped out of the mobile game altogether. "That cost us a lot of money," she said. Green and Tasty sold its truck because City Hall was so difficult to work with and was going to make the businesses financially infeasible, said owner Monica Elias Calles. Profit margins for mobile vendors, she explained, are razor thin to begin with, taking into account the unpredictability of the food-service industry and the thousands of dollars operators pay every year in business permits, health-code licenses, and kitchen rental fees. The looming restrictions on hours and locations would be the nail in the coffin, she said.
Georgia's Smokehouse head chef Brian Parks, who served as an ambassador of sorts for the food truck fleet, pleaded with the city's ordinance committee for more dialogue. Though he was promised an "inclusive process," Parks, a former Canary Hotel executive chef, was ultimately discouraged by the lack of progress. He preemptively closed Georgia's Smokehouse last summer with what his colleagues described as a heavy heart and serious exasperation.
City Attorney Ariel Calonne questioned the mobile vendors' complaints, explaining no regulations have yet been passed. "[W]e do not have any valid law regulating them, so I think it has been the Wild West out there," he said in an email. He acknowledged that brick-and-mortar businesses had complained about mobile vendors misusing the public right-of-way and that tensions were running high because of chronic vacancies along State Street's "traditional" retail corridor. However, he said, "The vendors will have ample additional opportunities to raise their concerns with the Ordinance Committee later this summer."
The city has repeatedly cited pressing public-safety concerns ​— ​large crowds, blocked driveways ​— ​as the catalyst for drafting the new regulations. Officials previously claimed the file of documented food-truck incidents was so voluminous they didn't have a practical way to share it. But pressed by the food-truck owners to publicly release this file, the City Attorney's Office said it was unaware of such reports. Calonne repeated that again this week.
Sergeant Joshua Morton said the Police Department doesn't track specific food-truck traffic incidents, but admitted, "We rarely get calls regarding those." In his experience as a patrol supervisor, he'd occasionally ask a mobile vendor to not block a driveway. They always complied. He remembered a few occasions when a restaurant owner called the police to complain about a food truck parked outside. "But if they're legally parked and have a business permit, we can't necessarily do anything about it," he said. Morton knew of only two citations written for illegal vending since 2014, and those were issued to food-cart vendors.
The police were almost called during a recent confrontation between Downtown Organization director Maggie Campbell and the owner of Stabiles, a rolling home-decor boutique and one of the few non-food mobile vendors in Santa Barbara. Stabiles was parked along Anapamu Street for a 1st Thursday event on June 1 when Campbell asked an employee to remove a sidewalk sign advertising Stabiles as a 1st Thursday event. If they didn't comply, she said, she'd notify officers. Stabiles had not paid the official participant fee, which wasn't fair to those who had, Campbell said. Stabiles operator, Sam Guzman, filmed his heated exchange with Campbell.
Though police were not called, and Campbell has declined to comment, Guzman is determined to resist what he feels is an ignorant attitude toward mobile vendors. Not everyone can afford the necessary $200,000 to open a business downtown, he said. Many entrepreneurial chefs and retailers get their start in trucks before graduating to permanent homes. "If you don't believe in what we're doing, then you don't believe in the Internet," he said. Guzman vowed to take his case to court if the city insists on trying to drive him out of town. "We'll go to war if we have to." He also called on the public to support him and his cohorts at the upcoming Ordinance Committee and City Council hearings.
As chair of the city's Ordinance Committee and the owner and operator of the Paradise Café, Councilmember Randy Rowse has drawn the ire of mobile vendors. They claimed a conflict of interest in his influence over how the final regulations are crafted. California's Fair Political Practices Commission (FPPC), however, officially ruled otherwise, stating that although Rowse is financially invested in a brick-and-mortar restaurant in direct competition with mobile vendors, the food trucks do not take away enough business "to contribute to a change in the value of the Paradise Cafe."
Rowse said ongoing discussions over the pending public-streets rules will likely bring up related questions concerning the private property ordinance and the city's new Oversize Vehicle Ordinance. "Food truck operators have a substantial investment in their equipment, and part of the regulatory process is to help protect those operators with a stake in this city," said Rowse in an email.  "We have a ways to go, but operators are invited and counted on to be a part of this process."
At least some symbiosis has already been brokered between wineries and breweries and food trucks, who regularly park in front of Figueroa Mountain Brewing, Oreana Winery, and other locations throughout the Funk Zone and downtown. "Personally and professionally, I love it," said Dan Mazur, general manager of Figueroa Mountain. "They provide a different fare of food, and it's great to have that option." Mazur said he's a strong advocate for free enterprise and said City Hall shouldn't be stifling new creative ventures.
Chamber of Commerce President Ken Oplinger empathized with restaurants and retailers who may feel mobile vendors are skirting the rules by attracting customers and making sales without paying rent: "I understand why they're concerned about this." But, Oplinger stressed, the city should do everything it can to make sure these small, wheeled businesses are given the chance to survive and thrive.
"Santa Barbara thinks it's so special that it needs to come up with answers of its own," Oplinger lamented. Instead, it should look to other cities that have struck compromises between their traditional and nontraditional operators. Oplinger pointed to Santa Monica and Ventura ​— ​which hosts food-truck nights at the Pacific View mall ​— ​as good examples. Petaluma also just opened its first permanent location, called The Block, for the region's growing fleet of mobile kitchens. "I'm not sure why we can't find a way to make it work for everyone," he said.