Briefs
Blue Skies over Whittier Fire
Not a Good Sign for Heat and Low Humidity
The day may shape up to be a "battle between aircraft and fire," said Dennis Burns, a fire behavior specialist on the Whittier Fire, at this morning's fire briefing. The more humid, cooler weather will turn into a drier, hotter day, already showing blue skies above the fog line of about 1,200 feet, the fire briefing team said. They spoke especially to those new on the line; staff and firefighters have come from as far as Florida and Oregon. Sundowners are forecast to blow through Friday evening.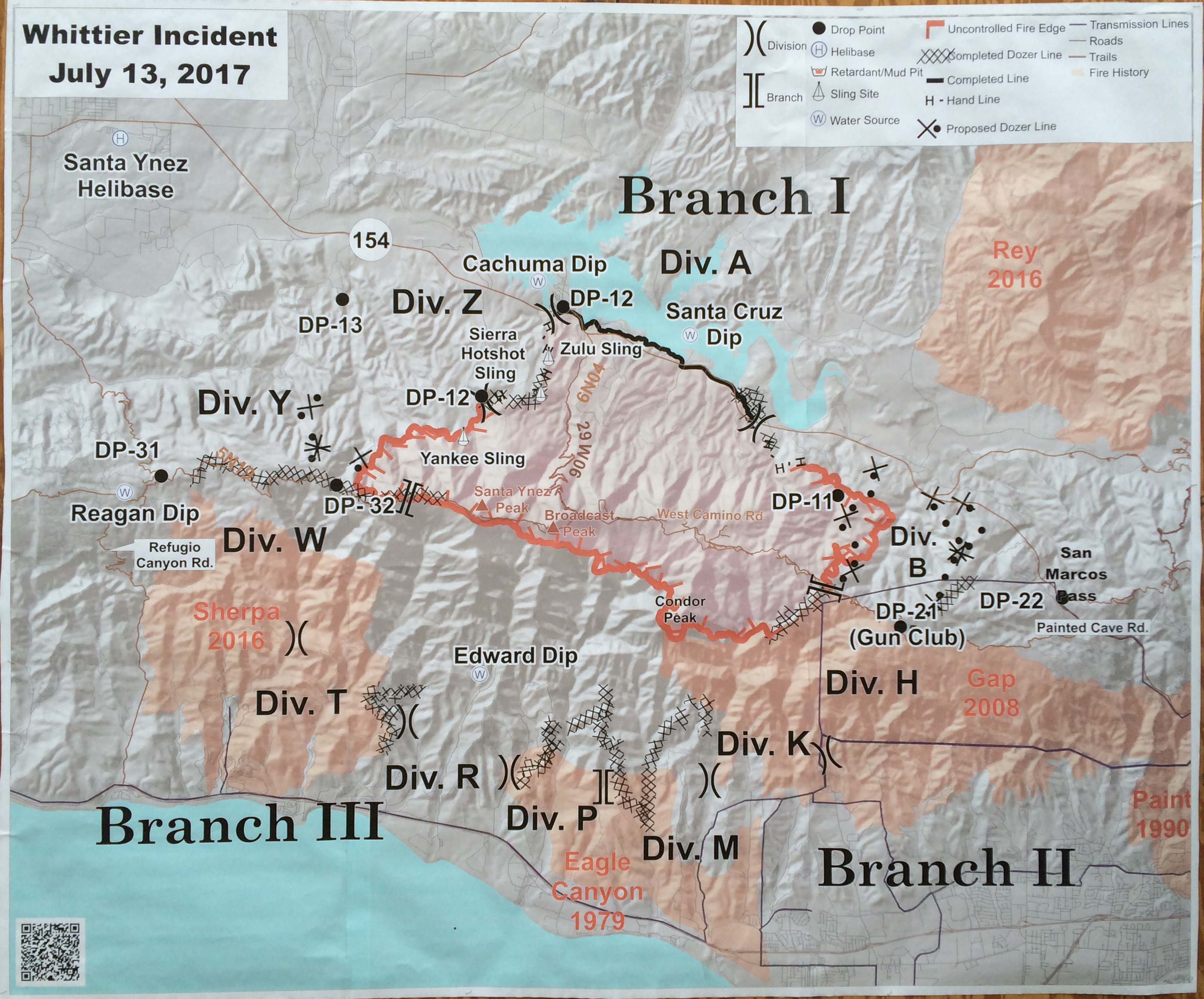 Mike Appling, the night operations chief, described the overnight activity on the various fronts, stating winds had pushed the fire over the check line to the west. Eastward from there, the fire had crept into canyons and draws south of Santa Ynez Peak, spreading into about 300 acres until the fog rolled in early in the morning. Where the fire had burned previously, like Condor Ridge, it had been quieter. Helicopters had worked overnight to cool down the runs of fire.
Helping the fire spread is a fairly heavy load of grasses this year, which is making the fire burn hotter and higher. Retardant drops are expected to help extinguish fire down the steeper canyon areas.
A couple of injuries were reported, with heat exhaustion or dehydration becoming a problem as the weather grows hotter and drier. Two men were treated at the hospital, said Captain Joshua Rubinstein, of the Whittier medical unit.
[UPDATE] By the numbers, Whittier Fire has grown to 12,263 acres and has a road or other containment line around 48 percent of it, reports unified command. About 1,101 people are fighting the fire, as well as 11 helicopters.
Related Stories