Food
Summer Baking with Stone Fruit
Featuring a Galette, Plum Tart, Peach Pie, and Apricot Croissant
Stroll through the city's farmers' markets this month, and you'll be hit with the heady aroma of a season at its peak, rows of crimson nectarines and deep-purple plums bursting through the scene with vibrant urgency. Spilling onto the Santa Barbara food-scape, golden peaches and tender apricots reign over the city's summer menus, adding texture to whisper-thin flatbreads and savory chutneys. But if you're prone to rising with the roosters, amble over to one of Santa Barbara's artisanal bakeries, where the permeating fragrance of brûléed stone fruit offers up the bounty of summer in a decidedly sweeter way.
Stone Fruit Galette at Helena Avenue Bakery
It's only 8 a.m. when I walk through the doors of Helena Avenue Bakery, and already the line has started to snake its way around the counter, a gaggle of cyclists, suits, and rambunctious 8-year-olds rubbing shoulders as they lean closely into the bakery's display case.
Pastry chef Bethany Burns pulls out a perfectly free-formed galette, its pillowy crust folded delicately over thick slabs of yellow peaches, and smiles proudly. "It's my favorite thing to make because I can really dig in and use my hands," she says. The stone fruit inside her flaky galette (a casual cousin of the French tart) changes daily, and today's manifestation is spiked with lemon and vanilla, topped with a light sprinkling of shaved coconut to meld all the flavors together. I pull up a café chair in the intimate courtyard and dig in, watching the Funk Zone's lively procession ramble past.
131 Anacapa St., Ste. C; (805) 880-3383; helenaavenuebakery.com
Plum Tart at Bree'osh Café Montecito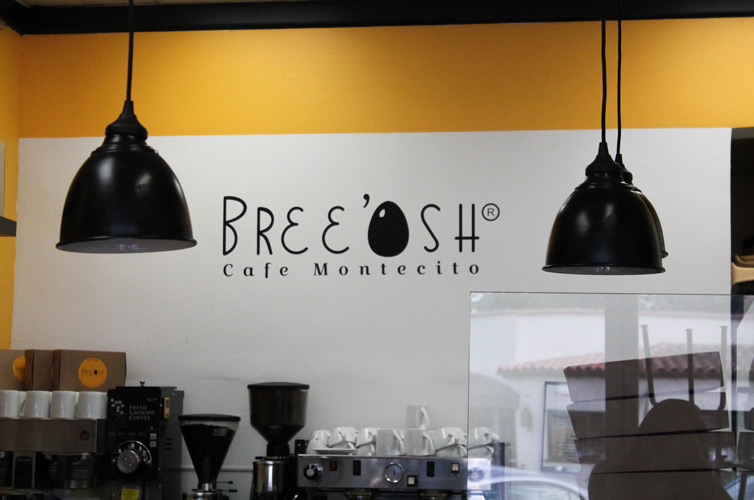 Every Friday, husband-and-wife team Pierre and Nelly Henry head across the street from their jewel-box bakery to the farmers' market in Montecito, where they fill a basket with fruits and herbs that will eventually be baked into technically honed and classically French pastries and breads. "We prefer to have everything as fresh and local as possible," Pierre Henry stresses ​— ​a habit picked up from his culinary school days at Paris's esteemed Ferrandi.
During the summer months, he rolls out a dazzling selection of tarts, including a sublime plum variety, layered with a blanket of almond cream and jam-packed with ruby-red fruit that melts vibrantly into the shortbread-like crust known as sablé. The secret, he tells me, is his use of a regionally sourced butter with 85 percent butterfat content ​— ​as close as he can get to the European varieties he's accustomed to. He grabs his phone and offers up a picture of the butter he's been coveting most since he left his native France to start Bree'osh almost two years ago. When I counter with my own picture of a favorite Breton brand not far from where he was raised, he grins at me knowingly. "Oh, I see now. You like butter, too."
1150 Coast Village Rd., Montecito; (805) 570-9151; breeosh.com
Peach Pie at Deux Bakery
"I don't tell my friends about you" is the expression Wendy Fleming hears most from devoted customers of her soon-to-be-not-so-secret digs on the city's Eastside.
The bakery was originally slated as the baking outpost for downtown's Scarlett Begonia (where Fleming whips up all of the breads and pastries for her daughter's beloved restaurant), but curious passers-by began peering through her screen door to inquire about the irresistible aromas floating through their sleepy neighborhood. When she gamely began offering up an edited selection of breads and muffins for a few hours each day, customers dutifully lined up at 6:30 a.m. to snatch up her daily selections. By 11 a.m. most days, they're usually tapped out.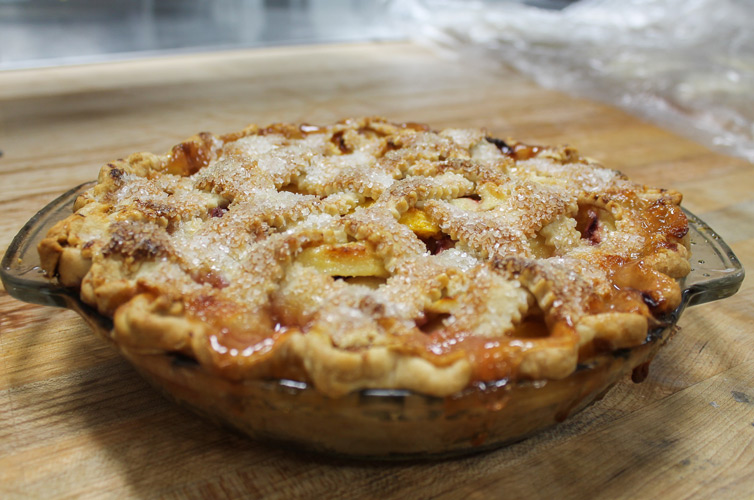 Using an all-butter piecrust recipe and farmers' market fruit, her signature pies are the stuff of Santa Barbara legend, and when she presents me with a mixed peach pie ("white for sweetness, yellow for the classic peach flavor"), I can already see why. Still warm from the oven, the flaky crust can barely contain slices of peaches bursting through its lattice top; a swirl of buttery soft fruit slides merrily onto my plate. The Deux team insists customers take the glass pie dishes home with them, with one important caveat: "Bring back the pie dish, or next time ​— ​no pie for you!"
824 Reddick St.; (805) 770-3109; deuxbakery.com
Apricot Croissant at Renaud's Patisserie and Bistro
"Renaud likes to push tradition," emphasizes Executive Pastry Chef Julien Jeannot, handing me an apricot croissant the likes of which I've never seen. A cross between a Danish and a croissant, the perfectly shaped square of puff pastry is filled with a layer of subtly sweet almond cream, topped with a delicately poached apricot, and finished with a satisfying dash of sweet cobbler dough.
Completely classic in technique and unmistakably modern by design, Renaud Gonthier's vision of bringing Santa Barbarans "a taste of Paris without the trip to France" has been met with a cultlike following ​— ​so much so, in fact, that a sixth location and an expanded menu of seasonal offerings are currently in the works.
Jeannot and I while away the morning chatting about the grueling hours a pastry chef must keep (hello, 4 a.m. call time) and his seamless move from the French to the American Riviera. "No matter where you are, people always enjoy beautiful weather and something sweet to eat," he offers before adding, "It's the simple things."
Various locations; renaudsbakery.com