Food
Satellite Opens Inside Impact Hub
New Wine Bar and Cafe Transports Guests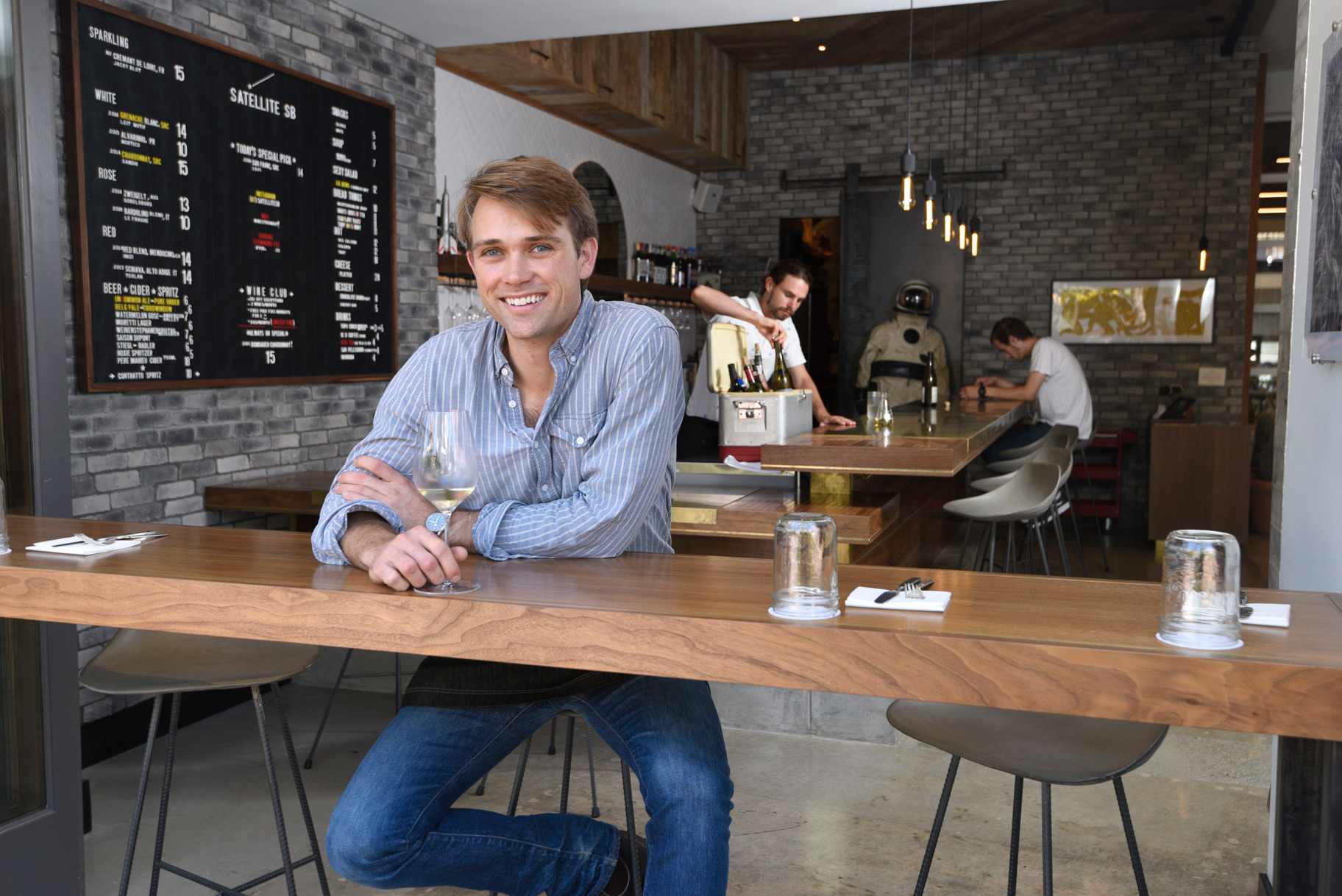 As residents of the American Riviera, we're already living on Cloud Nine in terms of food and drink. However, Satellite, the new wine bar and cafe at the entrance of Impact Hub, somehow manages to transport guests into a new orbit of wining and dining.
The sleek, space-themed spot, which opened in June, offers lunch, dinner, wine, beer, spritzes, catering, and wine education, providing members of the public with a place to meet friends, relax, and explore new frontiers in taste.
"I spent every summer in college living with winemakers in Italy," Drew Cuddy, Satellite's owner, explained of his initial voyage into the wine world. Since then, he's committed himself to a continued exploration of all things wine and food, working on small, family-run wineries across Italy, France, Spain, and, most recently, Sonoma. Cuddy brings this cosmopolitan consciousness to Satellite, serving seasoned wine enthusiasts bottles they may never have tried.
"A side passion of mine is showing off wines that are made very well in the vineyard as opposed to the cellar and [that] also are from small producers," Cuddy said. "We try to show a lot of regions from all over the world."
I enjoyed a tour de force of samplings, including a crisp rosé from Provence, a pinot noir from Tasmania, and a single vintage sherry from Spain, and landed back in S.B. with a standout malbec, grenache, and syrah blend from acclaimed winemaker Ernst Storm. "I'm looking for wines that are very honest and truthful about the place that they're from," Cuddy said.
Perhaps it was this visceral sense of place that left me feeling transported although I was on State Street, looking out on a familiar scene. La Arcada plaza, with its blooming jacaranda trees and busy shoppers, took on a new light. The fresh Contatto Spritz with Montecito orange and the jar of plump Sicilian Castelvetrano olives that greeted me may have helped as well.
The spritz is a crowd favorite, and near and dear to Cuddy and server Julia Wiggins, who said, "At the end of the day, I want to drink something refreshing that will bring me back to life, and that's what this is."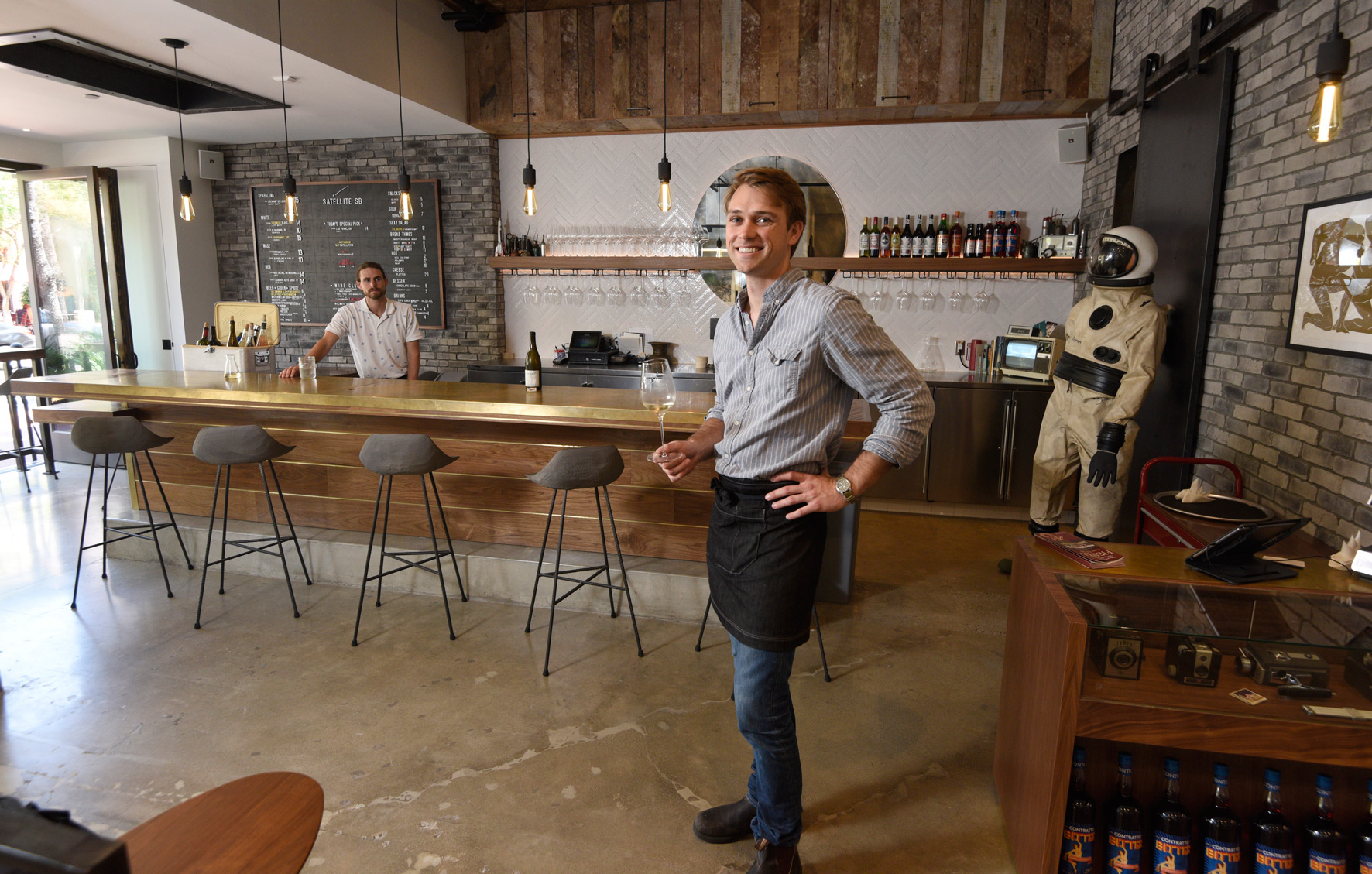 Cuddy and his team's warm and engaging service, paired with a diverse and inviting crowd that's eager to discuss the latest Italian Sangiovese, farmers' market cheese, or entrepreneurial endeavor they've discovered, makes Satellite friendly ground on which to land. "I dig Satellite's dedication to supporting direct relationships with farmers," said Cat Chapman, an S.B. resident. "The wines are hand-selected from small-batch vineyards, and the food is locally sourced, making me feel good about where I am spending my money. This model, connected to the Impact Hub, makes way for a forward-thinking, conscious crowd. Space is the place!"
Satellite's beer menu features area and global options, such as the hefeweizen from Third Window Brewing, the Briney Melon Gose from Anderson Valley, and a farmhouse ale from Belgium. The establishment's meticulous attention to detail shines through not only in the unique and thoughtful beverages but in its food as well. With General Manager Emma West, former owner of Julienne, at the helm, Satellite's snacks and entrees are certain to wow just as much as the wines.
Cuddy's favorite food item is the Raddiculous Salad. Bursting with fresh farmers' market greens, artichoke, fig, and panzanella from The Baker's Table in Santa Ynez, and scattered with yellow fennel pollen blossoms, this tantalizing little number lives up to its nickname, which is "Sexy." "It's just really representative of where we're heading with beautiful, simple ingredients," Cuddy said.
Most of Satellite's entrees and wraps come from Flagstone Pantry, while its salads and cheese plates are made in-house. The rotating Cheese Plate appeared before me like a painter's palette, brilliantly colored with four different cheeses. The creamy Gorgonzola dolce, La Tur, robiola, and Vella Dry Jack were perfectly accented with figs, house-roasted pepitas, Marcona almonds, a drizzling of Figueroa Mountain honey, with a sprinkling of bee pollen and edible flowers finishing off the masterpiece.
A wine club option provides two carefully selected bottles of one area and one non-area wine each month, discounts, and more.
Satellite also offers internationally recognized courses through the Wine & Spirit Education Trust, of which Cuddy is currently a diploma candidate.
In the future, Satellite hopes to offer a happy hour, wine pop-ups at restaurants, and wine dinners in Santa Ynez paired with astronomy lessons.
With an otherworldly commitment to quality and a forward-thinking mindset, the sky's the limit for this epicurean haven.
411
Satellite is located at 1117 State Street. Call (805) 364-3043 or visit satellitesb.com.