Sports
Meet Lori Luhnow and Rocco Constantino
S.B. Police Chief, SBCC Athletics Director Love Sports
She's a true-blond California woman who spent her youthful summers on the beach hitting volleyballs, she played on three NCAA championship teams, and she continued to demonstrate her physical prowess both on and off the job as a San Diego police officer.
He grew up in a New Jersey town where the characters that inspired The Sopranos were neighbors; he followed the Mets and Yankees, the Jets and Giants; he played some baseball and became a teacher, coach, and athletic administrator at schools near his hometown.
Lori Luhnow has been Santa Barbara's police chief for a little more than a year, and Rocco Constantino is two months into his job as athletics director at Santa Barbara City College. I recently met them both for the first time.
The Chief
All it took was a forceful handshake to affirm that Lori Luhnow is one strong woman. She's 52 now, but the toughness she forged as a young athlete is undiminished. "I PR'd [set personal records] in pull-ups and dead lift, and at age 50," she said. With her palms facing out, she chinned the bar 12 times, and she hoisted 265 pounds in the lift.
"Athletics made me who I am," said the first woman to take on an executive role in the city's police department. "It kept me out of trouble and instilled dedication and focus. I'll always be an athlete and stay in shape."
Her fitness journey started on the beach at San Clemente, where Lori and her twin sister, Lisa, discovered volleyball. They played the sport at San Clemente High and went to UC San Diego together. "I got the one spot on the volleyball team that was open to a freshman in 1983," Lori said. She went to the NCAA Division III finals with the Tritons that year, and in 1984, '86 and '87 (she took a year off in '85), they won national titles.
A career in law enforcement was a natural progression for her. "Athletics aligns well with police work," she said. "You need the ability to work well on teams. You have to prepare yourself to take on the unknown. It's a profession that can eat you up if you don't stay fit."
While serving 27 years in the San Diego Police Department, she earned numerous citations for her work in the community. Meanwhile, she competed in Police and Fire Games all over the world, accumulating more than 100 medals. She teamed with Lisa, who became a Fish and Wildlife officer, to win a doubles beach volleyball title. Track cycling was one of her later exploits, and she won a state masters 500-meter sprint race.
Luhnow was honored in June at the UC San Diego Athletics Recognition Banquet with the Distinguished Alumni Award. She spoke to hundreds of student athletes. "I left them little nuggets of encouragement," Luhnow said. "I learned from sports that the community feeds you, and you should give back to the community by serving in some way."
Sworn in as Santa Barbara's top cop in July last year, Luhnow has brought her competitive nature to the fore. Earlier this month, she went through a required session on the shooting range. "I did very well with a guy next to me," she reported.
Of all the challenges she's met, Luhnow said her sports highlight was throwing out the ceremonial first pitch at a San Diego Padres game in 2013. "It was a moment of pressure," she said. "I threw a strike. That brought me a great sense of pride."
The Jersey Guy
The funeral home in Belleville, New Jersey, where Rocco Constantino grew up, was one of the locations where The Sopranos was filmed. Nearby is the Passaic River. "The high school crew, they'd be rowing in a meet or a practice, and every year they'd either see a body or people would be pulling a body out," Constantino said. "People think it's fake, but it really happens."
Sports and the classroom kept Constantino out of trouble. He went on to coach softball and soccer at Bloomfield College, and for the past two years he was athletic director at New Providence High School. "My ultimate goal was to become a college athletic director," he said, and that prompted him, at the age of 43, to apply for the job at SBCC.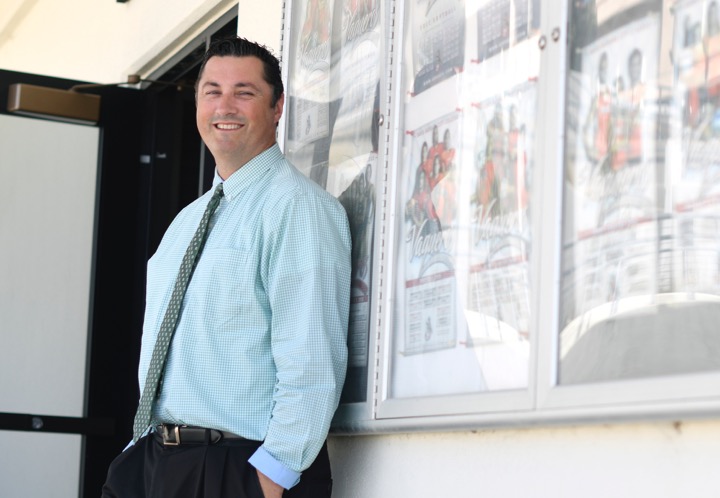 "I researched the school about three minutes and decided to go for it," he said. "It's not just the setting, but academics are big for me." Deeper research revealed that Jesse Orosco, a hero to then-12-year-old Rocco when the Mets won the 1986 World Series, was once a pitcher at SBCC.
His cross-country move entailed some culture shock. "The biggest thing is the food," Constantino said. "Back home there's a pizzeria on every corner. The sauce makes all the difference." Neither had he experienced anything back home like the Whittier Fire, which broke out the week he arrived here.
He also had to get accustomed to the lifestyle. "I grew up 10 minutes from Giants Stadium, and there's a lot of passion there for the Giants and Jets. Even when they stink, people still come to games. People here are more outdoorsy and active."
He had never seen a water-polo game before going out to see the SBCC women's team take a 15-12 victory over Ventura last week. "I didn't know what was going on," he said. "People were helping me out." He has relied on the expertise of Ellen O'Connor, who was interim athletic director last year after Ryan Byrne left for the College of Marin.
The Vaqueros' fall sports are thriving. Entering this week, the men's and women's soccer teams were undefeated; women's water polo, volleyball, and golf had a combined record of 49 wins and six losses; and the football team has won its last three games, scoring 56, 51, and 48 points. "There are so many opportunities for kids to do well here," Constantino said. "We're giving a big group of kids the outlet to continue their education. That's huge. A lot of them may not be in college if it wasn't for the chance to play football. Their coach [Craig Moropoulos] does a great job of stressing they're here for academics; they're here to better their lives, to graduate and go on to a four-year school."
Constantino is engaging the Vaqueros in community service activities, including a clothes drive for homeless veterans (at the October 14 football game) and a "trunk or treat" Halloween festival before the men's soccer game on October 28.