Gift Guide
(Mostly) Made in Santa Barbara Gift Guide for 2017
Where to Buy What This Holiday Season
Crafty Collabs
The Guilded Table
This permanent but ever-evolving collection of craftspeople ups the Funk Zone's retail game. Check out sea-glass and precious-gem jewelry by Jules by the Sea, photo art on wood by Meadow Rose, and wine stoppers by Line & Form.
120 Santa Barbara St.
guildedtable.com
The Yes Store
Celebrating 50 years of selling arts and crafts each Christmas season, this year's incarnation includes intricate beaded jewelry by Claire Weber, tile art by the nationally renowned Susie Dunbar, and functional ceramics by Dane Venaas.
627 State St.
theyesstore.com
A Crimson Holiday
Founder Marilyn Dannehower, creator of MAD Dreams Jewelry Designs, gathers artists such as Lila Sander (scarves, shawls, and boiled-wool handbags), and Roanna Barkan's tutus, fairy wings, wands, and doll clothing.
La Cumbre Plaza, 121 S. Hope Ave.
acrimsonholiday.com
Beauty by the Sea
The Grapeseed Company
Kristin Fraser turns the byproducts of wine into beauty products.
Steam-Distilled Essential Oil Duo Sets: Pairing lavender with eucalyptus, lemon with tea tree, and orange with lemongrass. $17-$20
Vineyard Rose Trio: Body butter, lip balm, and soap from Bulgarian rose and tuberose. $28
Create Your Own Beard Oil: Work one-on-one to make your own oil, soy candle, and more. $22
21 W. Ortega St.; 4193 Carpinteria Ave., Ste. 6, Carpinteria.
thegrapeseedcompany.com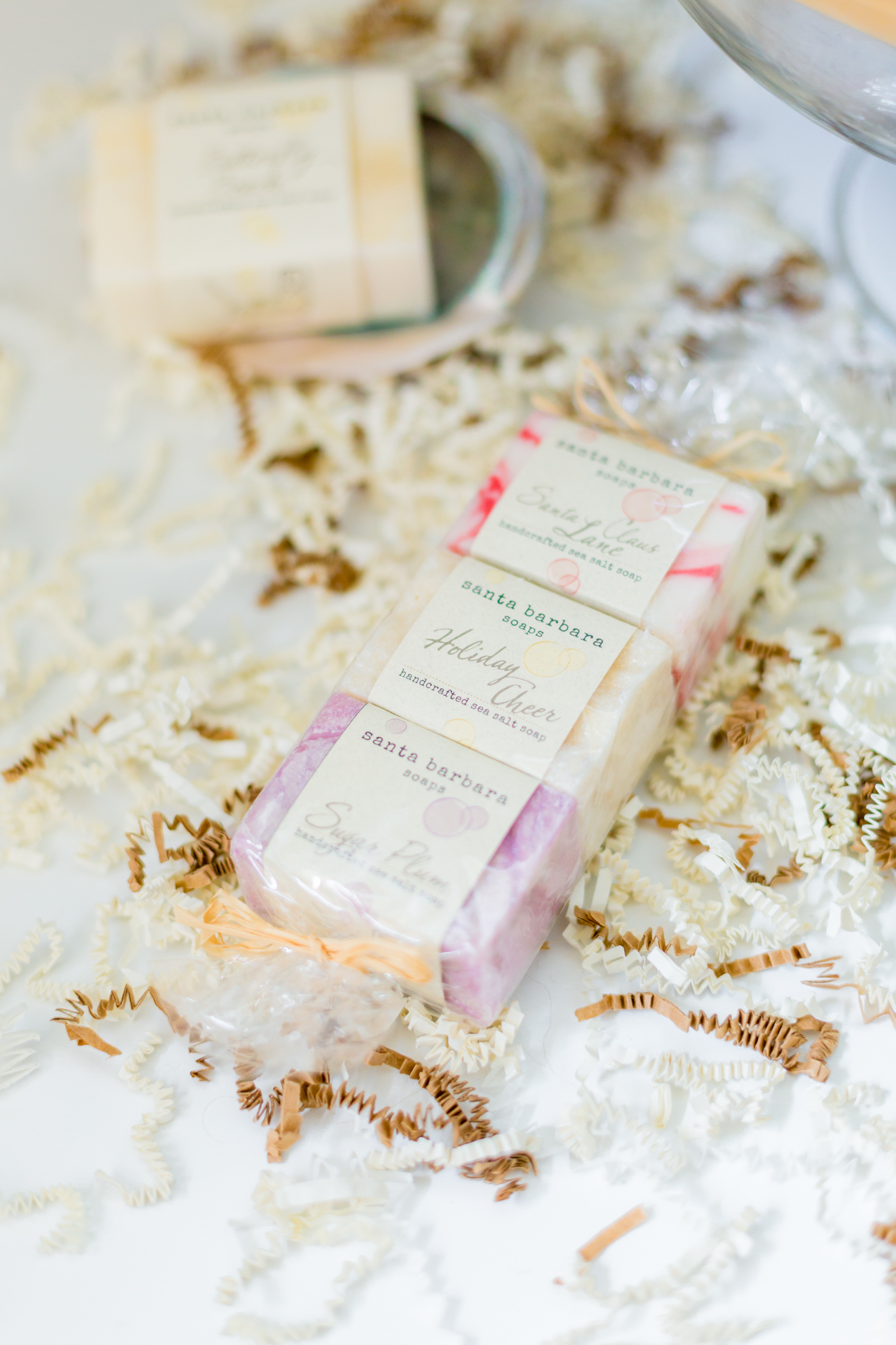 Santa Barbara Soaps
Tracy Wells makes her entire scented line of soaps by hand, including the Holiday Trio, with Santa Claus Lane (sweet peppermint), Holiday Cheer (champagne and pear), and Sugar Plum (sugarplum and blackberry). $24
Available at multiple locations.
santabarbarasoaps.com
Ama SeaBeauty
Thalassotherapist Antoinette Marie Marquez turns indigenous seaweed into skincare.
Sea Tea Bath Bag: Soak with these hand-harvested S.B. seaweeds.
$10 each/4 for $30
Sealution: Small-batch face and body serum. 1 oz., $24; 2 oz., $36; 4 oz., $68
506 State St.
amaseabeauty.com
Basket Salvation
Santa Barbara Gift Baskets
Anne Pazier makes gifting easing by wrapping up loads of themed baskets from her store in Old Town Goleta, where you can sip on wine and beer while she packages your order.
The Montecito Basket includes Jilli Vanilli vanilla extract (made with Ian Cutler's spirits), Santa Barbara Popcorn, Jessica Foster sea-salt caramels, Ojai pepper jelly, and more. $380
The Chocolate Pinot Noir Boozy Baking Box features Carr Pinot Noir, a ceramic cupcake pedestal, a rubber whisk, and Sugar Cat Studio's Chocolate Pinot Noir Cupcake Mix. $115
The Firestone Brew Crewpacks a six-pack of beer alongside Santa Barbara Olive Co. salsa, La Tolteca tortilla chips, Shalhoob beef jerky, S.B. Popcorn, and beer brittle. (Similar baskets available with Figueroa Mountain, M.Special, and Telegraph beers.) $75
230 Magnolia Ave., Goleta.
santabarbaragiftbaskets.com
The Santa Barbara Company
Caroline and Nancy Law run this hyper-locally focused store in a downtown cottage, full of household items, foods, beauty products, and more, all with a Santa Barbara theme.
The Best of Santa Barbara Box is a wooden crate filled with Twenty-Four Blackbirds chocolate, snacks by Swell Foods, Jessica Foster Confections truffles, S.B. Pistachio Co. nuts, and Santa Barbara Bars in two flavors. $42
The Fresh Breeze Santa Barbara Gift Box pairs a soy travel candle with lavender linen spray, organic chardonnay soap, and Bee Healed balm. $45
214 E. Victoria St.
santabarbaracompany.com
Wearable Art
Zyrka Blanketwraps
Zyrka Landwijt Metcalfe creates stylish blanketwraps for the bed or your shoulders from new and old Pendletons laced together with Irish linen thread and adorned with unique talismans.
$200-$450
zyrkaland.com
Make Smith Leather Company
Steven Soria just opened a new retail shop, where you can watch him craft belts, backpacks, wallets, dog leashes, and much more. $50-$290
135 E. De la Guerra St.
makesmith.com
Books to Buy
Numerous Santa Barbara authors published books this year, most of which can be found at Chaucer's Books (3321 State St.; chaucersbooks.com), The Book Den (15 E. Anapamu St.; bookden.com), and Tecolote Book Shop (1470 E. Valley Rd., Ste. 52; tecolotebookshop.com). Here are just a few.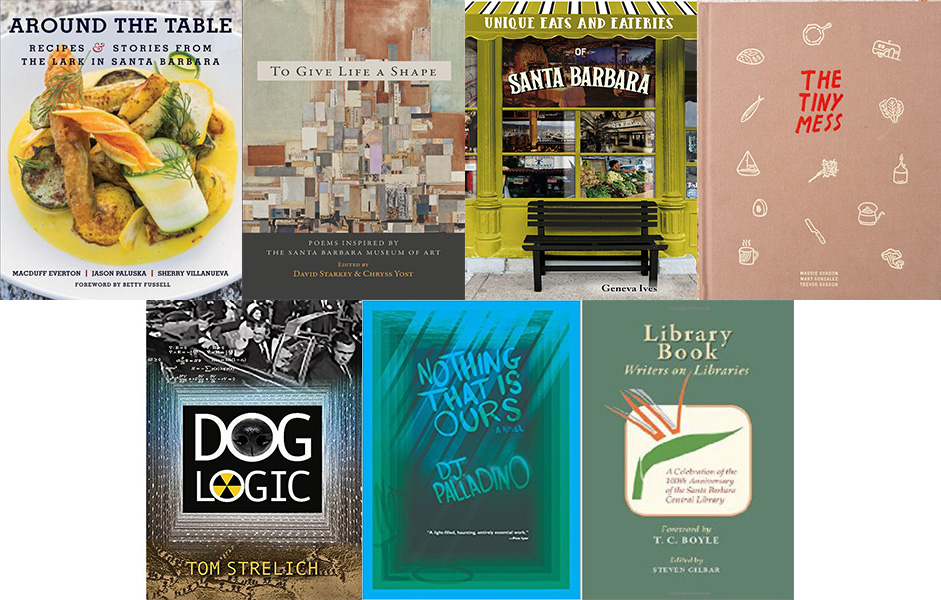 Around the Table: Recipes & Stories from The Lark in Santa Barbara: Recipes by Chef Jason Paluska, photographs by Macduff Everton, and insight into how Sherry Villanueva developed this Funk Zone hotspot.
thelarksb.com
To Give Life a Shape: Poems Inspired by the Santa Barbara Museum of Art: David Starkey and Chryss Yost edited this collection of poets reflecting on the museum's collection.
gunpowderpress.com
Unique Eats and Eateries of Santa Barbara: Geneva Ives tours you through dozens of our best and most interesting restaurants.
The Tiny Mess: Accompanying photographs by Trevor Gordon, Maddie Gordon and Mary Gonzalez dive into the recipes and tales of those with confined kitchens.
thetinymess.com
Dog Logic: Tom Strelich's novel concerns Hertell Daggett, a friendly neighborhood pet-cemetery caretaker.
tomstrelich.com
Nothing That Is Ours: Longtime Indy contributor, and now Mesa Bookstore co-owner, D.J. Palladino penned this Santa Barbara–set psychedelic novel that ruminates on the metaphysics of it all.
asahinaandwallace.com
Library Book: Writers on Libraries: This anthology of prose and poetry features more than 80 writers exploring the glory of libraries, including Sue Grafton, Pico Iyer, Ray Bradbury, and more.
One-Stop Shops
Plum Goods
It's easy to spend hours just for fun any day of the year in Amy Cooper's bustling State Street shop.
Jenga Ocean: Surfer/artist Lake Buckley gave oceanic vibes by drawing threatened marine species on the blocks of this popular stacking puzzle game, which is made from 100 percent recycled fishing nets by the Ventura-based recycling-smart company Bureo. $50
bureo.com
Origin Art: Wooden relief maps made by Lake Tahoe–area artists feature Santa Barbara, the Channel Islands, and, yes, the Game of Thrones world. $80-$225
originartwork.com
Tea Drops: A sampler set featuring five easy-to-use "drops" each of citrus ginger, rose earl grey, sweet peppermint, matcha green tea, and blueberry acai. No bag required! $14.50-$34.50
909 State St.
plumgoodsstore.com
The Shopkeepers
Patti Pagliei Simpson curates everything from hats and books to kimonos and leather jackets in this new Funk Zone boutique.
Waxing Poetic Jewelry: This is Pagliei Simpson's line of jewelry, including earrings, charm-touched necklaces, and the Rime bangle with tree-of-life and heart ornaments. $44-$209
waxingpoetic.com
137 Anacapa St., Ste. A.
theshopkeepers-sb.com
Heritage Goods & Supply
Lauren Malloy, Ashley Moore, and Emma Moore recently opened this "curated country store for man, woman, and child" in Carpinteria.
Caitlin McCann Quilts: Organic quilts and pillows, hand-decorated with natural plant dyes, as well as handmade coil baskets. $300-$600
Owl Boxes: Woodworker Stephanie Mathis designed these homes for barn owls, which serve as solid rodent control centers as well. $250
Ducklings: Yes, you can preorder ducklings to arrive just in time for the holidays, and get all you need to keep them happy. $12
5100 Carpinteria Ave., Carpinteria.
heritagegoodsandsupply.com
Food Finds
Cheese of the Month Club: Janelle McAtamney, who's opening her Cailloux Cheese Shop in Solvang next spring, offers various cheese-of-the-month clubs ($40-$65 a month) and gift crates stocked with cheeses, meats, and accoutrements ($45).
caillouxcheeseshop.com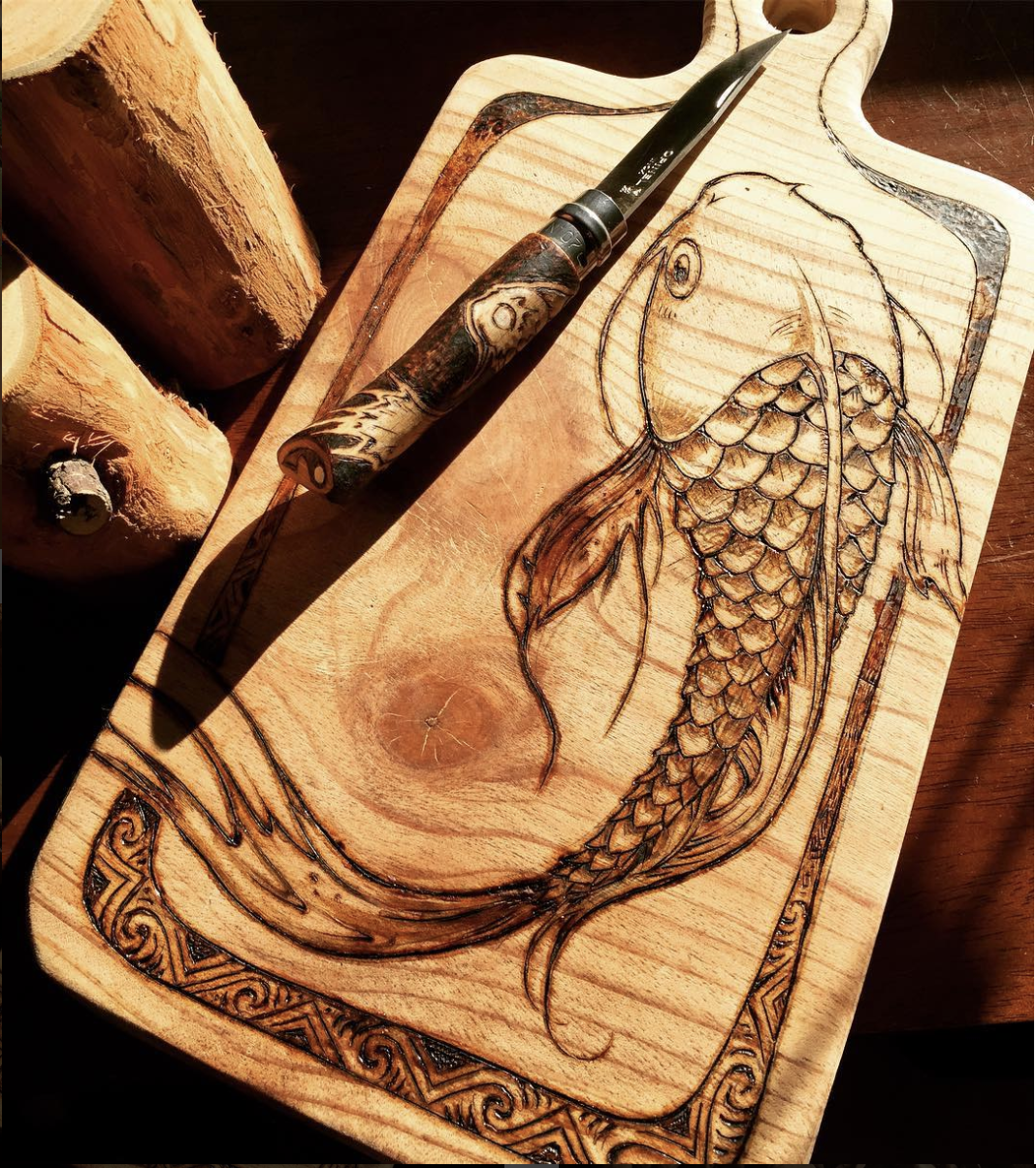 Pyrography Knives & Cutting Boards: Indy Art Director Ben Ciccati uses fire to fashion cutting boards and Opinel knives with magical illustrations of creatures from land and sea. $30-$90
benciccati.com
C'est Cheese Treats: Michael and Kathryn Graham don't just sell cheese ​— ​they also create a wide range of house-made treats, such as harvest butter, tomato and butternut squash soups, cranberry compote, and spiced bacon caramel corn.
825 Santa Barbara St.
cestcheese.com
Boutique Wine Sampler: Entrepreneurs Bob Sweeney and Tim Jones worked with top vintners from both Santa Barbara County and Paso Robles to offer two different six-packs of half bottles of wine for sale at Costco. $50
boutiquewinebox.com
DIY Wine: Bottlest in Buellton lets you customize your own bottle of wine, from flavors down to the label, either as you tour the Terravant winemaking facility or from your desktop. $20
35 Industrial Way, Buellton.
bottlest.com
A Taste of California Salts: Chef Robin Goldstein's full line of flavored salts, from the Santa Barbara trio of lemon-rosemary, Mediterranean, and chile-garlic to Ojai's fennel, pink pepper, and lavender.
Multiple locations.
atasteofca.com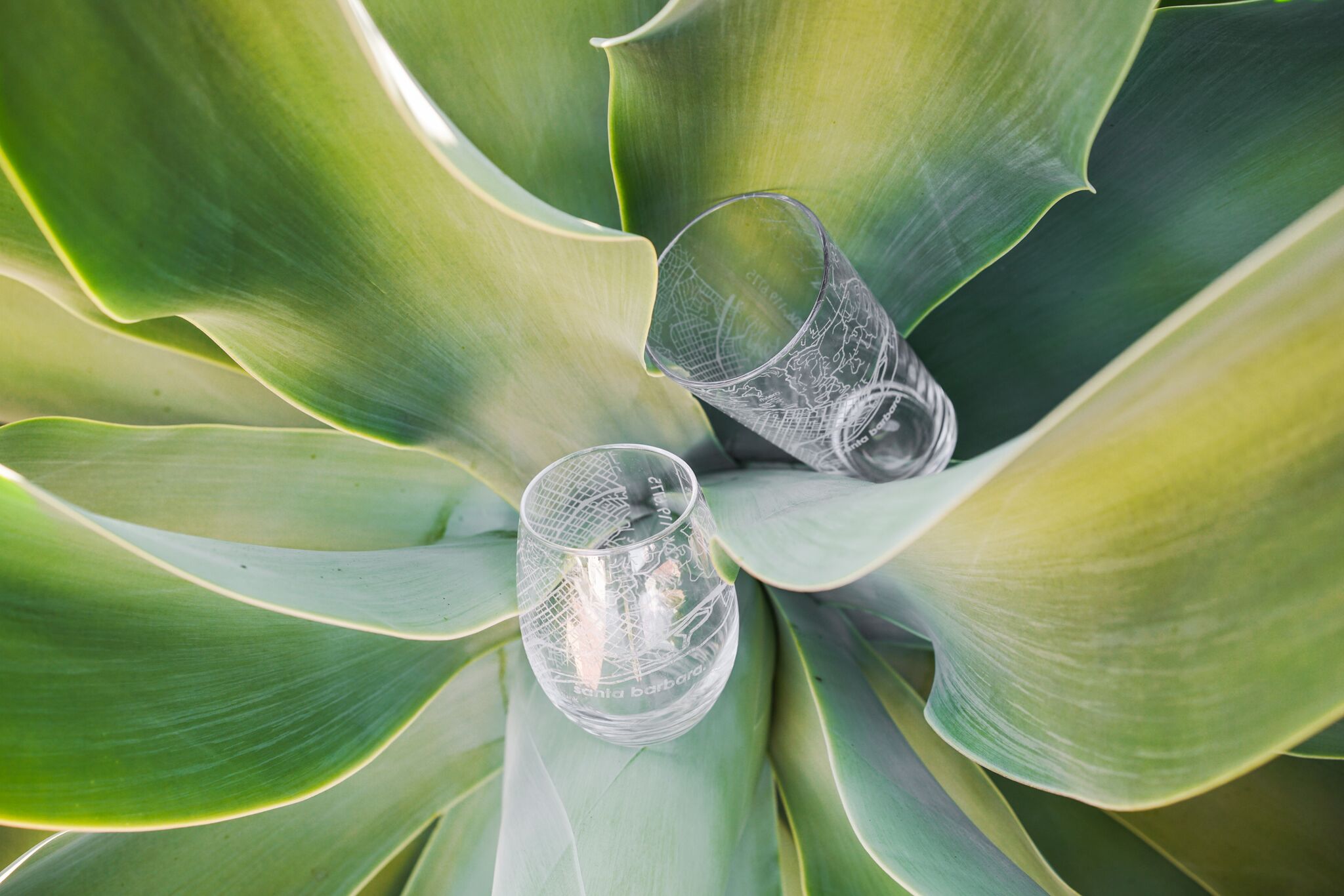 S.B. Map Glasses @ The Santa Barbara Company: Stemless wine glasses, coffee mugs, and beer pints featuring maps of Santa Barbara's neighborhoods, from the Funk Zone and downtown to the Mesa and Riviera. $16
214 E. Victoria St.
santabarbaracompany.com