Briefs
Where Is the Mud Going?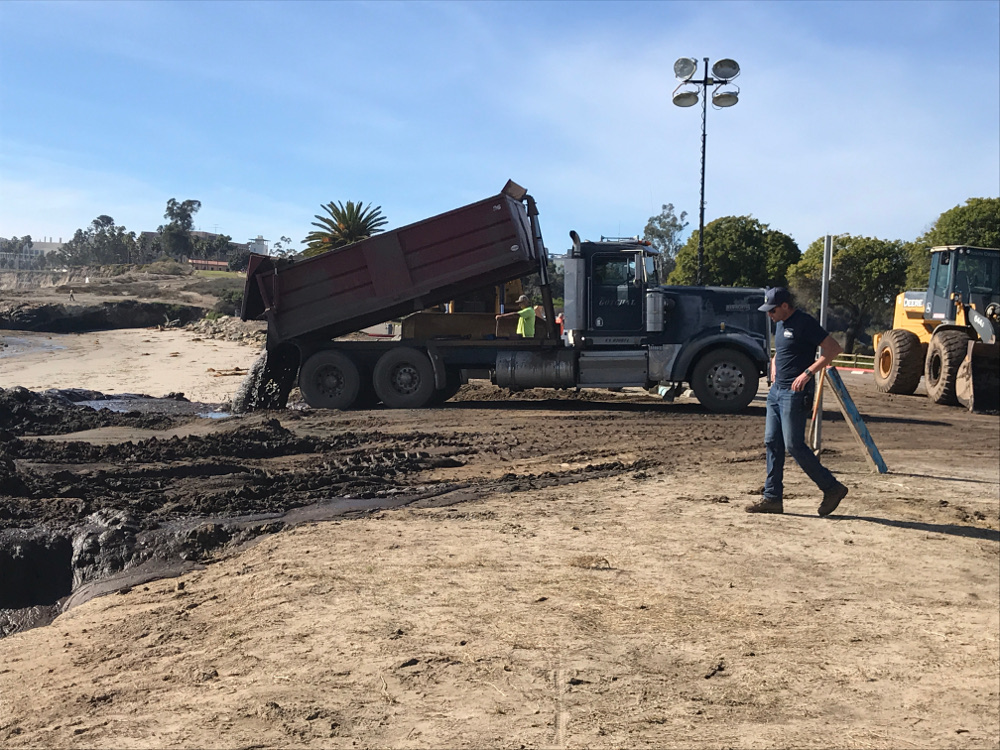 Truckloads of black, watery mud collected after the devastating Montecito mudslides are being dumped at Goleta Beach. About 100 trucks — each carrying 10 cubic yards — made trips on Thursday to the end of the county park nearest the UCSB campus. Another 50 trucks came through as of midday Friday.
"This is the best spot for it to go," said a county Flood Control employee at the beach. "The ocean will sort it and it will get worked into the natural system."
The mud was picked up in the Coast Village Circle area, which is in the City of Santa Barbara, the county employee explained. The mud was then transported to West Beach for sorting. They are "taking out all of the woody debris," he said, adding that large pieces of wood would be chipped. Trucks then barreled along Highway 101 to Goleta Beach. Trucks were also going to Ash Avenue in Carpinteria.
Wreckage such as car parts and boulders would not go to the beach, workers said. Tom Fayram, the county's Flood Control director, said the dump on Foothill Road is where some waste is being deposited. They are also trucking debris to landfills out of the area. In addition, the state is trying to open up Ventura Fairgrounds to house large maimed objects, said Public Works director Scott McGolpin.
Bulldozers at Goleta Beach pushed the mud into the surf zone. It should be washed away at high tide, he said. Workers would also comb the beach, he said, adding there have been "little to no" solid pieces in the pile.
Still, several Goleta residents were concerned. A few people walked up to the coned-off chunk of the beach on Friday afternoon to express frustration. One woman asked questions about the sheer volume of the mud and its toxicity. The Sheriff's Office had to be called earlier because one man became unruly, the employee said.
"Everyone would love to have it tested," the county employee said. "We don't have that luxury." On Thursday, the county's Public Health department issued an advisory closing the beach ocean water from Gaviota to Rincon Point. Levels of bacteria were 60 times standard amounts.
The work was approved on Tuesday by an Army Corps of Engineers emergency permit. The permit authorized county Flood Control to remove "approximately 300,000 cubic yards of accumulated sediment" in the entire area. That's just mud, and it translates to 30,000 trips. It's unclear if another emergency permit will be required.
The order lasts through February 20. The permits specifies "in the event of any discoveries during construction of either human remain, archeological deposits or any other type of historic property, the permitee shall notify the Corps Regulatory Project Manager … within 24 hours [and] immediately suspend all work in any areas where potential cultural resources are discovered."