Food
Rose Café Rises
George Guevara Steps Up to Keep East Haley Street Mexican Food Institution Alive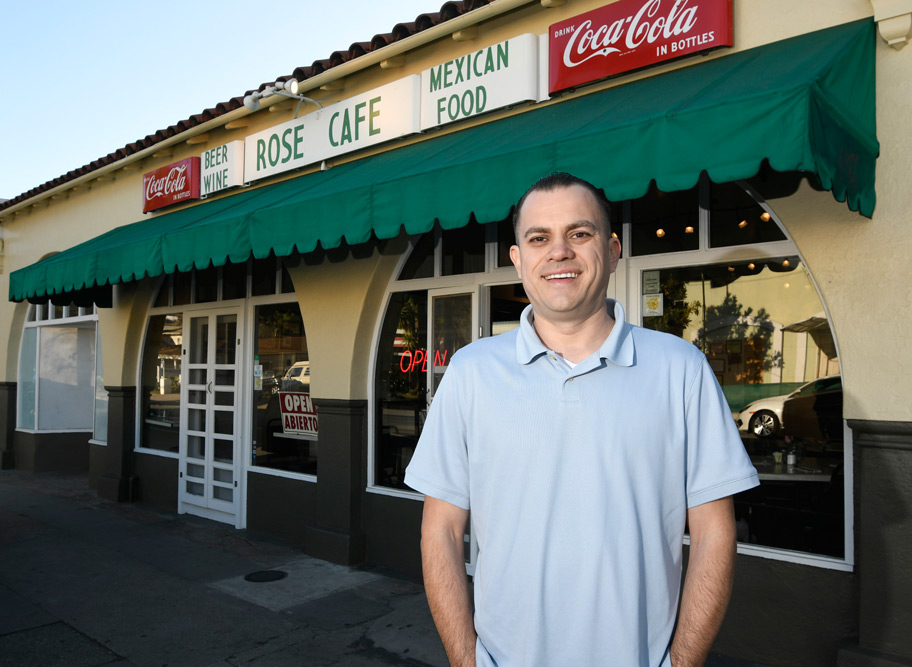 In these troubled times, when great loss seems to be the major theme of the news, couldn't we use a smidgen of cheerful tidings? Try out this hopeful note: The Rose Café on Santa Barbara's Eastside is rising from its own ashes.
Two months ago, all seemed hopeless. Owner Anna Guevara decided to close the Santa Barbara institution she inherited three years ago from her mother, Agnes, who had run it tirelessly for more than 60 years. The restaurant was originally founded in 1936; Agnes began working there in 1945 and took ownership eight years later, ever since serving famed enchiladas, crispy tacos, and chilaquiles (among many other Mexican café dishes) to grateful Barbarenos of all races and creeds.
But upon the December 2014 death of the quiet, hardworking Agnes and, just months later, her husband, Antonio — you know, that nice older man who insisted that you needed a beer at breakfast? — rumors of family discord spread. Anna initially announced the café would close in 2021, but then whispers of an earlier end date turned into reality: On December 20, amid an already disastrous holiday season that would only get worse, silence fell over 424 East Haley Street.
Lucky for us, George Guevara was waiting a little timidly in the wings. The son of Agnes's eldest son, George is an IT specialist for Fidelity National Financial, a diverse company with offices here. A graduate of Cleveland, S.B. Junior and Senior High, and Santa Barbara Business College, George worked in places like IHOP and Baker's Square but didn't really think he wanted to be part of the family biz. "I thought maybe when I was in my sixties," he said.
Then he saw some kind of unanticipated light. "I told my Aunt Anna I wanted to reopen the place, and she looked at me like I was crazy," laughed George. The next day, Anna changed heart and blessed the endeavor. "My number-one plan," said George, a tall, solemn-voiced man, "is to make this place last 100 years." He gratefully credits his spouse, Mari, who now works there herself, for letting him do this crazy thing. The Guevaras reopened on January 6, less than three weeks after closing. Old customers quickly came home.
George was raised in the place, so you can hardly blame him. His parents still live in a house behind the restaurant, and his grandparents had a house right across the street. "A lot of the customers come in and say, 'Hey, weren't you that little kid who used to run around in here?'" said George. He recalls Agnes fondly — "If I wanted something, I just asked grandma," he recalled — but the decision to keep the family tradition alive was not made lightly. "I was excited to do this, but I was also filled with doubts," George said. "As it got closer and closer, I was nearly hysterical. And then we reopened."
The place has new paint and floors, there's a website (rosecafesb.com), and, though some of the paintings are gone, Mexican gods still grace one wall. The smells, meanwhile, are very familiar. "I promise I didn't change anything, except to make it a little better," said George, who happily rehired chef Freddy Villa (technically not a Guevara, yet family all the same).
The main dishes survived — "particularly the chilaquiles, which are the best I've ever had," said George. "I go to other Mexican restaurants and I order them, but Freddy has ruined me for that dish." They also make chips three times a day now and serve pozole and menudo on weekends, popular soups that double as hangover remedies. I declare the pozole magnificent.
"I can't fail at this — it's not an option," said Guevara, repeating his pledge to take the family restaurant to its 100th year. "Everything I'm doing is for my grandparents, to pay back all they did for me. I just want to make them smile."
424 E. Haley St.; 966-3773; rosecafesb.com