News
Assault Weapons, Concealed Guns Worry Santa Barbara Officials
Federal and State Firearms Loopholes Could Affect County Safety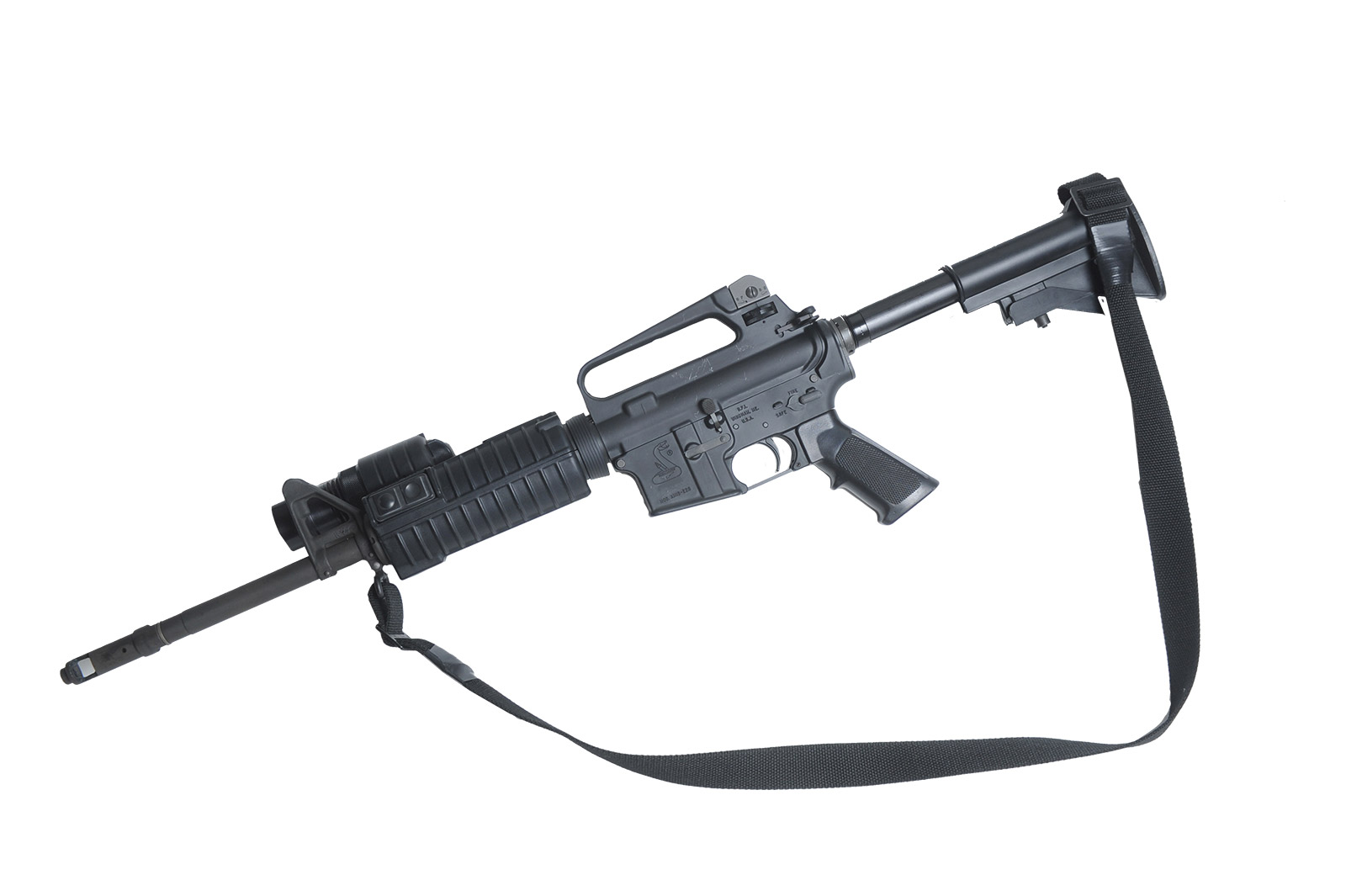 America's most recent shooting massacre, which left 14 Florida high school students and three faculty members dead, has once against thrown gun control into the familiar spotlight of intense national debate. President Donald Trump's pronouncement that arming teachers is the best way to stop school shooting rampages might be dominating national news, but in Santa Barbara, officials worry that the greatest threats to public safety lie with pending Congressional legislation and loopholes in California laws that allow licensed gun dealers to sell all the parts necessary to assemble a military-style assault weapon.
Santa Barbara District Attorney Joyce Dudley doesn't scare easily, but she was unnerved when she learned of a federal bill quietly winding its way through Congress that would make concealed-carry gun permits more like driver's licenses, transportable across state lines. The Concealed Carry Reciprocity Act — which coasted through the House of Representatives in December and has the full backing of the president — would allow any person with a permit to carry a hidden firearm in one state to carry their weapon in any other state.
"That is terrifying," Dudley said. "Whatever gun laws we're pushing in California go right out the door." Six weeks ago, Dudley joined Manhattan District Attorney Cyrus Vance alongside other members of Prosecutors Against Gun Violence (PAGV) — a nonpartisan coalition of DAs from all over the United States — to lobby senators against supporting the bill. "It would be incredibly unsafe for the community and for law enforcement officers," she said.
Representative Salud Carbajal was in the House minority when he voted against the Reciprocity Act, and he's been outspokenly critical of the National Rifle Association's (NRA) lobbying influence on his Republican colleagues. "NRA stands for No Republican Action," he declared. Carbajal called the bill a "shameful" piece of proposed legislation that would undermine California law by forcing the state to recognize lax concealed-carry-permit standards elsewhere, including in the 12 states that allow concealed carry without any permits whatsoever.
"As our students lead the nation to demand progress on commonsense gun-safety measures, this bill is an extremely dangerous step backward," Carbajal said. "I was horrified to watch my colleagues in the House pass this legislation." The NRA has made the bill its top legislative priority, and the Senate will take it up this spring.
Meanwhile, Santa Barbara Sheriff Bill Brown continues his efforts, which he began upon taking office in 2006, to keep the county's number of concealed-carry permits to a minimum. Under previous sheriffs, there may have been as many as 150 residents walking around with hidden guns. Today, only 82 people possess concealed-carry permits, with one application pending. Comparatively, more than 800 licenses are on the books in Ventura County and nearly 500 in San Luis Obispo County.
Brown vets each application personally, and the criterion for approval is strict but straightforward: A petitioner must prove the need to arm themselves based on their occupation or due to a credible threat to themselves or a family member. Among Santa Barbara's 82 carriers are judges, attorneys, gun dealers, firearm instructors, jewelers, private investigators, security contractors, and pilots.
As California prepares to buttress itself against the Concealed Carry Reciprocity Act — it's almost certain to sue to block implementation of the bill — the State Legislature continues to add to its already solid framework of gun regulations. Assemblymember Monique Limón, who represents Santa Barbara and the southern Central Coast, said that in many ways California leads the country in sensible gun-safety laws.
Limón pointed to Assembly Bill 424, the Gun Free School Zones law enacted last year, which made school campuses completely firearm free. Before its implementation, and unknown to most parents and students, anyone with a valid California concealed-weapons permit could walk onto a school, college, or university campus with a handgun. Limón said the new ban clearly conflicts with Trump's announcement that teachers should pack heat, and it's anyone's guess how the regulations would be reconciled.
Limón also referenced Assembly Bill 7, which closed a loophole by banning, in addition to handguns, the open carry of rifles on unincorporated county land (not including hunting grounds or target ranges). The Los Angeles Sheriff's Department requested AB 7 after multiple incidents during which gun rights activists carrying rifles marched through urban areas of the county.
"Legislation is meant to provide an approach that makes it harder for the wrong people to have and use guns," said Limón. "But at the end of the day, it's going to take more than a law. It's going to take a whole lot of conversations and approaches about how to make communities safe."
DA Dudley said it's an oversimplification to connect mental illness with gun violence, a link that is often discussed. The nexus, in reality, is much more complicated. People with mental illness are more likely to become victims of gun violence than to perpetrate it.
The greatest predictors of gun violence Dudley cited are holding previous gun offenses, having a history of child or spousal abuse, and being a male between the ages of 18 and 25. "That last one isn't a popular indicator, but it's a fact," said Dudley. She plans to focus on domestic violence cases and to ensure victims receive the support and services they need. "It wasn't the takeaway I expected," she said. "But this is where I can make a difference."
As many educators, politicians, and journalists have observed, this time feels different despite the pushback by pro-gun lobbyists, and Assemblymember Limón agrees. The momentum generated by gun-safety activists seems more sustained, powered by the contagious energy of the teenage Florida survivors and the nationwide demonstrations they've organized. Limón wondered: "Is this the moment where landmark legislation gets through?"
The 19-year-old perpetrator of the Florida shooting purchased his weapon of mass destruction — a semiautomatic AR-15–style rifle — legally, thus reigniting debate at all levels of government over the private permitting of military-grade gunnery. California already has an assault weapons ban, which was reinforced with language addressing fast-reload mechanisms in 2016, but enthusiasts and criminals quickly found a way around the law.
Legal "featureless" AR-15 rifles and other similar makes and models of high-powered rifles are available for purchase from licensed gun dealers throughout the state, including Santa Barbara County. These firearms are built approximately 80 percent complete compared to their fully optioned counterparts; they lack pistol grips, muzzle flash suppressors, or collapsible stocks. Those components can be purchased separately and self-installed.
Detective Jarrett Morris with the Santa Barbara Sheriff's Office said his investigations unit has confiscated 228 semiautomatic rifles over the last five years from crime scenes, during traffic stops, or from individuals prohibited from owning them. While some were etched with legitimate serial numbers, others were naked of identification and classified as "ghost guns." Morris said it's nearly impossible to distinguish between a "featureless" rifle with the added components and one that was purchased fully assembled.
Morris said his unit doesn't often deal with the criminal manufacture or sale of guns. When it does, the case jumps to the top of their list. "We take these crimes very seriously," he said. The public and media tend to focus on the AR-15, but "there are other powerful weapons out there used for hunting that are just as dangerous." In Santa Barbara in 2016, firearms ​— ​both handguns and rifles ​— ​were used in 31 robberies and 68 assaults.
Information on the number of firearms registered in Santa Barbara County and how often they were used in murders is only available through the California Department of Justice, Sheriff's Office officials said. Department of Justice press secretary Jennifer Molina said the data was not available by the Independent's press deadline and would be provided at a later date.
According to available statewide numbers, there are 10,226 people within the Department of Justice's Armed and Prohibited Persons System, a list that identifies people with criminal records or severe mental illnesses who managed to buy guns. About 2,000 live in Los Angeles County. Last year, California Department of Justice agents investigated more than 8,500 people and seized 3,999 pistols and long guns in the process.
The Department of Justice also regularly notifies individual counties' district attorneys when a prohibited person tries to purchase a gun. The attempt is itself a crime. This January alone, the department alerted Dudley to a Santa Barbara resident with a felony drug conviction and another resident with mental-health problems who both illegally tried to buy firearms.