Living
A Cub in a Tree Means Mom's in the Bush
Black Bears Climb to Avoid People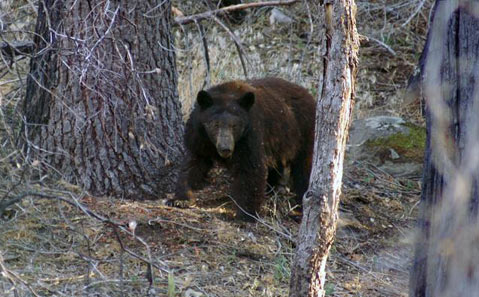 'Let a bear robbed of her whelps meet a man, rather than a fool in his folly.'
Proverbs 17:12 may have less to do with bears than the peril of foolish men, but, "It's wise to avoid a sow with her cubs," said Lesa Johnston with California Fish & Wildlife. She was quick to add that "it's not as prevalent a problem as has been handed down to us."
Cubs are born in January or February, "bald, blind, and deaf," explained Johnston, and emerge from their dens when less vulnerable. Though black bears in snowy Northern California hibernate, emerging when winter gives way to longer spring daylight, Southern California bears tend to stay active year-round, their metabolism in high gear from plentiful food sources: ants and their larvae, acorns and berries, and the occasional fawn.
Johnston stressed that black bears preferred to avoid encounters with people altogether. The black bear's strategy is to climb. "A sow will often send her cubs up a tree and leave the area" if threatened, said Johnston. "She comes back when people leave."
Fewer than 3,500 black bears roam Southern California and are found mostly above 3,000 feet. Almost every year, however, one wanders down into the fringes of cities in Santa Barbara County, most likely looking for food, Johnston said. Pet food and garbage attract them to populated areas, but they are more often spotted by hikers and hunters in the backcountry.
The state requires all bear hunters to report their kills, and when they do, game wardens extract a tooth to evaluate the bear's age. In 2016, three were taken in Santa Barbara County: two females, 7 and 11 years old, and a 2-year-old male. Seven were killed in 2015: five males between 7 and 10 years of age. The two females were 1 and 7.