Sip This
Inside the Central Coast Wine Competition
How It Works, Who Won, and Why It Matters; plus Bastille Day Bash at Bell's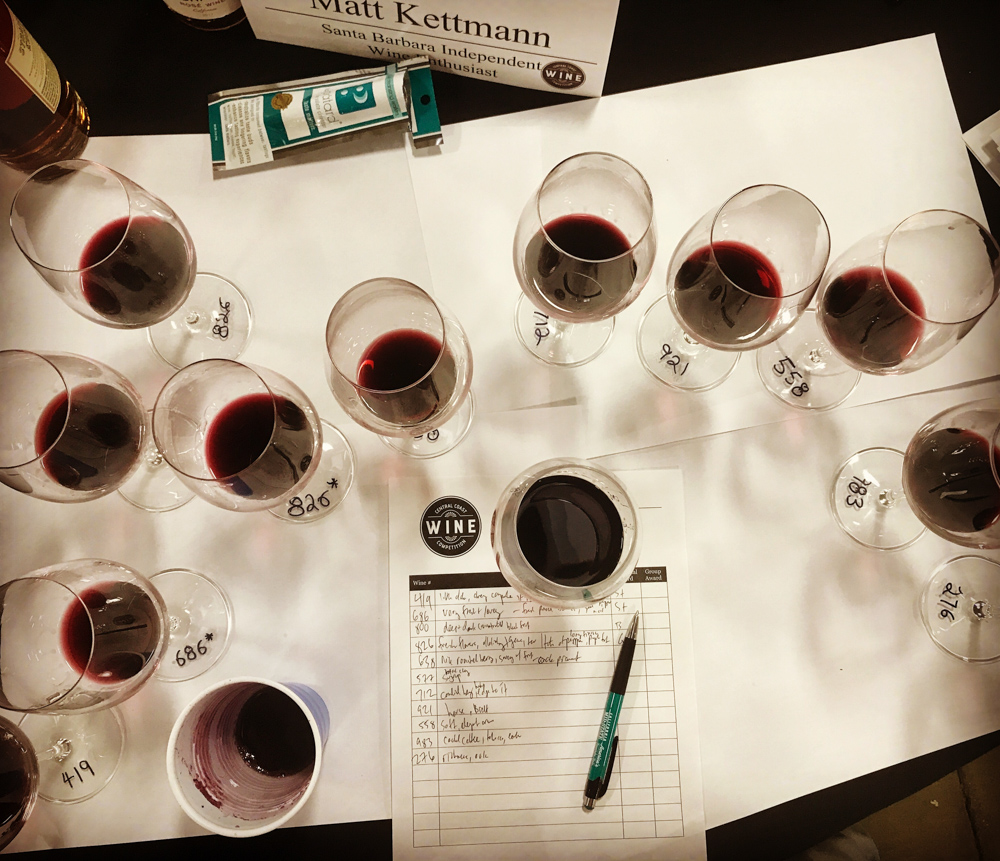 Three years ago, I was invited to serve as a judge for the Central Coast Wine Competition, the annual contest that coincides with the Mid-State Fair in Paso Robles. At that point, I'd been reviewing wines for Wine Enthusiast for two years and was really wondering how these competitions worked. I frequently receive mediocre bottles from wineries touting this or that award, and occasionally even find wines that won a prestigious "double gold" from fill-in-the-blank contest to be just plain bad. How did they win that medal?
So, primarily to peek into this mysterious tent, I drove up to Paso Robles in the summer of 2016 and found myself quickly initiated into a wine-tasting fraternity of sorts. The other dozen or so judges came from a variety of locations and backgrounds, but all played a prominent role in the California wine scene, whether by selling it at their establishments, writing about it for a broad audience, or buying booze in bulk for chains like BevMo!, Vons, and Wine.com. Many judge multiple competitions per year, and some even run their own, from Sonoma to San Diego.
Once the tasting began, I found the process to be appropriately rigorous — completely blind, very focused, meticulous, methodical — if a bit overwhelming, with nearly 200 wines for each judge to try over the course of two days. The first day consisted of three or four judges sitting at each table and tasting through the assigned flights. We individually ascribe a gold, silver, bronze, or no medal to each wine and then share our scores to determine what each wine shall get.
The formula is pretty democratic: The majority rules, and if it's split — say one judge goes bronze, one goes silver, and one goes gold — it gets a silver. There's often banter over particular wines, and the occasional retaste when someone feels strongly. If all judges agree that one wine is a gold, then it gets the coveted "double gold." And if your table has all the wines from a particular category, you also assign "best in class."
Day two is the sweepstakes round, in which the remaining bests in class are determined. Then we taste through all of the winning wines to determine best red, white, rosé, and dessert, and also decree the top wine of the event as our "best in show."
It's impossible to generalize the brands that enter this contest, as they range widely from household names (J. Lohr, Eberle, Santa Barbara Winery) to established but still emerging labels (Ancient Peaks, Zotovich, Pomar Junction) to ones I've never heard much about at all (Brady, Croad, Alara). But when the wines are finally unveiled after day two, there's usually quite a bit of healthy surprise in the room — perhaps more so for me than any of the other judges, as I have already scored many of these wines before and occasionally come to different conclusions while sitting alone at my kitchen table.
But altogether, I found the system fair and enlightening, and enjoyed the rare chance to commiserate with other professional tasters — the evening outings that often led to our own hotel lobby tastings didn't hurt, either — so I signed on again for 2017 and 2018. This past June, I sat on the first-day panel with Wilfred Wong (the BevMo! legend who now works for Wine.com) and Mike Dunne, one of the more respected wine columnists in California thanks to a longtime gig at the Sacramento Bee.
As we endured our share of the more than 700 wines submitted this year, our palates aligned pretty well, with only a few points of wide disagreement and a couple of double golds. The downfall to panel judging is that it can support a more standard style of wine, so certain outliers that I may personally like — such as a lighter, cool-climate style of syrah or cabernet franc — don't appease the collective palate.
Enough about the process — what about the winners? In 2016, the best in show went to San Marcos Creek Vineyard's $32 blend of grenache, zinfandel, and petite sirah from 2014, and in 2017, that prize went to Broken Earth's $24 grenache from 2015. In 2018, the best in show went to a 2017 San Benito County grenache blanc made by Alara Cellars, a new brand in Gilroy that features fashion sketches on its labels. I'd only vaguely heard of the brand before, but it was a completely unanimous best-in-show vote by the nearly 20 judges on hand, the first time that had ever happened in the Central Coast Wine Competition's 16-year history.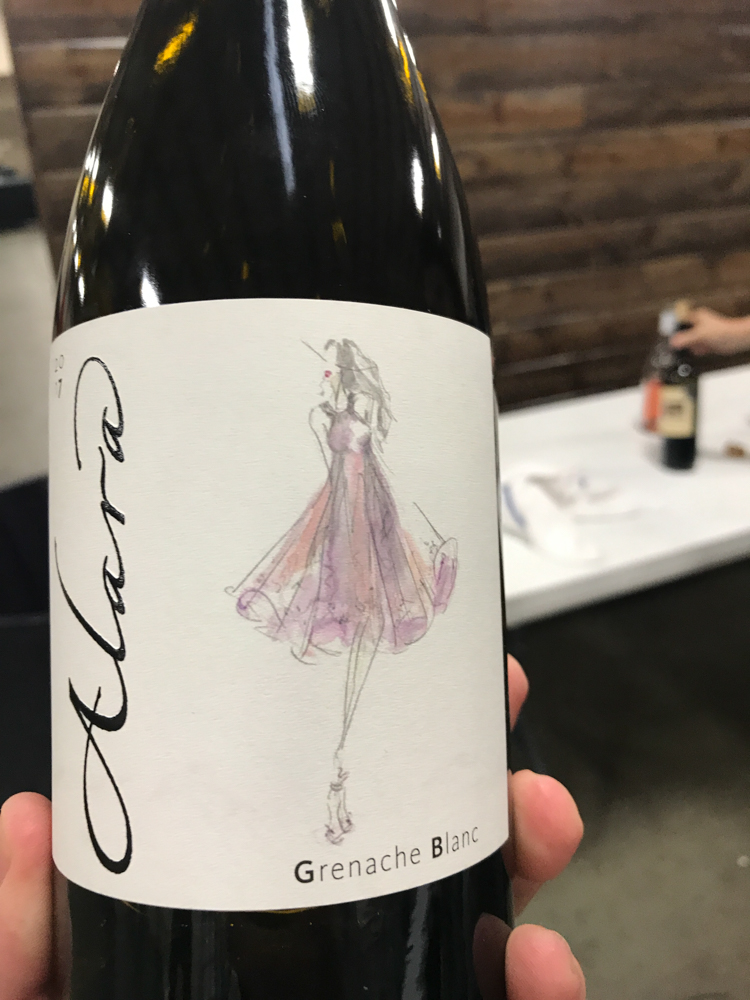 Now it's up to Alara and all of the winners to spread the word about their bests, double golds, golds, and even silvers and bronzes if they'd like. Like magazine wine scores, the marketing power is in the hands of each brand, so they can simply ignore the lower marks (and so will most everyone else) while pumping up the awarded praise. So the risk to entry is pretty low, and, like in journalism, the more contests you enter, the more chances you have to find a panel of judges that will send you up for the big win.
After having been on the inside, my advice is to take these awards as simply one input into your wine-buying formula, just like you should for a particular magazine's numeric score. If there is agreement in aggregate, there's reliable evidence that a particular wine is amazing. But that's really up to your personal palate to decide.
See centralcoastwinecomp.com for a complete list of entrants and winners and information on how to enter your wines next year.
BASTILLE DAY BASH: Greg and Daisy Ryan at Bell's in Los Alamos are celebrating France's independence day in true Francophile style, by hosting an afternoon of wine-and-food pairings from noon to 4 p.m. on Saturday, July 14. For $45, you can try wines from A Tribute to Grace, Storm, Scar of the Sea, Penville, Stolpman, Domaine de la Côte, Presqu'ile, Solminer, and others, as well as a variety of canapes and French-inspired fare from the Bell's kitchen. Proceeds will benefit Olga Reed, the town's elementary school. Buy tickets via independent.com/bastille.