Sports
Gamberdella Shines in Dons' Big Game Victory
Santa Barbara throttles San Marcos in 59th annual Big Game
The 59th annual Big Game belonged to Santa Barbara High quarterback Frankie Gamberdella, who ran for four touchdowns and passed for two more in a 48-0 victory over San Marcos Friday night.
For the second consecutive year Gamberdella was the recipient of the Gary Blades Memorial Big Game MVP Award. He flashed his dual threat ability with 130 rushing yards on just six carries and completed 6-of-12 passes for 200 yards as the Dons overwhelmed the Royals with a barrage of big plays.
"Going into the game we knew that I was going to have to run the ball a little bit more, so that was the plan going into the game," Gamberdella said. "I didn't think I'd be running the ball that much, but it worked."
There was a steady drizzle throughout the game at La Playa Stadium, but that didn't stop a festive crowd of over 5,000 from celebrating Santa Barbara High's homecoming.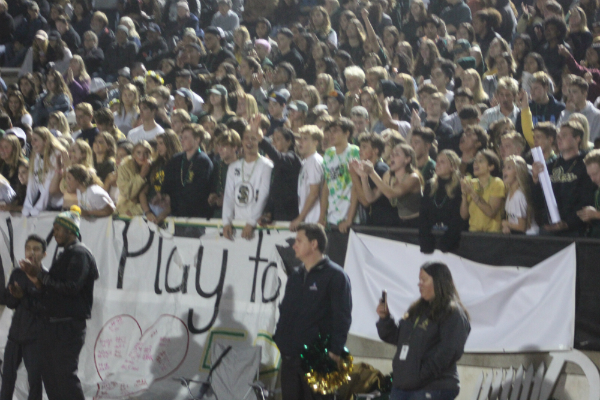 The Dons gave their fans plenty to cheer about from the very beginning as Gamberdella completed a 31-yard pass to Dakota Hill down the sideline on Santa Barbara's first offensive play. Six plays later, Gamberdella scored on a run from two-yards out on fourth down to give the Dons a 7-0 lead with 7:02 remaining in the first quarter.
On the first play of the next Santa Barbara possession Gamberdella scampered 62 yards for another touchdown, increasing the Santa Barbara lead to 14-0.
The San Marcos offense struggled to find consistency, but managed to string together a drive near the end of the first quarter that was aided by a Santa Barbara muffed punt. On fourth-and-goal from the six the Royals appeared to score a touchdown on a pass off a fake field goal by Andrew Aragon, but they were called for a false start.
The penalty forced San Marcos to attempt a 28-yard field goal, which was pulled wide right.
"We left it all on the field. Those guys play hard," said San Marcos coach Jason Fowle of his team. "They gave great effort that's all we can ask for."
Santa Barbara increased its lead to 21-0 on the first play of the second half on a 71-yard pass from Gamberdella to Moki Nacario, who beat his man on a post route and raced to the end zone.
Just before halftime a 49-yard pass from Gamberdella to Hill brought the Dons down to the ten-yard line. Three plays later, Gamberdella scrambled into the end zone from five yards out, increasing the Santa Barbara lead to 27-0.
The San Marcos offense was held to 123 yards for the game as Santa Barbara defensive end Jeremiah Phillips stopped several plays before they began. He finished with four sacks.
Santa Barbara backup quarterback Deacon Hill completed 4-of-5 passes in the second half for 104 yards including an 18-yard touchdown pass to Justin Perez. Sophomore Jake Knecht also caught a 27-yard touchdown pass from Gamberdella in the second half as the Dons eclipsed 500 yards of total offense.
Santa Barbara (4-2 overall, 1-0 Channel League) will travel to Santa Ynez next week. San Marcos (1-5, 0-1) will travel to Cabrillo.
Lompoc 21 Santa Ynez 0
Leondre Coleman hauled in two receiving touchdowns and added a rushing touchdown in the second half.
Dos Pueblos 42 Cabrillo 0
The Chargers went up 28-0 at the half and cruised to their first Channel League victory.
Santa Paula 34 Carpinteria 0
Carpinteria trailed 7-0 at halftime before Santa Paula took control in the second half as the Warriors suffered their second Citrus Coast League defeat.