News
Good News for Santa Barbara Tourism
Visit Santa Barbara's Summit Forecasts Growth, Reveals New Business Plan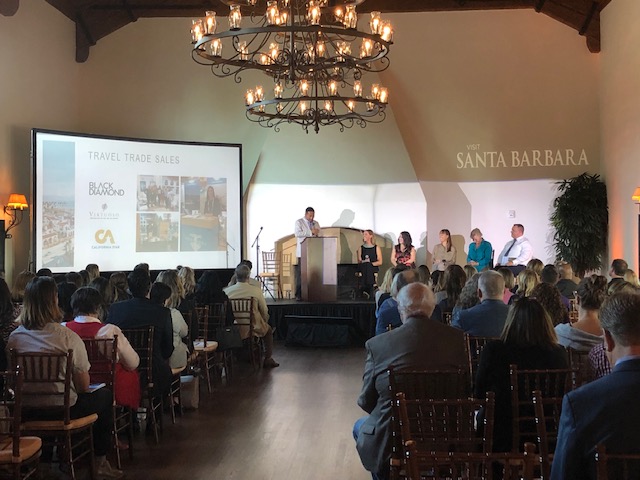 Visit Santa Barbara, the destination marketing organization for Santa Barbara's South Coast region, hosted its Fall Tourism Summit on October 9 at the Montecito Club to present their 2019-2020 business plan and to launch their new marketing strategies and initiatives to attract overnight visitors to the area. More than 200 Visit Santa Barbara members, hotel and restaurant owners, city and county officials, and countless others attended the event, curious about the forecasted tourism of Santa Barbara and the newly branded look of Visit Santa Barbara.
Kathy Janega-Dykes, president/CEO of Visit Santa Barbara, opened the sold-out event with a brief discussion of the organization's mission for this upcoming year. In an attempt to continue the progression of overnight tourists to the South Coast, Visit Santa Barbara's overarching four-step strategic plan is to: amplify the Santa Barbara brand, grow overnight demand for the destination, champion positive visitor experiences, and to strengthen the organization's effectiveness.
After a year of unprecedented travel media coverage in the New York Times, Travel + Leisure, AFAR, and numerous other news outlets, Santa Barbara continues to rise in popularity as a top travel destination. Not only is the area known for its unmatched beauty and coastal activities, but Santa Barbara's outstanding food and wine scene has boosted tourism and visitation popularity.
Visit California president/CEO Carolyn Beteta followed Janega-Dykes' opening remarks and said that more than 25 percent of tourists' money is spent on food establishments, making the restaurant scene a huge destination driver – especially for Santa Barbara. The Michelin Guide awarded 13 food establishments in Santa Barbara alone, a huge feat considering the guide covers nine different regions. The area's culinary message is a distinctive aspect for attracting visitors, as it sets Santa Barbara apart from the competitors.
Beteta also provided insight to California's tourism trends, noting Santa Barbara's large role in Visit California's marketing efforts. With their previous global marketing campaign that reached more than 120 million households in 14 different countries, Visit California generated $13.95 billion in ad-influenced visitor spending. Beteta emphasized the increasing pervasiveness of social media and its powerful marketing capabilities, stating that 170 different pieces of content focused on Santa Barbara were featured on Visit California's social channels and reached over a million viewers.
A panel of Visit Santa Barbara officials trailed Beteta, discussing the different aspects of the organization's strategic business plan. "We've seen an increase in demand for the Santa Barbara brand," said James Minton, vice president of strategic planning. "The rooms sold were an all-time high in 2018, and 2019 will be another record year. Good news on the horizon for 2020: [there will be] continued growth and demand for rooms." Noelle Buben, Director of Marketing and Events, said they developed a promotion with online travel agencies where visitors who book two nights receive the third night free.
To cut through the clutter of internet and social media advertisements, JessyLynn Perkins, director of digital marketing and content development, said Visit Santa Barbara created "Like A Local," a series of one-minute videos highlighting unique neighborhoods and business owners around the Santa Barbara community. "Social media consumption is at an all-time high," Perkins said. "People spending 53 minutes on Instagram every day." Over eight weeks, the videos were collectively viewed over one million times, and 2,000 of those views watched the videos' entirety.
Janega-Dykes closed the event and reiterated the goals of Visit Santa Barbara. "Once visitors arrive, it is our collective responsibility to meet and exceed their expectations," Janega-Dykes said. "Show them what Santa Barbara style is."