Food & Drink
Greek Church Doing Grab 'n' Go Again
Parish Fundraiser Expands Days and Menu to Include Souvlaki, Loukoumades, and More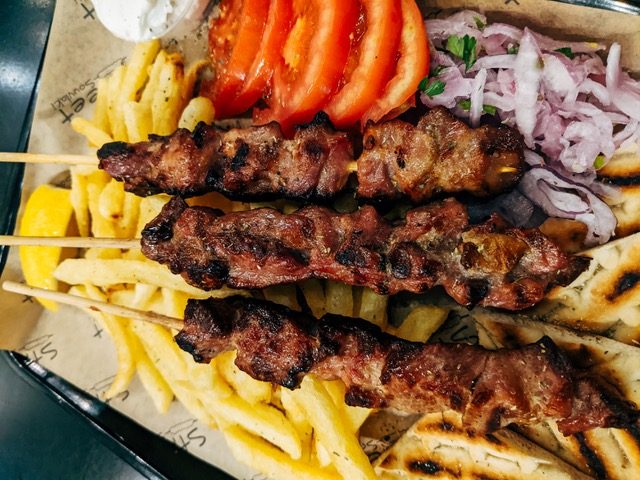 Last November, with the pandemic canceling their 47th annual summer festival in Oak Park, the Saint Barbara Greek Orthodox Church gambled on to-go gyros as a replacement fundraiser. The bet paid off — no doubt due to the event's well-organized pickup protocols, the savory gyros and sweet baklava, and the excuse for supporters to visit the church itself: a stark white glory of architecture and landscaping set amid our Mediterranean foothills.
"The event in the fall was phenomenal," explains Nicole Botaitis, chair of the sold-out fundraiser. "A lot of people had never been up to the church or seen the grounds, so it was really neat to be able to share with the Santa Barbara community how special the Greek Orthodox Church is. We are rolling out the same model, but expanding hours and days. We're switching out gyros to souvlaki, and instead of baklava, we are making loukoumades, which are amazing Greek donuts."
Considered a street food in Greece, souvlaki are shish kebabs of chicken or pork; marinated in lemon juice, olive oil, and oregano; grilled over a fire; and then served with pita bread and tzatziki, the tangy yogurt-dill-cucumber-garlic sauce. They can be ordered individually, as part of a shareable platter, or as the centerpiece of a combo meal with multiple sides.
Like last year, those smaller items are spanakopita (spinach-filo pies) and dolma (grape-leaf-wrapped rice), while new offerings include cubed feta straight from the brine and fasolakia. "That's a green bean dish cooked in tomato with more garlic and olive oil," said Botaitis. "We try to target people who are meat eaters as well as vegetarians."
The loukoumades are for dessert. "They're little donut holes that are fried quickly and then drizzled with honey and sprinkled with walnuts," said Botaitis, noting that they can be ordered without nuts as well. "They're addicting; they're delicious."
This year's three pickup days at the church, which is located at 1205 San Antonio Creek Road, are over Memorial Day weekend, May 29 to 31, but orders must be placed by May 16. Prices range from $3 for feta and $8 for a souvlaki pita to $50 for combo orders.
Place your order at greekgrabgo.com.
---
---
Support the Santa Barbara Independent through a long-term or a single contribution.
---