Briefs
SBPD Remembers the Fallen
May 15 Marks National Peace Officers Memorial Day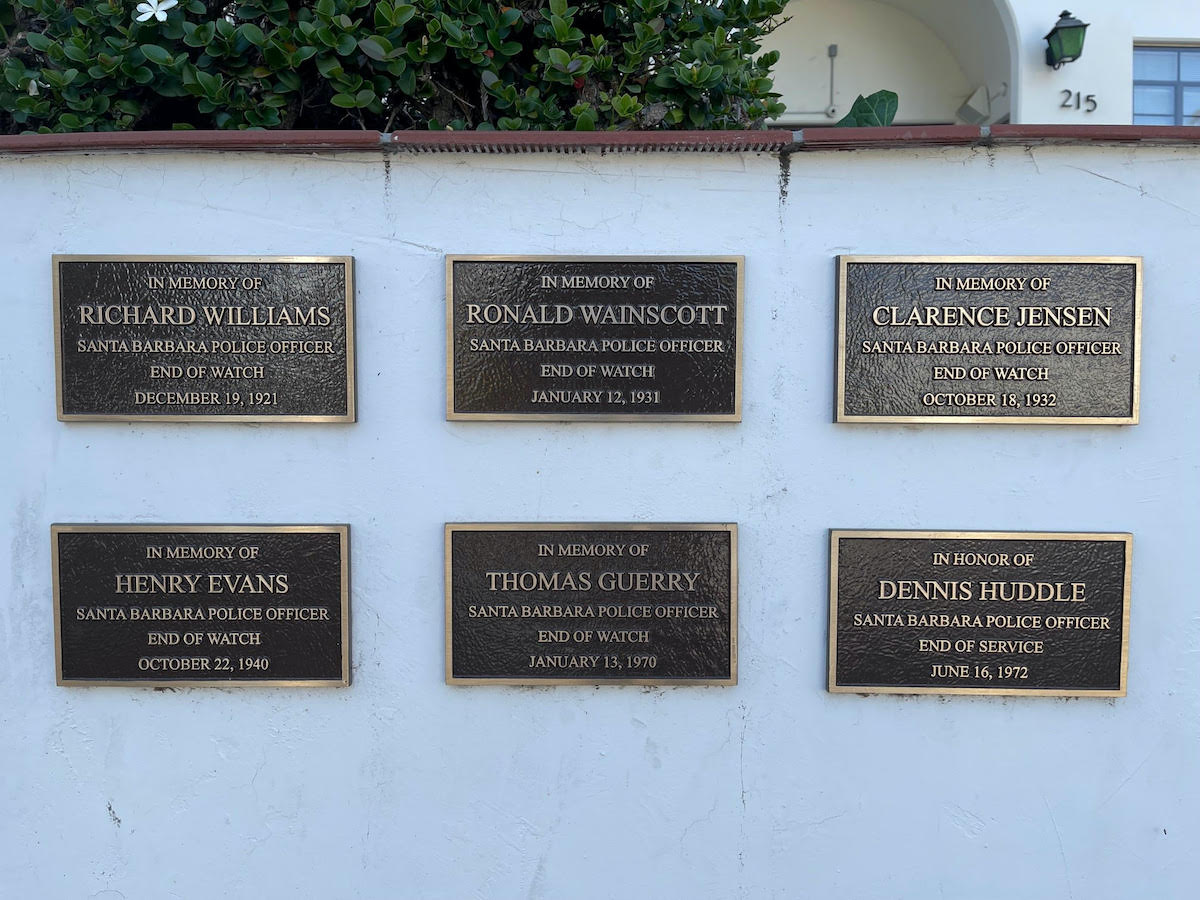 On May 15, law enforcement officers nationwide remember their colleagues who have died in the line of duty or who have become disabled in the course of their jobs. The Santa Barbara Police Department held a ceremony on Friday morning to remember the six officers who died while discharging their duties or as a result of injuries they sustained. Among them is Thomas Guerry, a detective for whom an annual award for outstanding service among county peace officers is named.
Guerry was an eight-year veteran with the SBPD when he was killed in a gun battle with two robbery suspects at the corner of Ortega and Bradbury in 1970. He and his partner had noted two suspicious persons, stopped them, and were fired on as they stepped out of their car. Guerry, who was 28 years old, was fatally wounded, but his partner returned fire and injured one of the men. The two turned out to be felons from Baltimore, who had been committing crimes coast-to-coast. They were both convicted of murder and served life sentences.
The law enforcement family is a close-knit one, and the Santa Barbara Sheriff's Office stated on May 13: "The tragic shooting that took the life of San Luis Obispo Police Detective Luca Benedetti is an especially hard blow." Benedetti had attended the Allan Hancock College Law Enforcement Academy with 10 deputies who now work for Santa Barbara Sheriff Bill Brown. Also, the officer who was wounded in the gunfire that killed Benedetti, S.L.O. Det. Steve Orozco, is related to a custody deputy at the Santa Barbara County Jail.
In the shooting, six officers with the S.L.O. Police Department had conducted a "knock and notice" warrant search on Edward Giron at his apartment near South Higuera Street in connection with a series of commercial burglaries. They paused before forcing the door open, SLO-PD stated, and that Giron, 37, was "lying in wait" and opened fire. The officers shot back, and Giron died at the scene of "an apparently self-inflicted" gunshot, though he'd also been hit by the officers.
Benedetti was a 12-year veteran of SLO-PD and was 37 years old. A GoFundMe page has been set up for Det. Benedetti's wife and two children here by the S.L.O. Police Officer Association and the regional SWAT team.
Update: This story was updated on May 16, 2021.
---
---
Support the Santa Barbara Independent through a long-term or a single contribution.
---