The Home Page
The Home Page: Open House Love, Blooming Tubs, Tiny Home Buzz & More
Open Houses Are Back in Santa Barbara!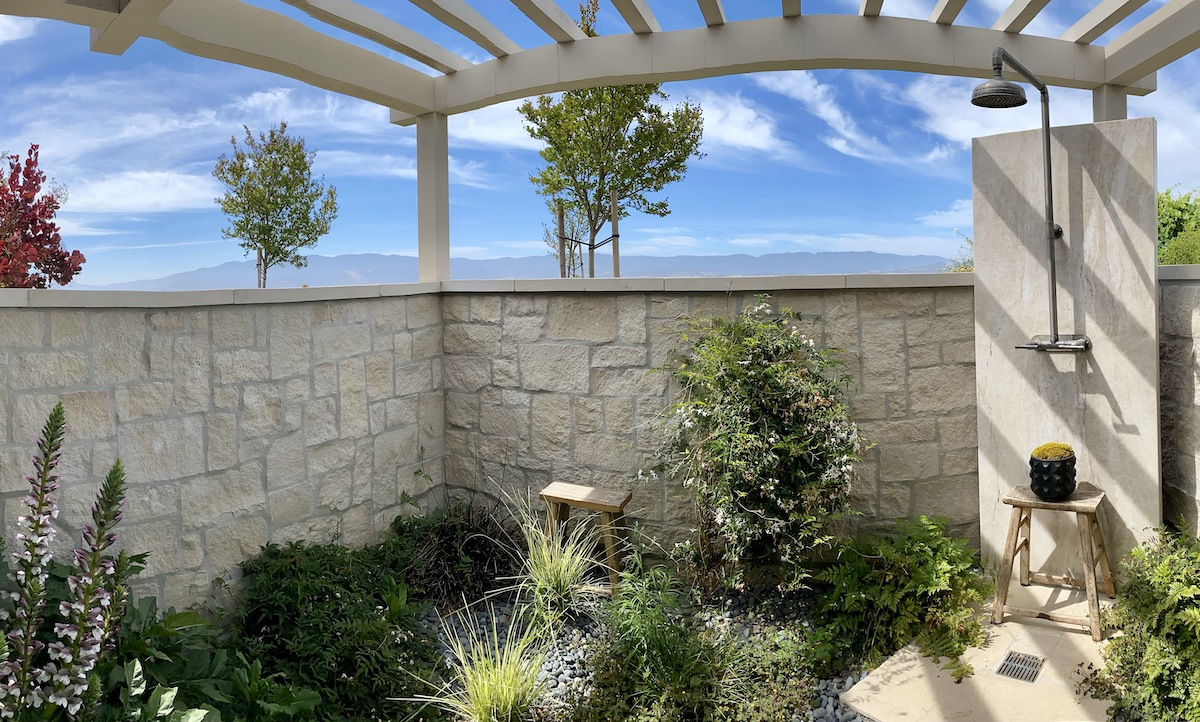 Happy weekend & welcome back to The Home Page. Whether you spend your day visiting open houses or playing at the beach, enjoy your Sunday!
BUBBLES AND BLOOMS
When I visit open houses, I love to see how people set up their bathrooms — and I've seen some spectacular ones lately. I visited and wrote about this modern farmhouse in Santa Ynez a few weeks ago, and I can't stop thinking about it. There's an infinity pool that looks out over the valley, a kiva-style wine cave studded with art, and a second-floor observatory just waiting to be made into my own private yoga-studio-with-a-view. But it's this outdoor shower made with "Taj Mahal" quartzite that's got me dreaming. There's also a slate soaking tub with a huge window overlooking private gardens.
Bring on the bubbles!
OPEN HOUSES ARE BACK!
The biggest buzz in the local real estate world is the news that real estate agents are once again able to host open houses. With safety protocols in place, Realtors are welcoming the public to step inside their listings and take a look around. Santa Barbara Association of Realtors President Brian Johnson recently gave us his take on the subject.
This week's Independent real estate section has a full page of open house listings, including the cutie on the cover (and shown above) at 909 Laguna Street, which is open today from 1-3 p.m. I got a sneak-peek tour this week and made a prediction: location + charm + income = it won't last long.
---
Sign up for The Home Page, a weekly newsletter written by Sarah Sinclair. Get the inside scoop on local real estate, style secrets, garden gossip, and more in your inbox each Sunday.
---
GUACAMOLE WITH A VIEW
I love this time of year for the long days, the sunshine, and all the delicious fruit that's in season! Peaches, apricots, strawberries, and let's not forget one of my favorites: avocados! This amazing property on Farren Road in Goleta sits on 38 acres and has an orchard of more than 2,400 producing avocado trees. When I visited last month, I was mesmerized by the views, the tranquility, and the prospect of unlimited avocados in my own backyard!
POWER PLAY
The City of Santa Barbara is paving the way for an ordinance that will require new construction in the city to be all-electric. Never fear, existing homes won't need to convert their gas ranges and heaters to electric … yet. But this is a step toward cleaner, more sustainable energy in the future. Local architect Dee Carawan gives us more info in this article. In related news, tiny-home builder Escape Homes has added an all-electric option to its line of tiny portable homes for sale. If you're not quite ready to commit, you can vacation in one to test it out. Warning: they are as cute as a button. 
---
Support the Santa Barbara Independent through a long-term or a single contribution.
---