Full Belly Files
Full Belly Files | Going Vertical, Twice
Recent Vertical Wine Tastings Reveal the Wonders of Aging Wine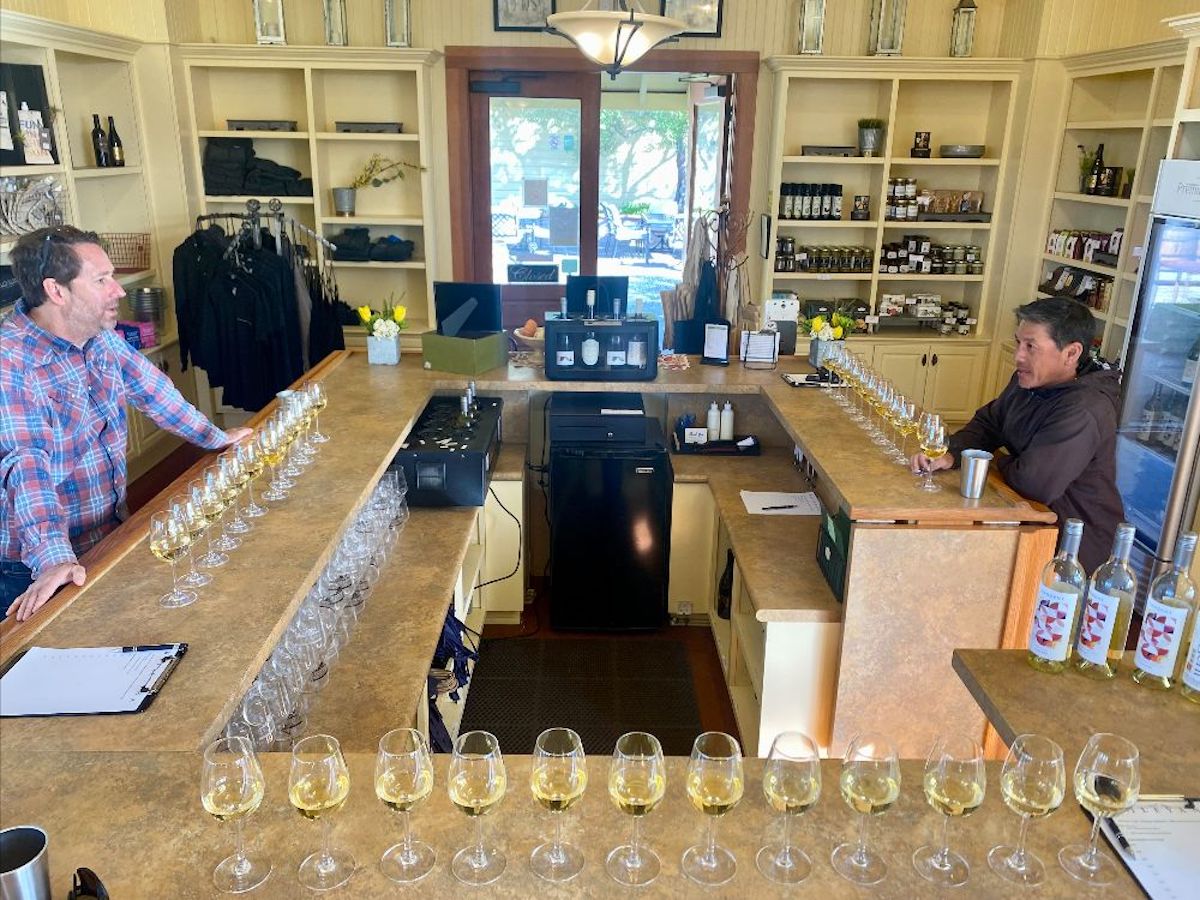 Since much of my career involves writing about wine, I am inundated with invitations to visit wineries from San Diego to Santa Cruz, and to attend various tastings, dinners, conferences, and so forth. But because wine is only part of my job — and, more importantly, because I have a family that seems to enjoy my company with some regularity — I must turn down most of these invitations, whether they're just brief visits to a nearby producer or multi-day excursions elsewhere.
But if the past two weeks are any indication, there's one key to attracting my attention: Invite me to a vertical tasting, and I'll take a sharper look at my schedule. On November 8, I tasted 18 vintages of Margerum Wine Company's flagship M5 red blend, and this past Tuesday — after watching the 49ers trounce the L.A. Rams with my mom in Santa Clara on Monday Night Football — I stopped by the Edna Valley to try 12 years of albariño produced by Tangent Wines. 
For those not familiar with the term, a vertical involves tasting multiple vintages of the same wine in chronological order. Sometimes that is from old wines to young ones, as we did with the albariño, but usually, at least in my experience, it is younger to older, as we did with the M5.
As I wrote in this week's article about the Margerum tasting, I believe a vertical to be the most enlightening enological experience that exists. Because the basic bones of each wine are similar, sipping through the lineup — whether it's just from three subsequent years or across two decades — reveals the differences of each year's weather, the nuances of vineyards as they age, and the evolution of a winemaker's technique. It takes a bit of confidence — and often some pre-event sampling — for vintners to present their wines in this format. They're essentially laying bare their life's work, opening a window into the triumphs and tribulations of their past for all in attendance to debate. 
Aside from white Burgundy or riesling retrospectives, verticals tend to be focused on red wines. While many whites are made for drinking soon, reds are more often built for aging, with firm tannic structures and deeper layers of texture and flavor that can add complexity with the passage of time. All of that was very evident in the Margerum tasting.
But whites can survive the cellar too, and they often offer fascinating insights into grape varieties, vintage variations, and/or viticultural techniques. That's why I was excited to dive into those albariños this past Tuesday with winemaker Rob Takigawa and vintner John Niven.
Niven's grandfather was a primary pioneer for the Edna Valley, planting wine grapes south of San Luis Obispo back in the 1970s and then founding Edna Valley Vineyards (now owned by Gallo) in 1980. Grandpa later founded Niven Family Wines, which was the umbrella over the Tangent, Baileyana, and True Myth brands until the family sold them to WX Brands in 2020.
Unlike most of the rest of his family, John Niven the grandson wasn't quite ready to get out of the wine business with that sale, so he's still working with those Edna Valley brands as a consultant for WX. He also founded his own brand of aromatic white wines called Cadre Wines, which we spoke about on this Wine Enthusiast podcast from last month. 
Takigawa, meanwhile, is also a veteran of the region and these brands. Raised in Carmel, he came to study soil science at Cal Poly in the 1990s and found work under winemaker Christian Roguenant at Laetitia in Arroyo Grande. When Roguenant moved to the Nivens' Orcutt Road Cellars in 1999, Takigawa came along, getting a crash course in pinot noir and then helping to spearhead the rise of aromatic whites in the Edna Valley. He remains the winemaker for Tangent, Baileyana, and True Myth under WX. 
For our tasting, Niven and Takigawa chose to show the albariños from 2007 to 2017, along with the 2020. Like is mostly done in the Spanish region of Rías Baixas, where the grape is from, Takigawa makes his albariño to shine upon release, when it's loaded with more fresh, tropical fruit alongside the briny character that comes from this maritime-influenced area.
---
Sign up to get Matt Kettmann's Full Belly Files, which serves up multiple courses of food & drink coverage every Friday, going off-menu from our regularly published content to deliver tasty nuggets of restaurant, recipe, and refreshment wisdom to your inbox.
---
But we were all happily surprised by how vibrant and intriguing the older wines were in the flight. Each vintage exhibited unique qualities: petrol on the 2007, green melon on the 2008, white pepper on the 2009, tingly acidity and ashy minerality on the 2011, jasmine and melon candy on the 2013, seashore aromas on the 2014, crushed stone on the 2015, and so forth, up into the juicy papaya notes of that 2020.
That's unlike many other white verticals I have done before. Often, after a decent showing by a few recent vintages, older whites devolve into similarly cooked flavors, usually of dried fruit and roasted nuts and other oxidative qualities. You're left searching for nuances rather than recognizing them instantly. And sometimes older whites are just bad.
Certainly, the screwcap closures help to preserve these Tangent albariños. But there's clearly an advantage in growing this variety so close to the ocean, as many argue that the Edna Valley is the most coastally influenced appellation in California, being just over the hill from Pismo Beach. Niven is one such proponent of growing aromatic whites here, and he's also championed gruner veltliner, sauvignon blanc, and riesling from these parts.
As for albariño's potential here, Niven has shown me detailed maps of Rías Baixas that draw a direct correlation to the Edna Valley. Both regions are separated from a cold ocean by a small mountain range, and are connected via valleys like the one that Price Canyon Road cuts through from Pismo.
Niven has only been encouraged by Spanish producers in this regard. When he visited Spain in 2007 to dive into albariño, he figured they might be defensive and protective of their hometown grape. "It was the complete opposite," said Niven. "That trip left us validated, but spinning our wheels at the same time."
It wasn't until 2013 that Takigawa and his team developed a viticultural strategy for the vineyard that gave enough sunlight to the grape while protecting it from sunburn, which is a common albariño issue. "We're always learning, but that's when we figured out the canopy management," said Takigawa.
We spent the rest of the afternoon tasting a horizontal of chardonnay, which is when you taste different wines made by the same winery from the same vintage. That included the Musque clone, the S-BAR ("Super Bad-Ass Reserve," or "Select Blocks and Rows," depending on the audience), the La Pristina, and the El Gordo. Except for El Gordo, which is a rich, buttery wine, these chardonnays are racy, acid-driven, and crisp, and don't go through the malolactic fermentation that contributes buttery notes to the wine.
Then we finished by tasting the True Myth cabernet sauvignon alongside a Baileyana syrah from Edna Valley. The trick to their True Myth — which is widely available in grocery stores around the country and this team's top-selling brand — is including 15 percent of that Edna Valley syrah, which kicks up those purple flower notes.
They gave me the 2009 and 2012 albariño to take home — the birth years of my children — and I also snagged the 2011. My next stop was to see Richard Sanford at the new tasting room for Alma Rosa Winery in Solvang. Many decades ago, he launched his original Sanford Winery at the Nivens' facility, and he is just one of many California legends who credit those Edna Valley pioneers for giving them a place to start now-famous brands.
I gave Sanford my 2011 to take home and try. Though 10 years old, the vintage from a super cool year was my favorite of the Tangent batch, full of life and energy even today. Both Niven and Takigawa concurred.
"The '11's amazing," said Takigawa. "It's really good." And that's the only thing any wine tasting really needs to achieve. 
---
Support the Santa Barbara Independent through a long-term or a single contribution.
---