Public Safety
National Weather Service Issues Flash Flood Watch for Santa Barbara and S.L.O. Counties
Storm to Bring Moderate to Heavy Rain and Strong Winds Beginning Early Wednesday Morning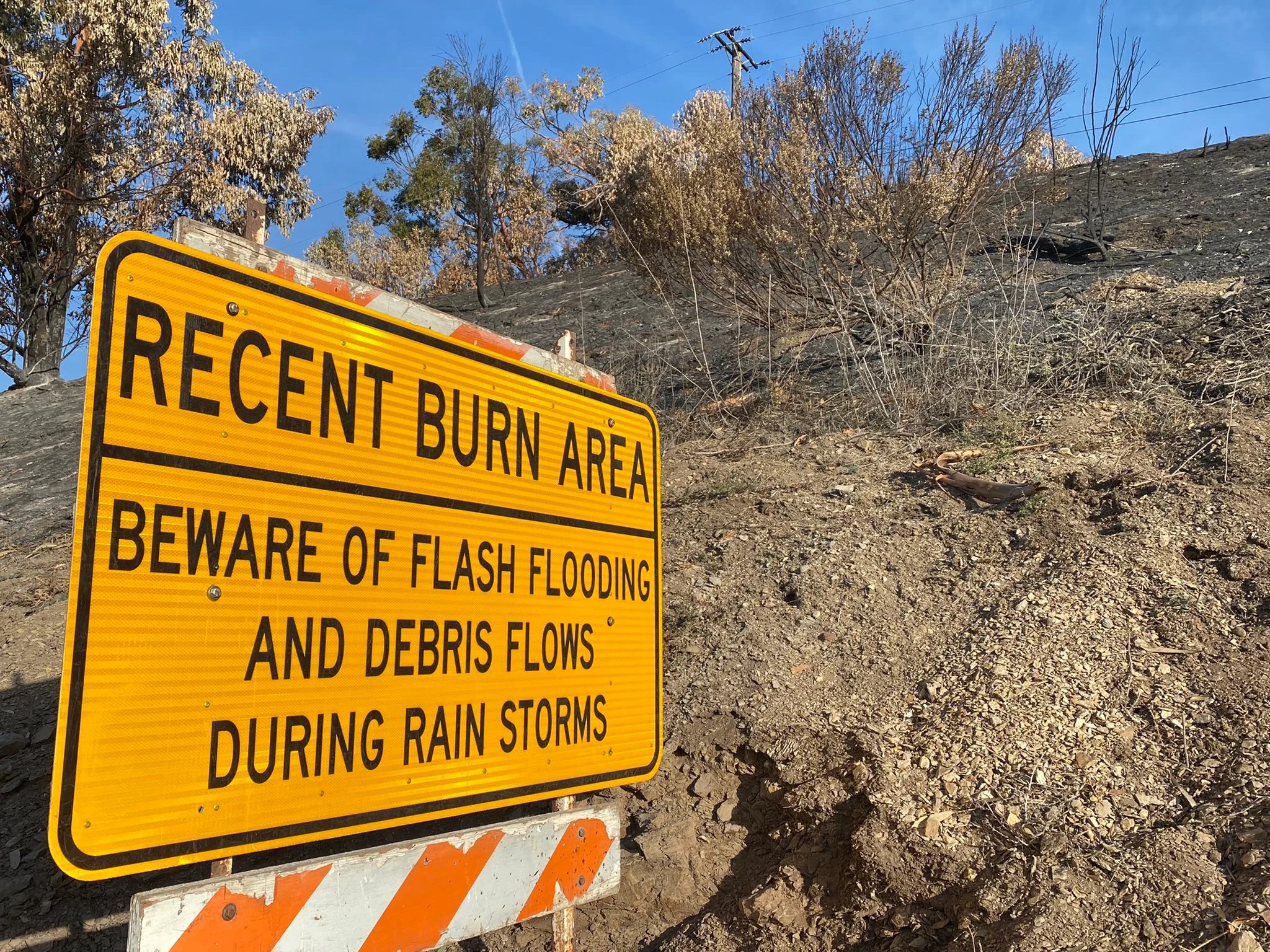 [Update: Jan. 3, 2023, 8 p.m.] To the information that a significant storm will hit Santa Barbara County on January 4 and 5, this evening the county added an advisory for residents of the Alisal, Cave, and Thomas Fire burn scars: "If you live in a burn scar area and are concerned that this storm may cause unsafe conditions to your home, leave the area before rain starts. Do not wait for an official evacuation notification to leave."
Earlier in the afternoon, county emergency managers and National Weather Service meteorologists discussed the main front of heavy rains and high winds, and what first responders could expect. "The most significant rainfall," the county reports at ReadySBC.com, "is expected from 10 p.m. January 4 through 10 a.m. January 5."
As in storms past, the potential is for downed trees and power lines. If in danger of flood or debris flow, the best place to shelter is an interior or elevated area of your home. Driving is not recommended, but if you encounter water across a road, the saying goes: "Turn around, don't drown."
To receive storm alerts, sign up at ReadySBC.com, Santa Barbara County's emergency information portal.
[Update: Jan. 3, 2023, 4 p.m.] Santa Barbara County will soon be issuing storm information about the rain and wind expected to be significant by around Wednesday night through to Thursday morning. No evacuation notices are currently being considered, said Kelly Hubbard, head of the county's Office of Emergency Management, but residents are asked to stay aware of the coming storm and take any sandbagging actions needed around their property.
High on the list of concerns are the homeless individuals living in riverbeds around the county, Hubbard said. The Sheriff's Office will be flying the river courses to alert people living there to potential flooding and to take shelter on higher ground.
[Original Story] A formidable storm brewing midway between Hawai'i and the California coast is expected to blow ashore in Santa Barbara somewhere around midnight tonight, prompting a Flash Flood Watch from the National Weather Service beginning Wednesday afternoon.
A Flash Flood Watch is an advisory, and not a "warning" of imminent danger. It will be in effect Wednesday afternoon through Thursday morning in Santa Barbara and San Luis Obispo counties, all the way from the interior valleys of both counties through to the Santa Ynez and Santa Lucia mountains, coastal areas, and Channel Islands. Recent burn areas called out for potential debris flow include the Alisal Fire burn scar.
"What's different about this storm," said Eric Boldt with the National Weather Service, "is that the wind is very strong out of the south. This enhances precipitation as it moves up the foothills and slopes. That really increases the rates for rains." The flooding ongoing in Northern and Central California, he noted, was because they'd already hit saturation levels. There was every likelihood that the coming storm would do the same for Santa Barbara County, where the "orientation of the mountains helps increase rain rates," Boldt said. "The most critical time frame for flooding is Wednesday night into Thursday morning, as a cold front moves through, which also has heavy bands of rain associated with it." He emphasized that the flood watch was for everywhere, not just the burn scars.
The storm is bringing moderate to heavy rain and strong winds into the small hours of Wednesday morning and extending from San Luis Obispo to Los Angeles counties. Rain amounts were pushed up a bit in this morning's forecast — to 7-8 inches in the mountains and 1.5-3 inches along the coast and foothills — but the NWS is still forecasting as much as an inch of water per hour along the Santa Ynez range. A rain burst of about a half-inch per hour set off the tragic 1/9 Debris Flow, which occurred after the massive Thomas Fire right above Montecito.
Sandbag station information was provided by the cities of Goleta and Santa Barbara ahead of last week's rains, advising that the stations were self-serve, open during the day to residents, to bring a shovel, and that there is a 20-bag limit:
Santa Barbara
401 East Yanonali Street
S.B. County
Flood Control Shop, 4568 County Road, Goleta
Goleta
Fire Station 11, 6901 Frey Way
Fire Station 14, 320 Los Carneros Road
Goleta Valley Community Center, 5679 Hollister Avenue
Montecito
Lower Manning Park, 449 San Ysidro Road
Fire Station 7, 2411 Stanwood Drive
Carpinteria
5775 Carpinteria Avenue
Buellton
Fire Station 31, 168 West Highway 246
Should an emergency evolve, information will be made available online by county emergency preparedness staff. Visit ReadySBC.org, where residents can also sign up to receive emergency alerts.
This story will be updated as information becomes available.
---
Support the Santa Barbara Independent through a long-term or a single contribution.
---