Full Belly Files
Holidazed by (Mostly) Home-Cooked Eats and Treats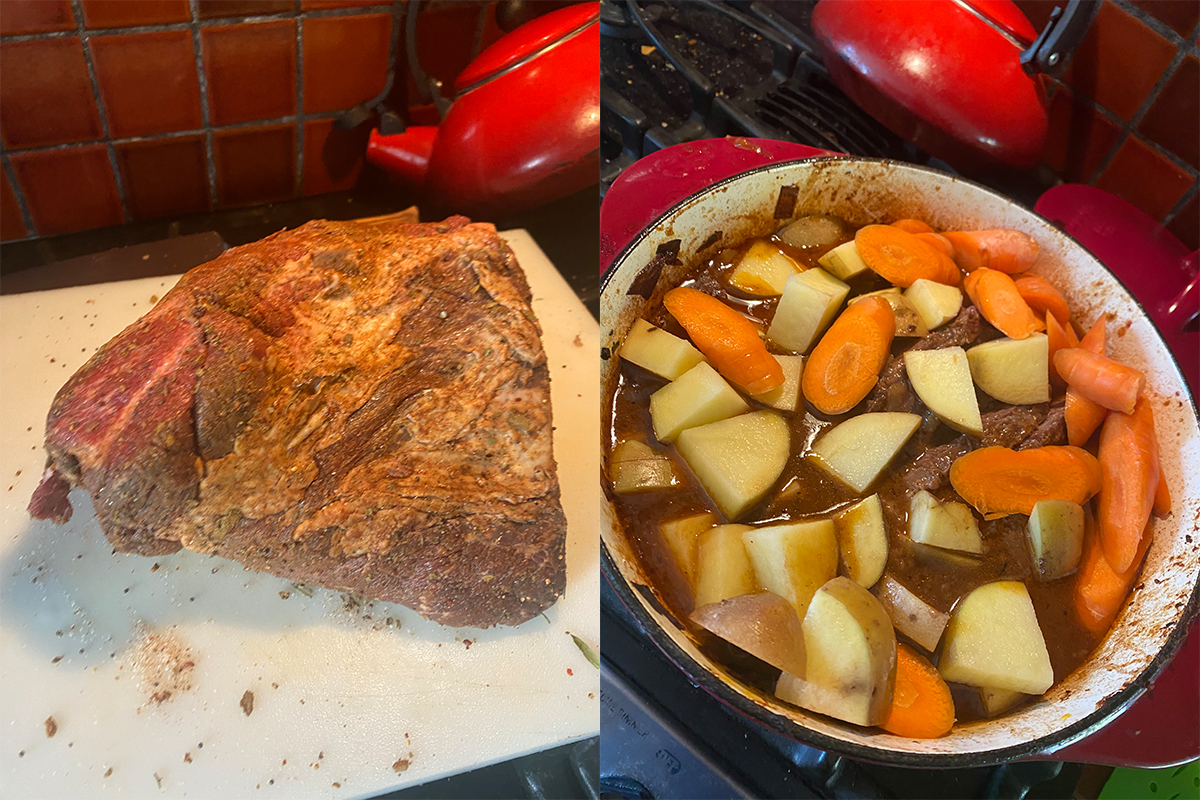 ---
This edition of Full Belly Files was originally emailed to subscribers on January 6, 2023. To receive Matt Kettmann's food newsletter in your inbox each Friday, sign up at independent.com/newsletters.
---
If my home cooking regimen felt lacking toward the end of 2022, the holidays dramatically corrected that course. From Hanukkah through Christmas gatherings to a New Year's Eve party in which I tackled one of my most dramatic roasts to date, this was a season to savor.
It all started with brisket, that fatty cut of beef popular on the Jewish-American tables of my wife's family. I'd never cooked brisket until we hosted a Hanukkah dinner a few years ago — when I smoked about nine pounds and braised another five — and I haven't cooked many since. But the basics are simple enough: browning the floured brisket first to form a crust, and then braising slow-and-low, with tomato paste, onions, some stock, and whatever other roasting vegetables/aromatic herbs you have on hand. (A lot of 20th-century Jewish recipes call for ketchup and Coca-Cola, but I just can't go there.)
A bit daunted by the 14-pound accidental brisket buy years ago — a long story involving vague communication on my end and my wife handling pickup — we opted just for five pounds this year from Goleta's Country Meat Market, which I praised as "The Last Butcher Standing" in this 2017 article. It wasn't enough. The brisket — which I cut into slices before the last hour or so of cooking, another key trick before it all goes to mush — was a hit. I could have made double as much, but would have needed another Dutch oven.
For Christmas Eve-Eve — which was this year's main event for my brother's family visiting from San Diego, as they went home the next morning — we decided on ham. That sounded a bit easier and more traditional than the cast-ironed rib-eyes, custom-wrapped porchetta, and oak-grilled whitefish of past years.
But it sounded too easy, so I needed to make it special, and heard that Motley Crew Ranch in the heart of the Sta. Rita Hills wine country might be able to help.
Rancher/butcher/proprietor Marko Alexandrou agreed to smoke one of their hog legs for us, which I picked up at their new butcher shop next door to Industrial Eats in Buellton. (Expect a feature on the ranch's operations and retail presence soon enough.) Surrounded by coolers of fresh cuts, I picked up much more ranch-raised meat as well, including Italian sausage, breakfast sausage, ground turkey, Denver steaks, and a whole chicken, which would become our Christmas dinner (and much more, as you'll see).
The ham was easy to handle with just an extra glaze and warm-up session in the oven. That led to deliciously smoky-sweet results, plus tons of leftover meat, which we've been giving out for days. I'd later make a "ham bone chowda," blending in potato for texture and tossing in candied ham chunks, green onions, and spicy Bulgarian orange peppers to the bowls once served.
For the second year in a row — which is to say the second time ever in my life — we went out for dinner on Christmas Eve, enjoying round after round of shared plates at The Lark, without even needing to order a proper entree. Christmas morning brought our customary breakfast pie — sausage, potatoes, cheese, and eggs, all layered into a salty, satisfying casserole — and Christmas night was graced by the chicken from Motley Crew that I roasted.
For a quick getaway — and other people's cooking — we spent a couple of nights down at the revamped Zachari Dunes on Mandalay Beach resort on the Oxnard Shores, which I will write about in a forthcoming travel story. Good eats and drinks were one highlight of the trip, including a cocktail class with food & beverage director Ricardo Cubias and multiple meals at Ox & Ocean. That's the resort's restaurant run by Chef Damian Giliberti, whom I wrote about when he worked at the former Goodland Hotel's Outpost restaurant. Chicharrón tacos at Tacos El Diablo in downtown Oxnard were spicy hits as well for lunch one rainy day.
Then I was back in my kitchen, crafting that ham bone chowda and turning those chicken bones into a stock with my Crockpot. That stock first became the base of a cannellini bean, kale, and Gruyère soup, and then saw life again as sopa de ajo, a bready, egg-laced garlic-and-paprika soup of Spanish origins. I just finished that off for lunch while writing this, actually.
But my end-of-year epicurean epitome would come, appropriately enough, on New Year's Eve. Our hosts said they were doing a Filipino-style party, which actually meant lots of games, I'd later realize. But I thought they meant the food, and started investigating the possibility of roasting a suckling pig, also known as lechón.
---
Sign up to get Matt Kettmann's Full Belly Files, which serves up multiple courses of food & drink coverage every Friday, going off-menu from our regularly published content to deliver tasty nuggets of restaurant, recipe, and refreshment wisdom to your inbox.
---
Having grown up with many Filipino friends in East San Jose, one of the more vivid food experiences of my youth was attending a 10-year-old's birthday party and seeing a full pig on the table. Complete with the apple in the mouth, it was something that I'd only seen in Bugs Bunny cartoons at that point. While us non-Filipino kids were initially amused in childish ways, the scene — and many later ones in that same house, as that birthday girl eventually became my high school girlfriend — made me realize that the culture took their cuisine and parties seriously.
I soon learned that suckling pigs are expensive and hard to acquire. (Motley Crew, for instance, doesn't dispatch their baby pigs like that.) That's when another friend who is partially Filipino himself — once again, I get to share this story I did about his job running the Live Oak Café — texted about
pork belly lechón. Rather than the whole tiny pig, it's just rolled-up pork belly. I was in.
I called Santa Cruz Market in Old Town Goleta, and they had pork belly with skin-on on their shelves, but I had to head down the street to the Oriental Market on Hollister Avenue to get the lemongrass and, for good measure, Chinese chives. The next morning, I cross-hatched the belly flesh, marinated it with muddled garlic and white vinegar, and salted and pricked the skin to enable proper crisping. Rolling the bellies around the lemongrass and chives took a bit of string-tying skill, but if you can tie a wet shoelace, you could do it too.
"Damn this is advanced" wrote an L.A. friend and serious home cook when I sent a picture of the pork rolls. Texted back the friend who suggested it when I sent the same pic: "Those look legit!"

I was concerned about whether the skin would get crunchy, but the process was actually easier and less stressful than any roast I've done before. Other than checking on it occasionally, there was no additional basting, no series of steps to follow, not even any time-sensitive decisions.
The skin turned an orange-ish brown, proving almost too crispy to slice. It crunched like a savory candy, even sticking a bit to your teeth, before giving way into supple belly fat and aromatically amplified meat. And it didn't last long at the party, which is the best feedback of all.
From Our Tables
In case you missed articles that we published over the holidays, here's a rundown:
Culinary Fun to Come
There's a lot of eating and drinking on the horizon. Here are some things on my radar:
---
Support the Santa Barbara Independent through a long-term or a single contribution.
---