Health
County Education Spotlight: The Opioid Crisis Growing Among Youth
Santa Barbara Educators, Health Professionals Discuss Dangers of Fentanyl Among Adolescents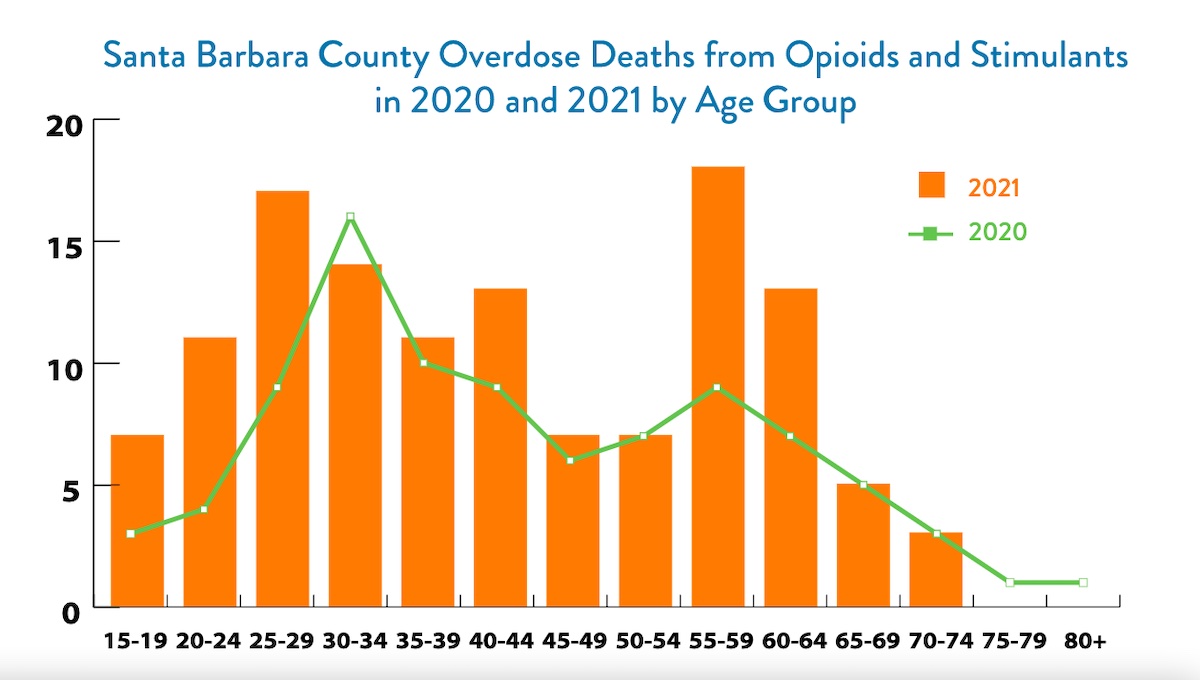 As the opioid epidemic grows each year, the number of young people using, overdosing, and dying continues to increase at an alarming rate, exacerbated even further by the prevalence of fentanyl — a synthetic opioid that can be 50 to 100 times more potent than heroin or morphine.
Around 20 years ago, overdoses were the 10th leading cause of death among children and adolescents. Now, it is the third, behind car accidents and guns. According to data from the Centers for Disease Control and Prevention (CDC), opioid overdose deaths rose far more rapidly for teenagers than the general population in recent years, with a 94 percent increase from 2019 to 2020 and another 20 percent increase from 2020 to 2021.
Last week, the Santa Barbara County Education Office held an Education Spotlight webinar to highlight the effects of the opioid epidemic locally and to offer insight on how to talk to young people about the dangers of the drugs that are becoming more easily available.
"Over the past few years, we have seen an increase in the number of young people who are using opioids, and unfortunately, we've also seen an increase in the number of individuals who are overdosing and dying due to opioid poisoning and overdose," said Melissa Wilkins, division chief of alcohol and drug programs at the Santa Barbara County Department of Behavioral Wellness, during the session on January 19.
"What we're seeing now though is very different from what we saw previously, even five years ago," Wilkins said.
The difference has been due to fentanyl, which has become the leading cause of opioid overdoses by a disturbing margin. Fentanyl was associated with 77 percent of adolescent overdose deaths in 2021. In Santa Barbara County, there were seven opioid deaths among teenagers ages 15-19 in 2021, and 11 deaths among young adults ages 20-24 (more than doubling the previous year's numbers). Every one of those deaths were caused by fentanyl.
"In the time that I've worked with adolescents, I haven't seen anything like this. It's scary for me as a parent, and it's for that reason that we are working so hard to get this information out," Wilkins said.
Fentanyl has been used in medical settings since the 1960s, when it was first developed as a strong alternative to morphine that could help patients suffering with severe pain or individuals who had built up tolerance for more moderate painkillers.
What really changed, Wilkins explained, was that fentanyl began being manufactured illegally on a widespread level. "That illicit production began increasing in 2006," she said, "and it's really been since then that we've seen an increase in the amount of fentanyl that's coming into the United States."
The illegally manufactured fentanyl is either mixed into other drugs like cocaine, methamphetamine, or heroin or pressed into pills that are meant to appear like other medications — Xanax, OxyContin, Percocet — or even into multicolored "rainbow" pills that appear like candy or other party drugs.
"So what's happening around young people — adolescents as well as adults — is individuals are seeking out what they think is prescription medication, or they're getting a pill from a friend or a friend of a friend, and it looks like a pill that would be prescribed by a doctor," Wilkins said. "But when they're using it, in fact, it's not what they think it is, and it's either laced with fentanyl or sometimes pure fentanyl."
---
Sign up for Indy Today to receive fresh news from Independent.com, in your inbox, every morning.
---
Dr. Carrick Adam, a pediatrician and Medical Director at the Santa Barbara County Juvenile Justice Center, spoke during the webinar about what she has seen in her work with adolescents.
"I have had to detox or do medical withdrawal for more kids in the last two years than in the previous 16 years prior," Adam said.
She explained how dangerous it was for developing brains to experiment with mind-altering substances and how adolescents are especially susceptible to trying risky behaviors.
"Their brains are still developing," Adam said. "And when you use substances that affect the brain, it actually changes the way that your brain develops; it actually changes the trajectory of your brain development."
Adam said that youth from ages 10 through their teenage years are hardwired to trying new things. In regular settings, it can encourage them to expand their boundaries and try new skills that are important to developing healthy adult brains. The danger, though, is that when a young person uses drugs, their brains supply a highly abnormal amount of dopamine (as much as 1,000 times the normal levels with hard drugs) and can lead to substance use disorders.
Principal Shanda Herrera of Pioneer Valley High School in Santa Maria — the county's largest high school with more than 3,200 students — said that the prevalence of social media has changed the way drugs are perceived and made them readily available in the palm of every student's hand.
"Teenagers are naturally curious about life, about alcohol, about drugs, and the things that they learn, in many cases, it's from social media," Herrera said. "Teenagers today are always on social media, and social media has a way of glamorizing and normalizing drug use."
Senior Deputy George Hedricks, who works on the Dos Pueblos High School and Goleta Valley Junior High campuses, also said that social media apps like Instagram, Snapchat, and TikTok are making drugs easier for teenagers to get. "The number one way the kids are getting this is through their phones," he said. "Social media and online is the number one way, in my opinion, in what I'm seeing."
In working with administrators from all over the county, Herrera said she has heard nearly everybody say they know somebody personally affected by the crisis. At Pioneer Valley, they have started offering nighttime sessions to educate parents, and they are also ensuring that staff is trained on identifying drug use and administering life-saving naloxone in emergency situations.
Residents of Santa Barbara County can get their own doses of naloxone sent to their address for free through the Santa Barbara Opioid Safety Coalition, and the County Education Office has a list of other available resources, including the nationwide "One Pill Can Kill" and local "Fentanyl is Forever S.B." campaigns with more info on the opioid crisis.
All four of the guest moderators encourage open conversation with youth, starting as young as age 10, to ensure they are aware of the dangers of drug use and that they are comfortable talking with parents about uncomfortable topics. They also said to be aware of any sudden changes in behavior or other indications of potential drug use and to contact one of the many local resources for help at the first sign of trouble.
"There is hope," Wilkins said. "We have a lot of great resources throughout the county."
---
Support the Santa Barbara Independent through a long-term or a single contribution.
---