Sports
San Marcos Claims Automatic Playoff Berth With 61-50 Upset of Rival Santa Barbara
Royals Avoided Tiebreaker Against Rio Mesa with the Victory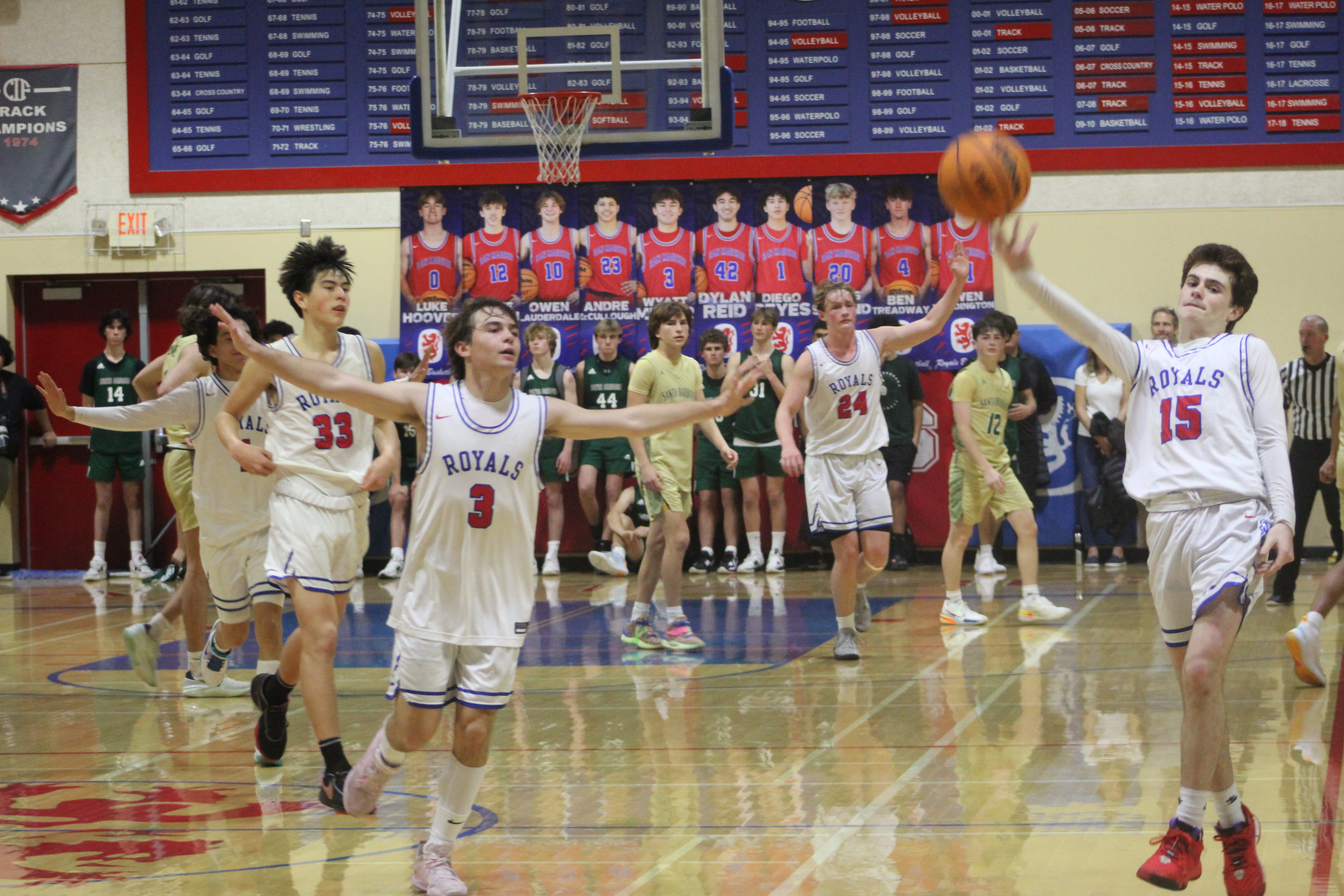 The San Marcos High boys' basketball team played one of its best games of the season when it needed it the most.
The Royals stunned rival Santa Barbara and punched their ticket to the playoffs with a 61-50 victory on Friday afternoon at the Thunderhut.
"I thought our guys were focused and they were hungry," said San Marcos first-year head coach James Kinzler. "They knew our season was on the line."
If San Marcos would have lost the game, which was rescheduled to start at 4 p.m, they would have had to play a tiebreaker against Rio Mesa at 8 p.m. for the fourth and final automatic playoff berth out of the Channel League.
But there was no discussion of a second game in the San Marcos locker room. Beating Santa Barbara was the goal and the Royals were laser focused on achieving it from the opening tip.
Wyatt Miller and Joe Pasternak led the way for San Marcos with 12 points apiece as the Royals executed ruthlessly on both ends of the court on their way to a 17-5 lead at the end of the first quarter.
"We started out bad last [Santa Barbara] game, but we came back and played with them really well in the second half so we knew we could easily play with them," Miller said. "We knew we could get out to a fast start, that's what we did and we kept it going until the very end."
---
Sign up for Indy Today to receive fresh news from Independent.com, in your inbox, every morning.
---
San Marcos extended its lead to 41-21 at halftime after a strong second quarter, but Santa Barbara is a talented team, led by super sophomore Luke Zuffelato, who finished with a game-high 25 points.
A Santa Barbara rally to close the deficit seemed inevitable and the Dons began chipping away in the third quarter outscoring San Marcos 13-9.
The rally continued into the fourth quarter and the last of Zuffelato's three three-pointers in the period cut the Santa Barbara deficit to 54-47 with 3:05 remaining.
"We told them at halftime that they are going to come back. They are going to hit threes," Kinzler said. "You can't win this game in the third quarter, you can't win it on one possession. You're just going to have to grind one possession at a time.
The Royals held Santa Barbara to one three-pointer over the last three minutes of the game and closed it out at the free throw line down the stretch.
Andre McCullough scored ten points and was a physical presence defensively for San Marcos. Diego Reyes added eight points. Micah Jacobi and freshman Koji Hefner chipped in seven points apiece
Both San Marcos (11-17 overall, 8-6 Channel League) and Santa Barbara (16-12 overall, 10-4 Channel League) will find out who they play in the opening round of the playoffs on Sunday when the brackets are released.
---
Support the Santa Barbara Independent through a long-term or a single contribution.
---